If you're looking for a sweet sexy camgirl amateur that also updates her Snapchat & Instagram a lot, then you should definitely check out MissNoir_xx! You might also know her as BlancNoir. She's a brunette cutey with some beautiful tits and sexy bubble butt that loves to please you. Just like any other (cam) girls. But this amateur girl is definitely worth your time! Because she's a real down-to-earth chick. And she has been streaming since 2016 as a cam girl and is still loving it till this date! So you can bet I got plenty of her crazy Sexy Girlfriend Nudes on my drive to show you. For today, I prepared 4 small sexy teasing videos & 25 Sexy Amateur Porn Pictures (incl. some very hot premium snapchat nudes) for you. So that should keep you busy for a while. Enjoy!
MissNoir_xx Snapchat
So like I said, I got a lot of gorgeous photos made by Miss BlancNoir. Most of them come from her premium snaps herself. So you know how it's like when you subscribe to her. Usually I like to jump straight into her beautiful nudes. But I'm not going to do that today. Because this girl is worth going slow for. She got a real hot tight body with a fantastic butt that I know you are going to like very much. I'm going to start with some very hot & teasing clothes on pics to get you into the mood with this sexy cam girl MissNoir! But if you can't help yourself, and you still like to jump straight to lovely BlancNoir nudes, you can scroll down too.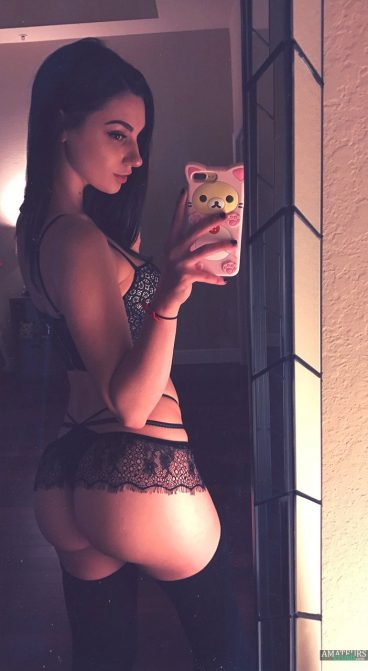 But what makes this even hotter is her sexy black lingerie and her thigh high stockings <3 Sweet Jesus I would love to feel those cheeks in my hands! Now that is what I call an ass!
Followup by a picture what we all want to do with this naughty sexy camgirl babe when standing behind her: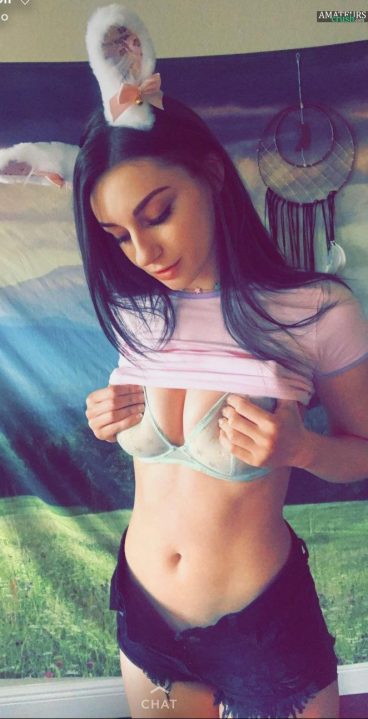 Grab on to those sexy titties and squeeze them! You know they gonna feel soft too <3 Naturally girls are the best ones!
And here I got another amazing sexy camgirl picture of one of the hottest babes. Of course I'm talking about BlancNoir that is lifting up her shirt and showing that fantastic ass again: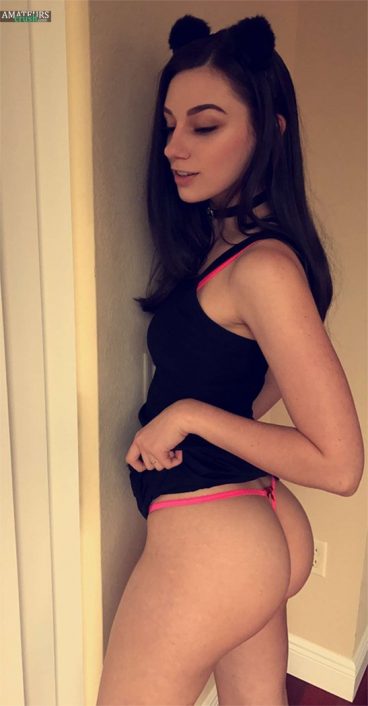 She's such a teaser! Don't you just want to push her against the wall and stick your face between those golden cheeks <3
But those hips though! Holy mother of cow <3 This is one of her teasing premium snaps and you can see that it's freaking hot <3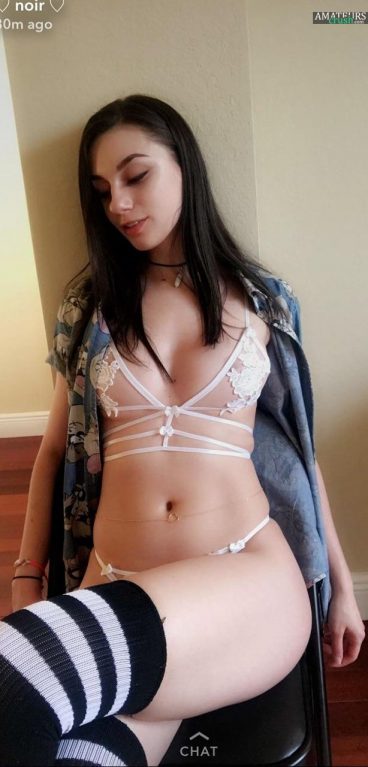 I would love to have her get down on my face with those.
Here I got another beautiful bubble butt perfect sexy camgirl ass that needs to be spanked: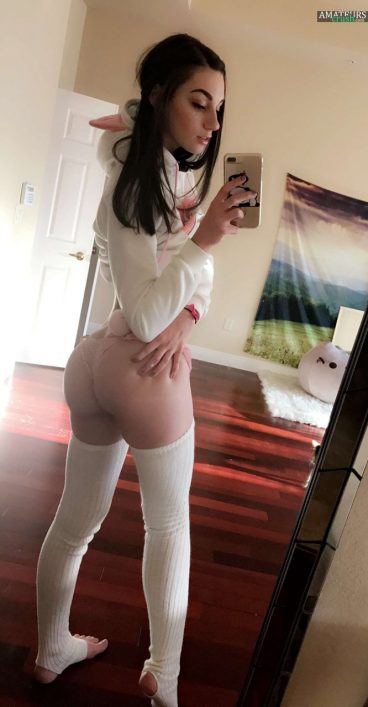 Her butt is just screaming for a hard slap. I just can't stop staring at her fantastic ass selfie <3
Or are you more interested in hot BlancNoir's front side?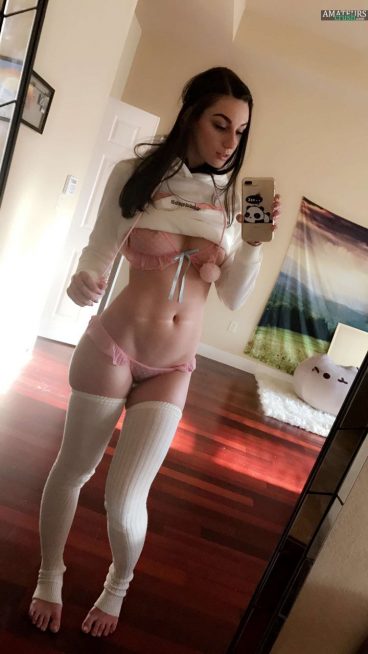 Because I got that too! And I know the words "DAMN" is going through you right now!
Now this is more like it! I also got a hot MissNoir sexy camgirl selfie in her maid outfit: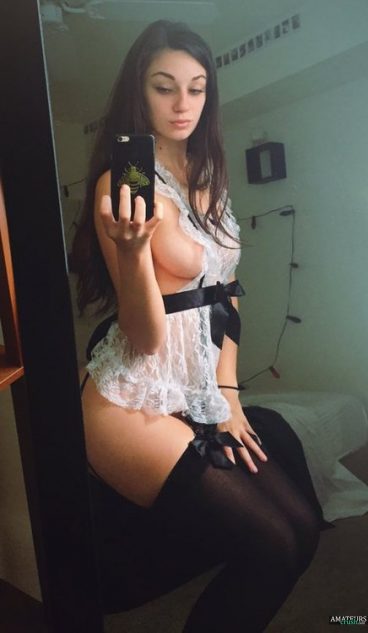 If only you could hire hot camgirls to do your house chores like this, right? Oh wait, you can.. In China that is ;).
Followup by a nude premium snapchat of BlancNoir resting her beautiful ass on the counter in black sexy lingerie:
You know I'm a big fan of huge cam girl asses <3 And cam babe BlancNoir definitely falls under that: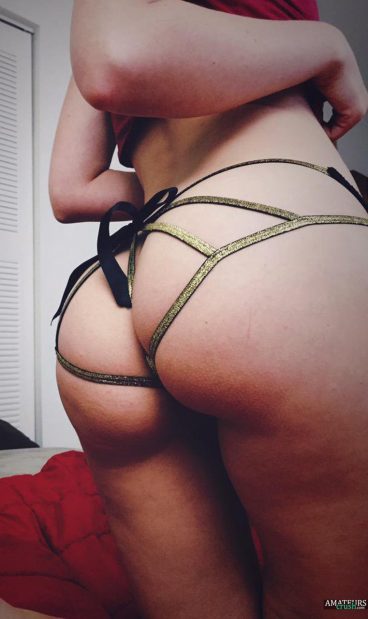 I love how she's presenting her juicy big ass like a present in that tie <3 Now that is how you spoil a guy! Letting you unwrap her big juicy ass for a fun night <3
Look at how cute this girl is! And you can see her friend in the back too. Trust me that you are going to be jealous of him in a minute ;3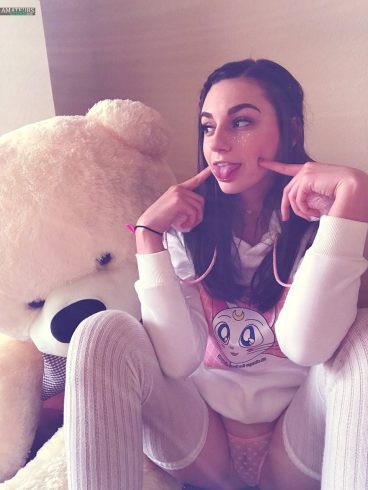 If you look close enough,  you can see a bit what this sexy cam girl is hiding between her legs ;3 A nice trimmed pussy!
Sexy Camgirl BlancNoir Teasers
And here I got a fantastic teasing picture of cam girl BlancNoir pulling on her panties: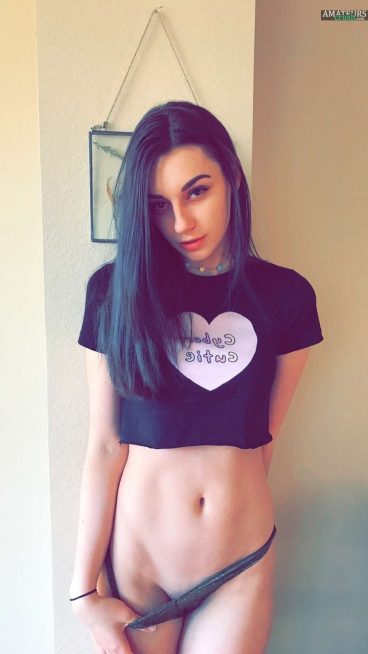 She's just showing enough skin to make you a little hot, doesn't it?
But of course it's even hotter when you see one of the hottest and sexiest cam girls like MissNoir_xx play with her nipples in this tits out picture:
If you are feeling a little bit jealous of this big teddy bear, I can tell you it's normal ;3
How many of you would kill to swap places with that teddy bear holding her like that: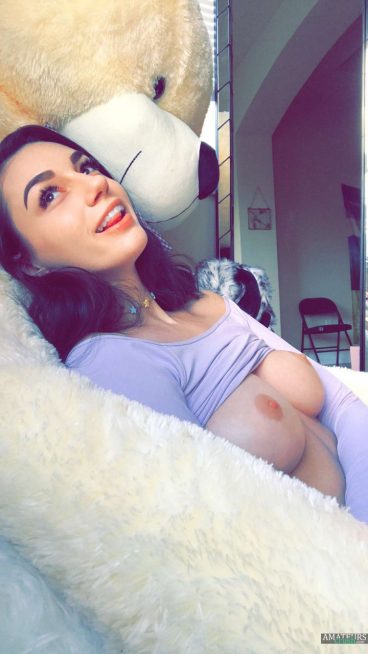 Tits out pictures of hot sexy camgirl BlancNoir are always a pleasure to stare at <3
Of course I also got a very hot snap video of MissNoir with her tits out and her teddy bear:
What a teaser!
Now that is what I call a beautiful sexy camgirl ASS selfie!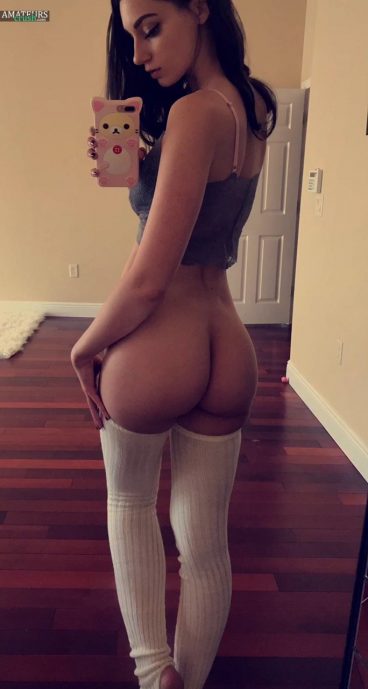 My freaking gawd, that is an amazing looking delicious bubble butt! That is definitely a 100 out of 10 ass on this tight sexy cam girl <3
And here I got a very hot out of bed look of MissNoir_xx naked in bed and just showing her tits: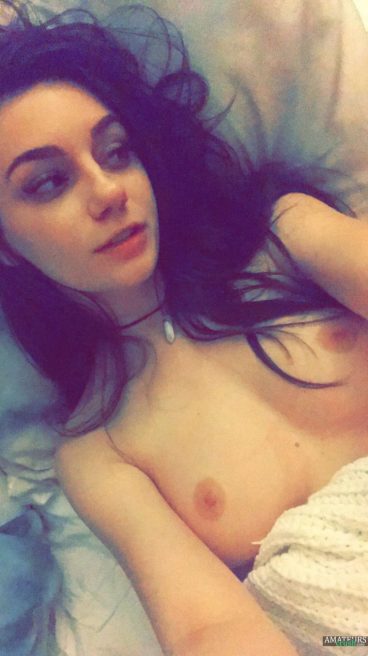 Can you imagine how awesome it would be to be on the blankets with this slutty sexy camgirl? You know there won't be much sleeping then.
LilMissNoir Nudes
Sweet Jesus Christ! MissNoir_xx sits here with her tits out in her crazy hot pink lingerie! But what really catches my eyes are those big beautiful hips: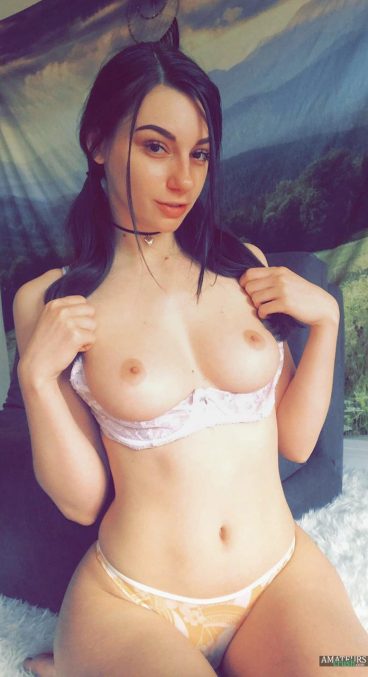 If this crazy big hips sexy camgirl isn't your dream girl, then there is something wrong with you! I would love to have her sit on my face <3 So freaking hot!
Followup by a teasing tongue out tits selfie nude snapchat pic of BlancNoir knowing that you're helpless behind your screen:
And here I got a video of naughty sexy camgirl MissNoir playing with her tits and teasing the fuck out of you ;3
She's already down on her knees too! <3
Or would you rather see this hot cam girl naked in bath? Because I got a small video of that too:
You are welcome! ;3
You are probably thinking, is camgirl MissNoir_xx walking with her tits out daily? And yes, the answer to that question is yes!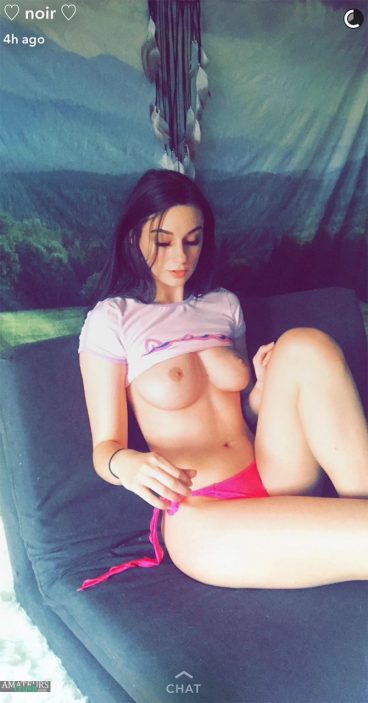 This slutty cam girl is walking at home with her sexy naked tits out daily. Why? Because she can! And it is super hot too <3
I mean do you really have a problem with that? I love looking at premium nude snapchats of BlancNoir: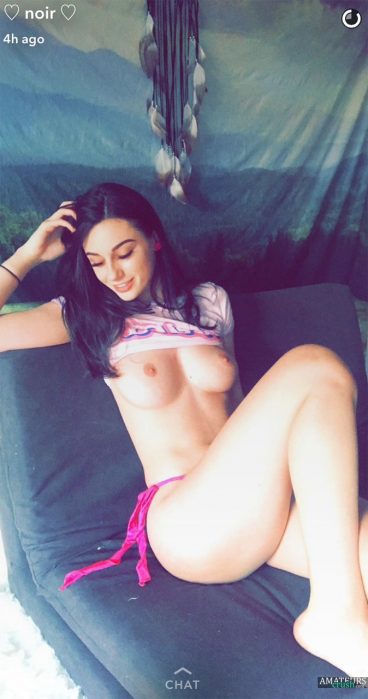 Because she's just my type of naked sexy camgirl <3 With her cute face, sexy tits and big ass. And I bet her pussy is tight as fuck too <3 I'm pretty sure she's into anal too, so she's definitely a keeper in my book <3
In the next picture she's showing off her phone case while wearing nothing but her shorts:
So if you tip this freaking hot camgirl enough, then you'll get a daily personal message like this everyday: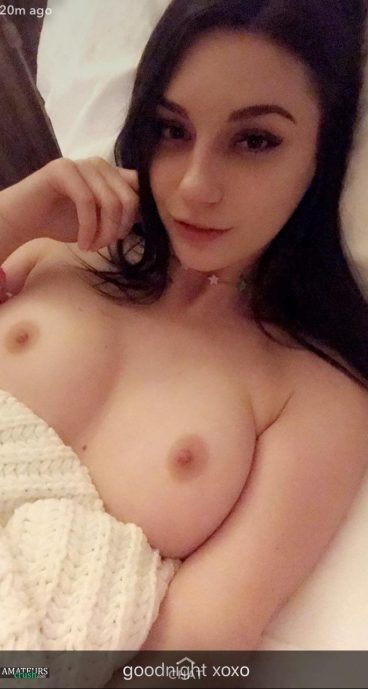 You know you are going to sleep way better if sexy camgirl MissNoir_xx snaps you with a "goodnight xoxo" message! Tempting, isn't it? To take off one of her premium snaps <3
Another beautiful BlancNoir premium snapchat "tipsy lil bun bun"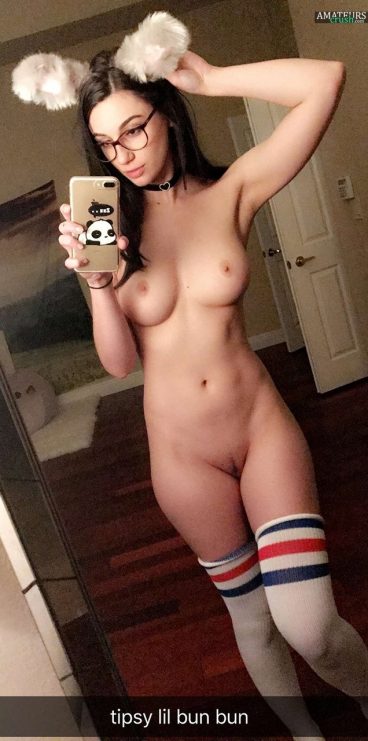 Those shapes on her though <3 I love sexy cam girls with big hips <3 Because that always means she has a beautiful big ass! And who doesn't like that?
"Snuggle?" Is that a rhetorical question?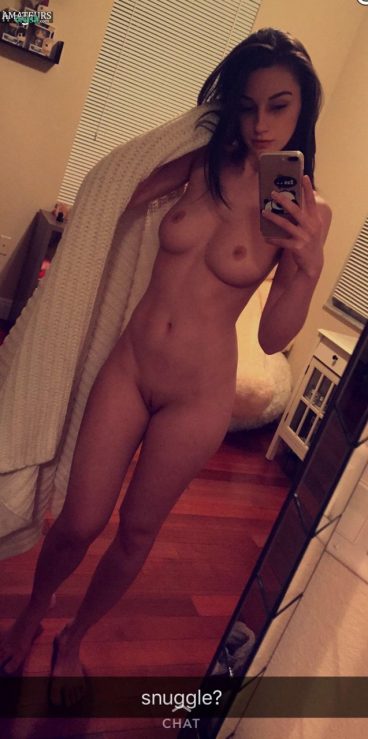 I mean who the fuck doesn't want to snuggle with this gorgeous sexy cam girl as soon as she walks in naked like this?
No doubt that I saved the best one for last! I got a nice video of nude sexy camgirl BlancNoir in action for you:
You can probably imagine how tight she is in this position! And you can that she's loving every minute of it too <3
I hope you enjoyed these nude cam girl pictures & videos of MissNoir_xx! If you want to check out more stuff of her, I suggest you go take a (good) look at BlancNoir Instagram Account. I heard that she also comes online sometimes on Chaturbate Cam Girls Live Shows, so you can register and chat with her there. I mean do you really want to miss out on her streams? Or if you want to see more of her free nudes, you can comment below and I'll see how much interest for one of the hottest camgirls there actually is <3 If you like to see some more nudes on my blog, you can always check out my Sexy Camgirl Jenna Jade's Premium Snapchats!
Summary
Article Name
Sexy Camgirl MissNoir_xx! Including HOT Premium Snaps Previews <3 - AmateursCrush.com
Description
Cam Girl MissNoir_xx Premium Snapchat Nudes & Videos on my Amateur Porn Pics blog! All for FREE! She a very Hot & Sexy Camgirl that you don't want to miss!
Author