Now here is one of the sexiest amateurs that has recently come into the adult scene and her nickname is Cherry Crush. She is truly one of the better, if not the best-looking, ones out there. If you're not into her looks, you can at least appreciate her style and uniqueness. In the photo below, miss Cherry is spreading her legs just so slightly, and exposing her inner thighs and tiny corners of her beautiful pussy lips.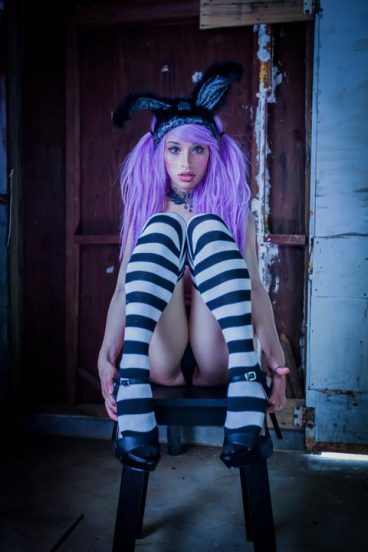 What I find fascinating about her career is the fact that she seems to be doing porn, and I am not talking just about the softcore or vanilla. Usually, fresh porn stars are not open to these ideas as they try to extend their career beyond few years, first doing vanilla, then maybe swallowing, butt sex (she does that too) and then of course it is all up to the fantasy of the porn directors. Nikki Benz for example did none of that for the first ten years and now can be found in interracial videos involving multiple penises.
Anyway, back to Cherry, there are plenty of her pictures floating around reddit if you have found her to be as fascinating as I did. Having spoken to her manager personally, I can say that she is not interested in working with mainstream porn sites and prefer to support herself. Whether or not that attitude will change remains to be seen. But as of now, enjoy her while you can. She did make it to the top of multiple amateur porn actresses lists, so that should tell you something.
Found via: redbled.com