Thank you babe for submitting your nudes on my blog. I definitely love to show you off on here! And I can tell already that you're a freaking naughty girl from your pics. So you fit my amateur porn girls blog perfectly. Great personality with even greater tits and ass – Everyone will love you for sure. Mostly I get their BF posting up nudes of their spouses, which is totally hot too of course. But real amateur babes submitting their own nudes for my amateur site? Now you just can't beat that! And I'm not going to lie, I don't get a lot of these naughty girls submissions! But when I do, they are freaking hot. I mean have you seen my beautiful Thick Amateur Goddess Helena too? She's a showing off too. And you're definitely right about your tits too – they are nice! Super nice actually.
Look at these juicy big titties: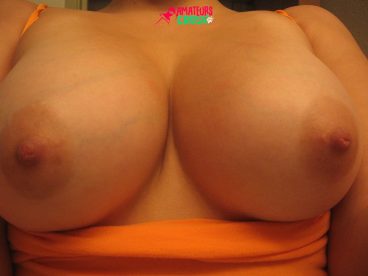 You can tell that she's huge by all the veins popping.