Meet Cece! A sexy naughty female GF in her early twenties that likes Dom/Sub. Usually she plays the submissive person. But today she wants to mix things up and dom you! Any objections? Don't think so! You got no say in this anyway. I got some great femdom pics waiting for you in this post. However I only got 10 sexy amateur mistress pics of her though, but they are hot as fuck. If this is your first time into D/s (Dominate/Submissive) – Don't worry, she'll be nice (as long as you listen to her). Enjoy these Girlfriend Nudes of Cece!
Are you ready to get into your submissive role? Cause it is time to get cuffed! <3
"Oh kind Sir, how about we try and mix things up today? I'm always the sub with the handcuffs, but I'm feeling extra naughty today. What do you think about me tying you up today and let me dom you??" – Mistress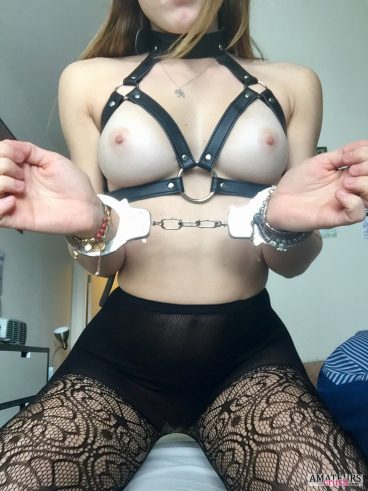 Femdom Pics – Let Me Dominate You
Do you think this cute girlfriend is capable to dominate you? The first mistake you can make is let her appearance fool you! She's a toughy (and probably a roughy)! Lets get this awesome Femdom Amateur Porn Pics on its way! Most of these pics are quoted with our amateur mistress words. So don't forget to read them! They make 'the experience' a whole lot better! I marked them pink for you so it is easier to separate them from the normal text!
"U think a sweet little sub like me is not capable to dominate you? You're underestimating me, kind sir! I got a very very dark side too. I'm sure you are going to love that!" – Mistress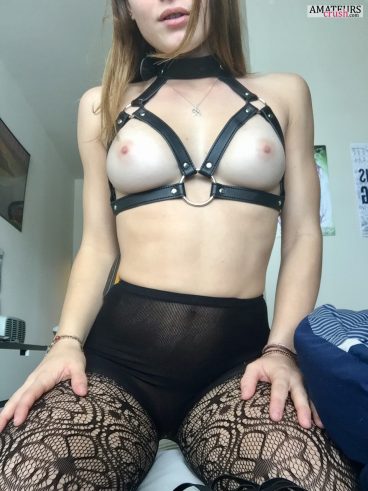 Our mistress is ready to fulfill your fantasy! I love these femdom pics where you can see her juicy tits surrounded by the strap bra!
"So, today you are going to submit and obey me like a good boy. You do as I say. No talking back! Don't even dare to speak without my consent! And DEFINITELY no cumming until I say so..! You are mine now. First you going to beg me to spank you. I know you've been jerking off to other sexy girls online.. you have been a very.. very.. naughty.. naughty boy.. And you need to be punished" – Mistress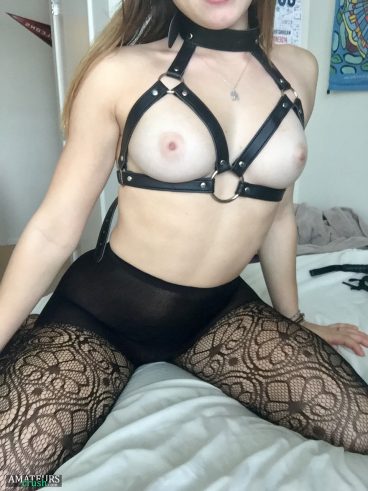 The mistress ain't playing boy! You better be listening! Her wish is your command. – Remember that! These femdom pics aren't a joke! You'll be having wet dreams tonight.. Especially after seeing these hot amateur mistress pics!
"Louder! I can't hear you! Say it! – Yes, good boy! You're a good boy, aren't you? You are my good boy <3.. So, do your eyes like what they see? I bet you want to slide your warm wet tongue along the juicy lips of my wet bald pussy? Am I right? But I haven't given you permission yet.." – Mistress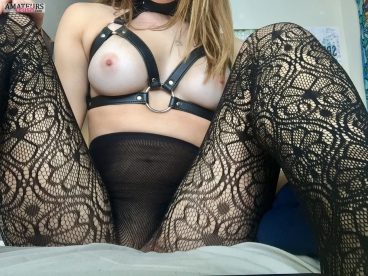 If you look closely at the picture you can see a little bit camel toe popping up, underneath her sexy fishnet stockings! Her outfit is hot as fuck for an amateur mistress. Usually they aren't that revealing! or are they? Are you ready for some more superb femdom pics? Our mistress ain't done with you yet.
"Now, should I be using the paddle on ya? I hope you like pain, cause this one will hurt a lot! It also leaves a super niceee pink rectangle on your flesh. And after I spank you with it, you might feel a little bit hot on the spot, and it might tingle a bit, especially when I lightly trace my fingers along the raised pink mark. I just wanna hear ya scream and give you some bruises to make you remember me by" – Mistress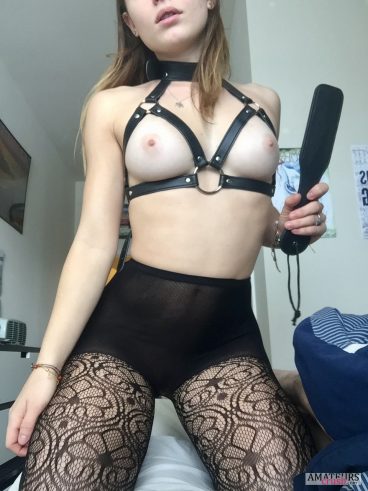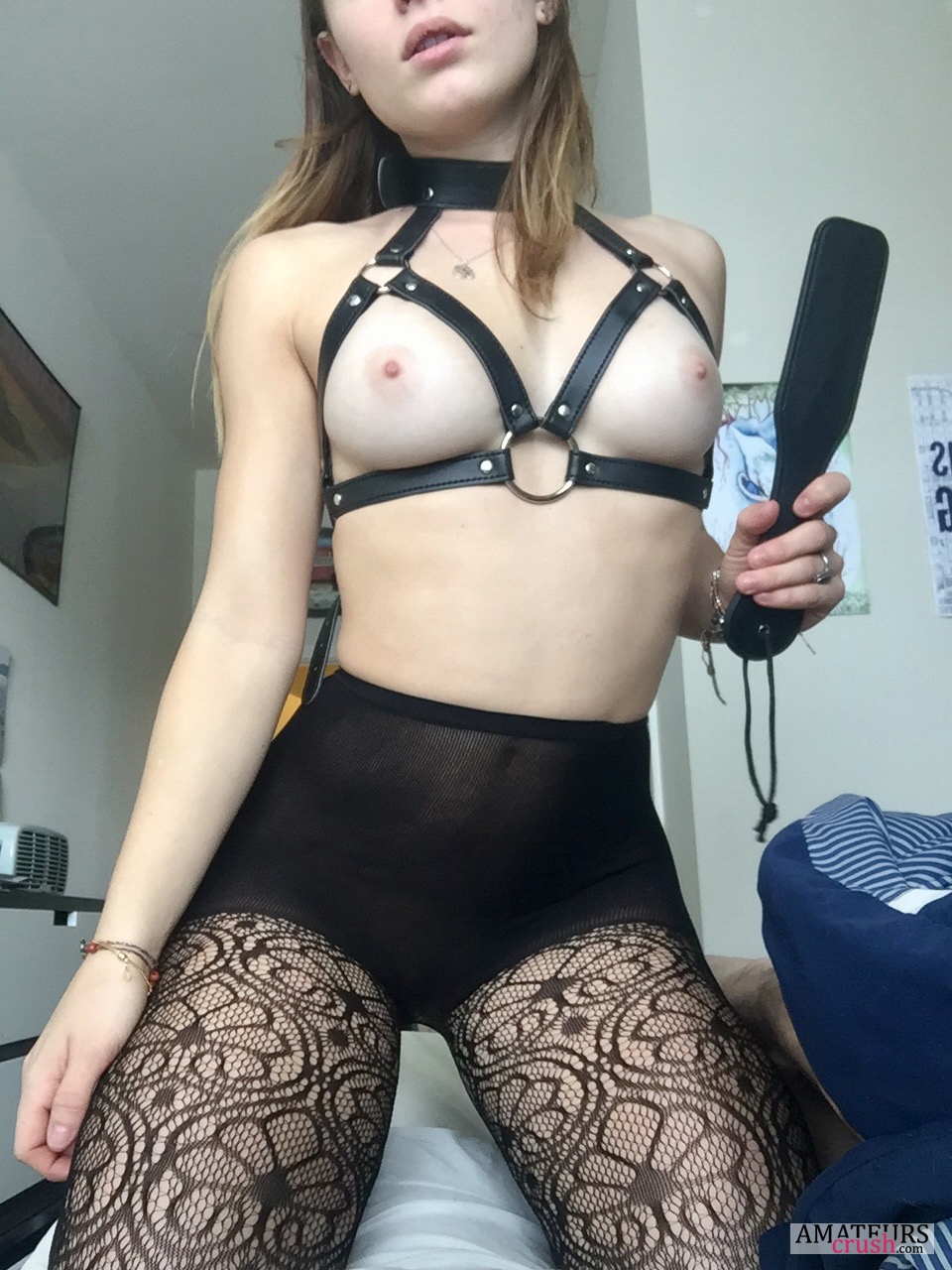 Pain is part of the fun right? As long if it's 'controlled' pain! She definitely does has the talent to be a dom! Our mistress pics are pretty good, right? Lets move on with our free femdom pics!
Time to get whipped! Naughty boys need to be punished after all. And what better way then let a hot mistress do it for you? We got some more crazy awesome amateur mistress pics for ya!
".. Or we can use the crop if that suits you better? This one is a tiny bit more stingy than thuddy though.. I think you will like this one even more.. You can beg for it though, but I think I'm not in it to please you, so forget about it!" – Mistress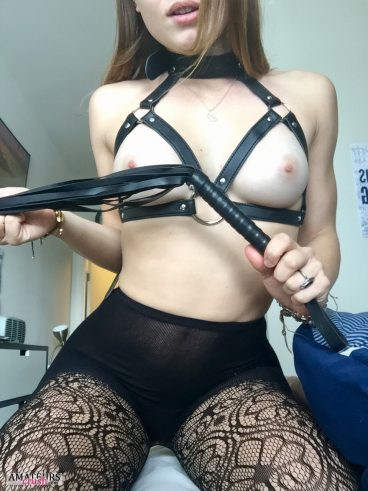 Now these femdom pics are more like it! I bet she's getting aroused herself now. She's holding on to that crop like a real mistress wanting to spank you. I wouldn't mind getting whipped by her <3
"I have an even better idea! It's better if I might not even touch you at all, you dirty boy. You are all tied up anyway. So, I'll make you watch me roll around and tease you while I bent over. I'll please myself first and if I want, probably not, I'll maybe make you cum next.. Maybe.." – Mistress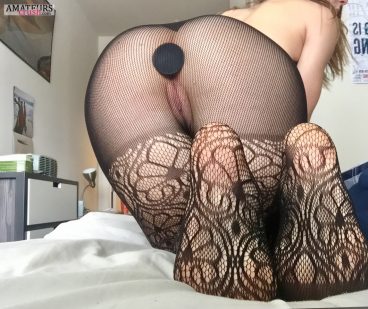 You know how much I love Girls Bent Over! Here we got our amateur mistress on her hands and knees! Just when you thought that these femdom pics couldn't get any better! She would probably make me crazy with all the teasing. What a fantastic bent over ass and pussy from behind view!
"What about I'll make you watch me moan and squeel while I cum? If you're a good boy I'll let you lick off my dripping Wet Pussy" – Mistress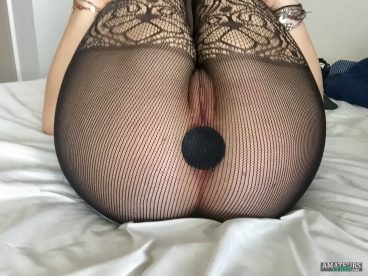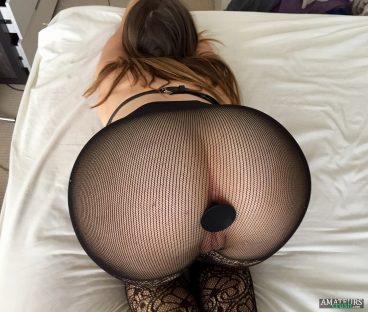 Now, that is a perfect ass that would make me go nuts! Do you see how big that is? Good god! We got some great amateur mistress pics of her! Even though we only got 10 of these femdom pics, I told you they were hot!
"All right, enough teasing! I can't hold it in any longer, I'm not that mean.. And your cock looks so delicious! Let me suck it and please you, kind sir. I can only be dom for so long.." – Mistress