I just fucking love girls doing slutty dress ups. Especially when they are doing it just for YOU. Putting on that sexy, dirty and naughty costume and playing out your fantasy.. Sounds like the perfect girl to me. She'd probably enjoy it too. Nothing is more hotter than that! And it is even better when she lets you shoot some photos of her as well, like this girl today. We got some very naughty maid pics of this sexy girlfriend for you! She's wearing a French maid outfit, with thigh high fishnet stockings and no panties underneath. Do I even need to say more? I think that alone already made you jizz, lol. These are the kind of quality Girlfriend Nudes that I like to look at! I hope you guys enjoy these pics as much as I do! <3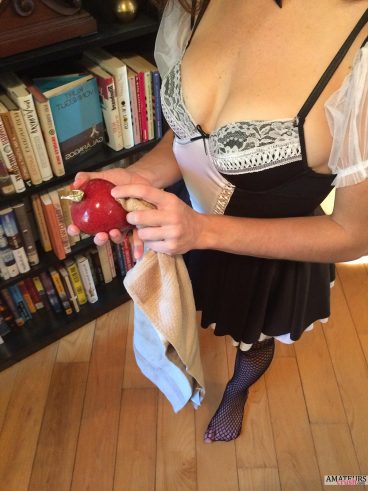 Pantyless Maid Pics
Since we only got a few (total of eight) naughty maid pics available of this hot brunette girlfriend, we'll jump straight into the good stuff! Starting with her beautiful Pussy From Behind sticking out underneath that mini skirt. (If you like girls wearing tight mini skirts, you got to check out the Petite Teen Pics of a sexy girlfriend that i posted a few days ago too!) And those thigh high fishnet stockings makes this picture even more sexier than it already is! She's bent over and putting the dirty dishes inside the dishwasher here: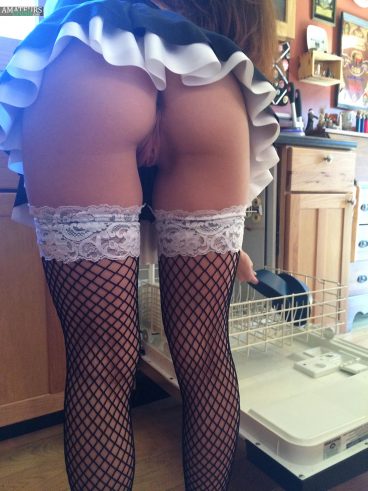 Now that's a fantastic ass pic of this naughty maid right!? But wait, we got more of this girls beautiful Pantyless Upskirt Pics!
Cause next up, we got some naughty maid pics of our nude GF on her hands and knees! My favorite position <3 She's scrubbing the floor like a good girl while sticking that fantastic tight ass back once again: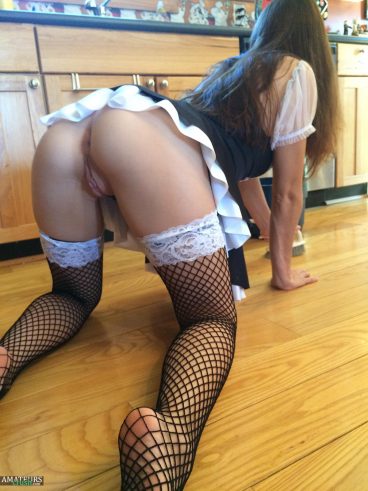 I know you are thinking about burrowing your face into that perfect crack.. Cause I'm thinking exactly the same thing! How can you resist such temptation? I would've lost it at the first picture already, if my girl was teasing me like that.. I'm weak.. I know.. :3
Naughty Maid Pics
The fun part starts when she doesn't do a great job and you need to set her straight though. But what do you do? You punish her of course! And the best way to do that is to tie her up to a chair like the next couple of naughty maid pics. Her boyfriend shows you how it's done properly. So sit back and take notes! Of course, this slutty GF would 'resist' a bit just for the fun. But you can imagine how hot that is, right? You start with pulling her top down like this at first:
But I can also imagine that you don't want to take it slow. You want to get it on with these naughty maid pics. So you just decide to rip off those clothesn. And then there she sits.. With no clothes on in this fantastic slutty nude pic: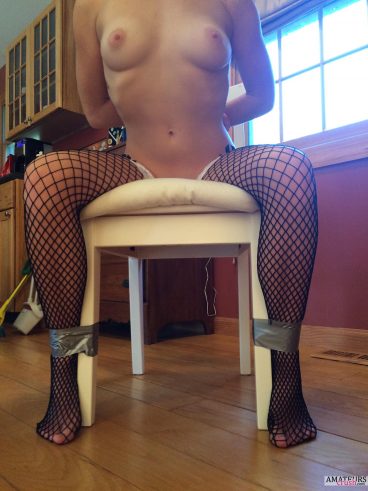 She got some very hot tits as you can see! Fantastic photo for sure! And he tied her legs up here too, if you haven't noticed that yet..
For the foot fetish people among us, we got a nice close up of her sexy legs tied up here too in our naughty maid pics: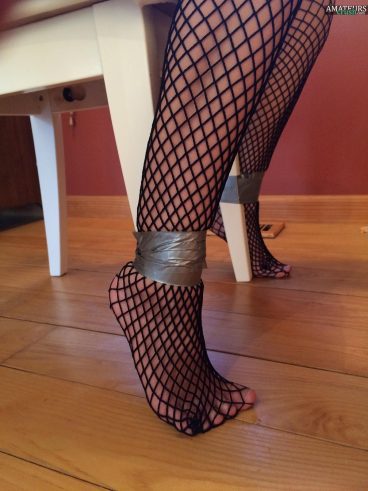 God, I love those sexy fishnet stockings on her. Great nude naughty maid pics!
Followup by a superb picture from above of our nude GF. She's sticking her chest up in front so you can get a better look at those tits here: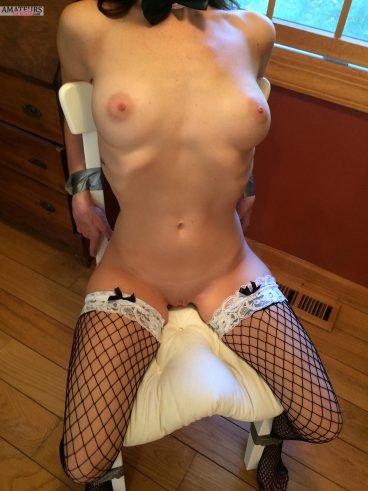 What a beautiful bald pussy too! It definitely looks like a small tight vagina <3 I like those pink nipples of hers too! Super sexy!
We'll end this beautiful naughty maid pics, with a nice back-view of our nude GF tied up. You can see that she can barely move with her hands and legs tied to the chair. He positioned her just good enough that her ass is sticking out on that chair! He definitely though this one through. She's grabbing on to that chair tightly too, so you can probably guess how he is gonna punish her..