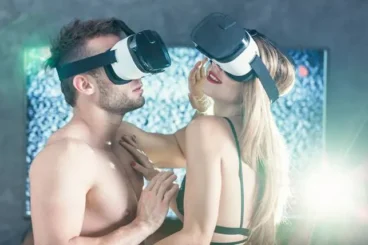 VR porn is the latest and greatest step in the porn industry so far.
The best VR porn sites are already pumping 8K resolution (Yes, 8K!), 180-degree, stereoscopic 3D videos weekly.
The steps you can take from your usual 720p amateur video on Pornhub to full 8K videos that cover most of your field of view are hard to describe in simple words. The difference is enormous.
Until now, you couldn't really feel "immersed" in porn unless you had a huge TV to watch it on. And let's be honest, who watches porn on the family TV in the living room?
And even if you did, it wouldn't compare to VR porn.
So, let's say you just got a new headset and are willing to start watching VR porn.
Let me tell you a few things you need to know before starting!
#1 The quality of downloaded files is way better than streaming the videos in your browser
There's a straightforward reason why this is true: VR porn video files are huge. Some even go beyond 10GB at the finest quality.
There's no way that video can be compressed and streamed in the same quality in real-time. So, every decent VR porn site provides a download option on each video. Go for it! The visual quality is way, way better.
#2 Free VR porn sites are straight-up scams
There's no "free VR porn" out there. VR content is way more expensive to produce than regular content. You can get a crazy porn video from an iPhone, but VR porn cameras are costly, and post-production is very demanding.
So don't believe any "free" VR porn site. They are either full of short trailers or just trying to scam you for money.
#3 The most popular VR pornstars are already shooting in VR
If you're in love with a pornstar and you're worried you won't find them in VR, don't worry. Most popular female pornstars already have a few videos in VR. Riley Reid, Adriana Chechik, Brandi Love and many more famous actresses have switched to VR porn already! So it's time for you to take this step, too!
Generally, quality is what you need to go for first in VR porn. You won't ever trick your brain into thinking that you're having sex for real with a low-resolution video. And that's the main benefit of virtual reality porn – that it can make you believe what you're seeing is real and tangible.