Panty fetish, something you never knew you had. Some of you guys like looking at them (or maybe even smell them) with girls, and some of you like them without dem girls! But today, we got them with a sexy wife! Cause she's presenting her huge panty collection. Now, I have to tell you that she's not gonna wear all of them sexy lingerie though, but most of them.. And that is good enough for me!
Now about this wife.. She's goddamn hot! She's got great tits and a fantastic big ass and delicious looking pussy. You are going definitely going to like her! Enjoy!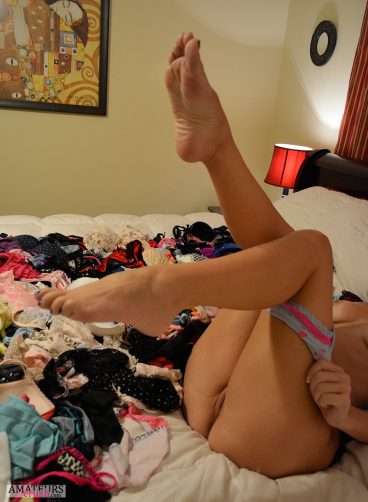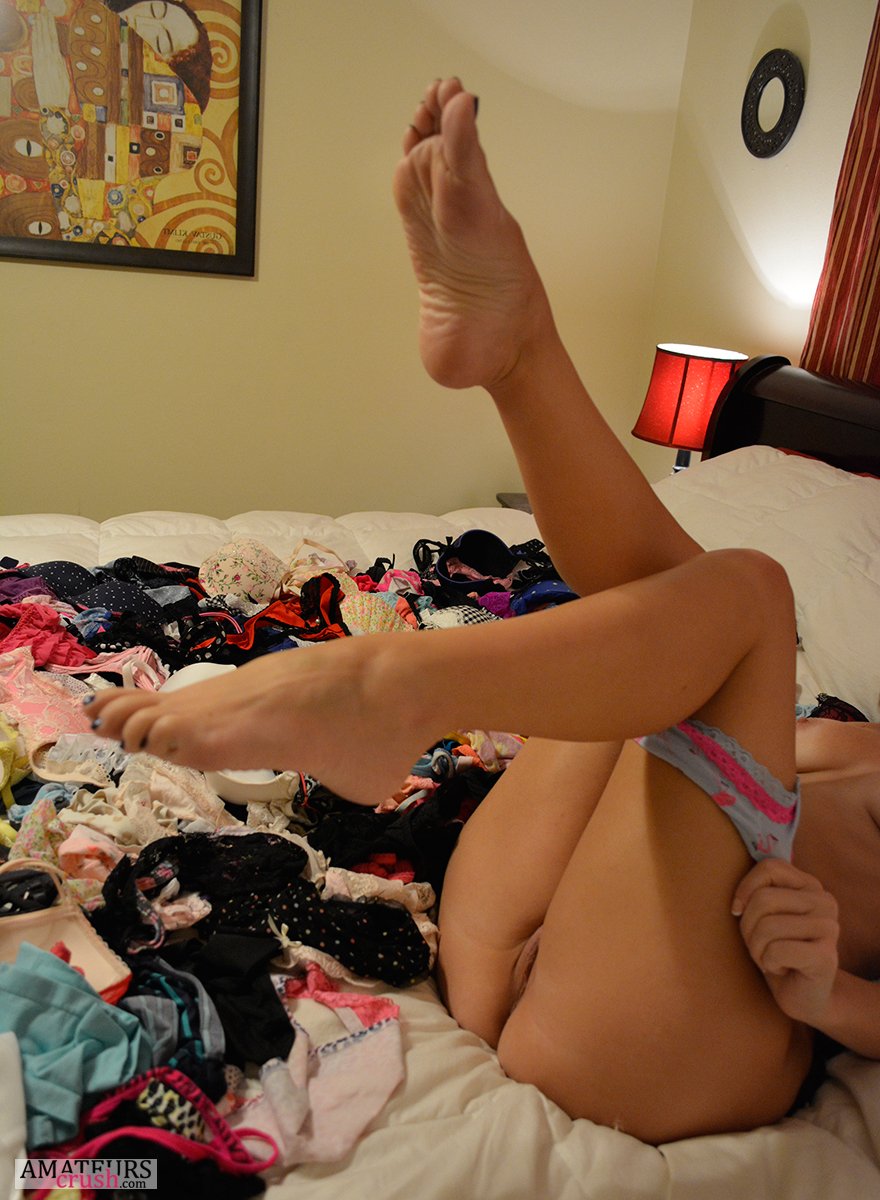 Hot Wife First
Before she'll start wearing those hot sexy lingerie out of her panty collection for you, we're gonna take a closer look at our hot sexy wife first! She's standing here with her silk robe, ready to seduce you. Look how proud she's standing next to her panty collection: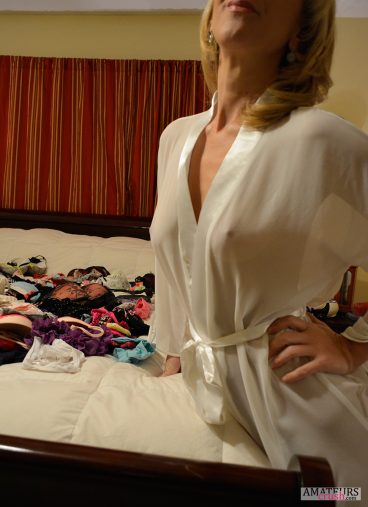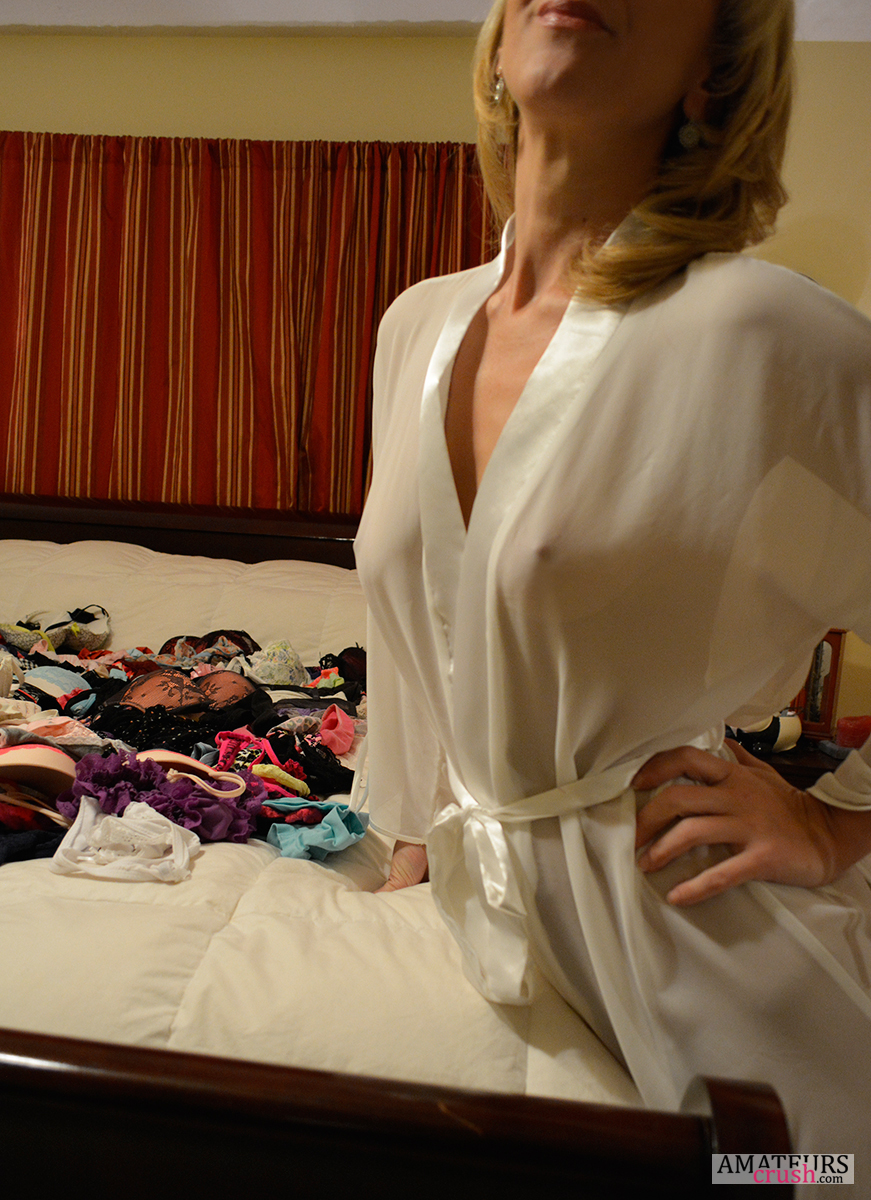 Here we got our Naked Wife sitting on bed with her panty collection. She's got her robe slightly open so her beautiful titties are peeking out.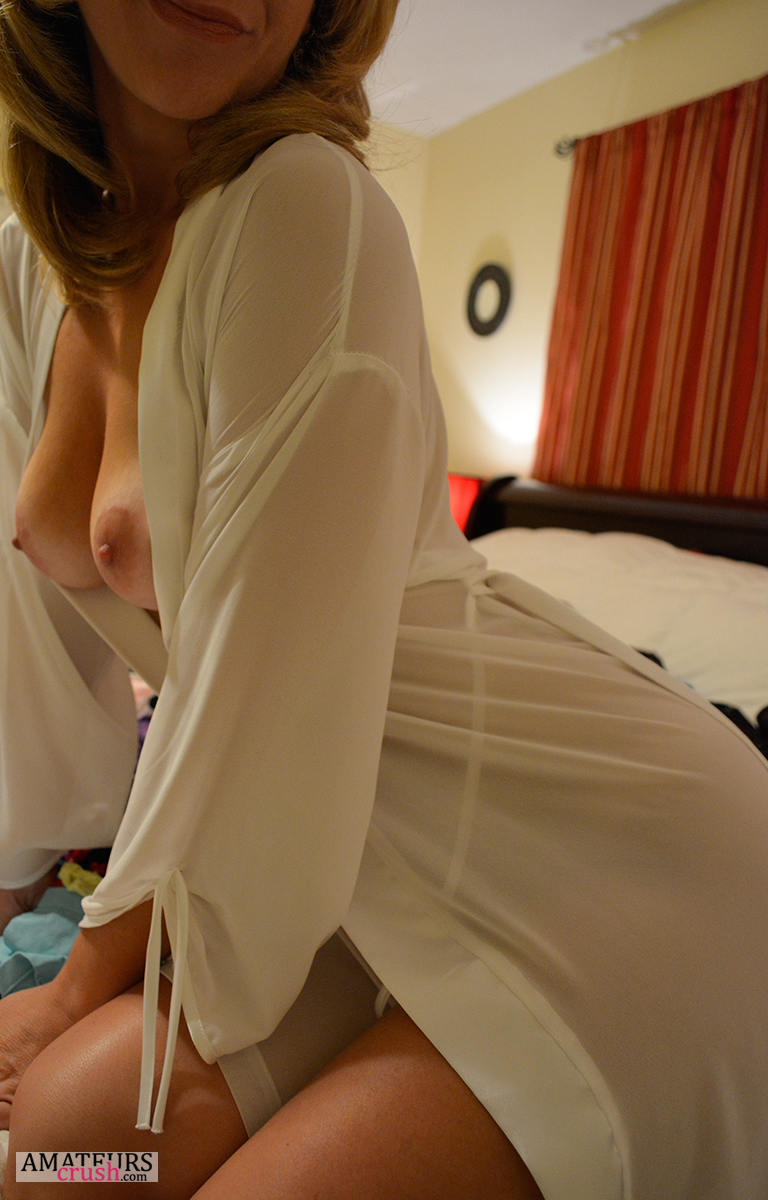 Yeah, she's got more too show off than her panties collection! Your panty fetish gotta wait a bit, but it's gonna be worth it!
Followup by our hot wife bending over her bed, with all her sexy lingerie lying on it: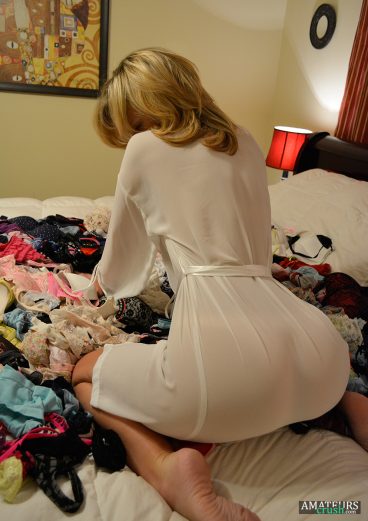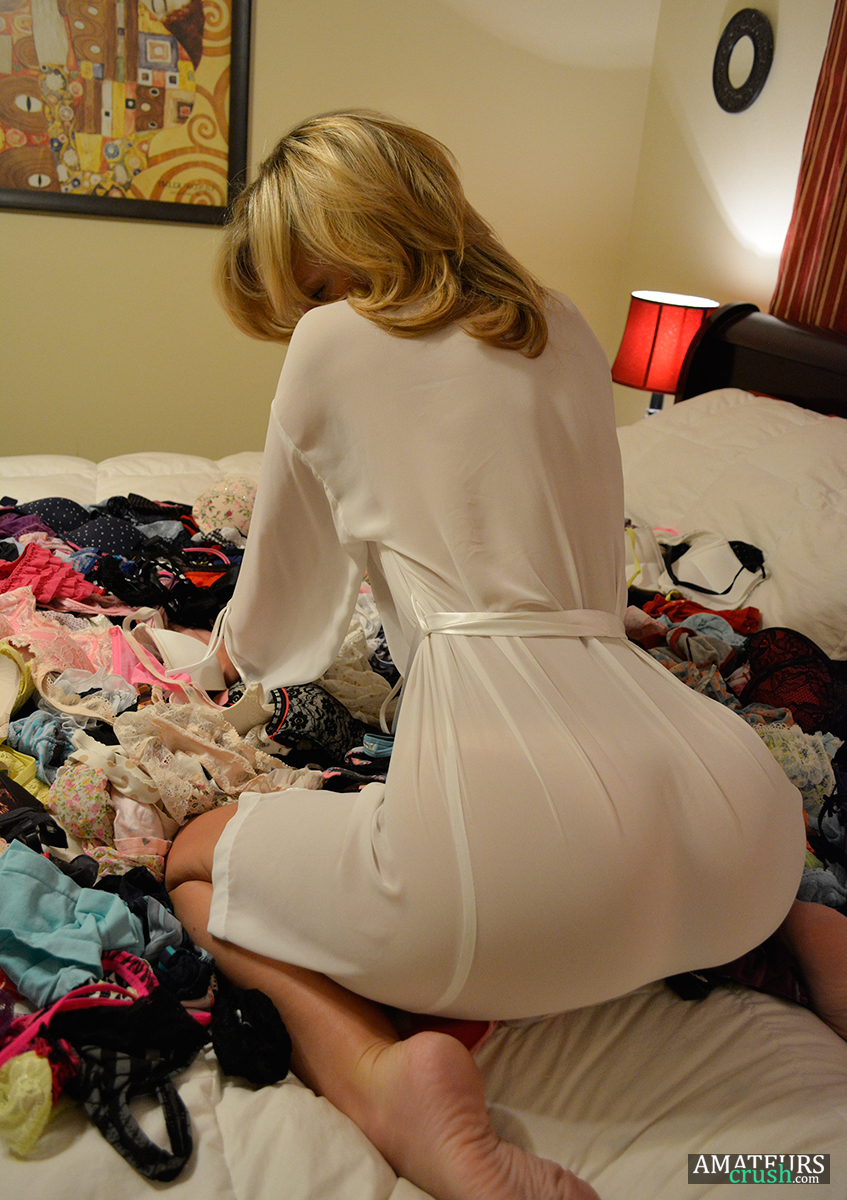 Oeff, that ass though! I love it how you can see that big ass through her silk robe <3 Super hot!
All right, the panty fetish show is about to start. I hope you guys are ready, cause she definitely is! She's already sitting on her panty collection with her robe almost off: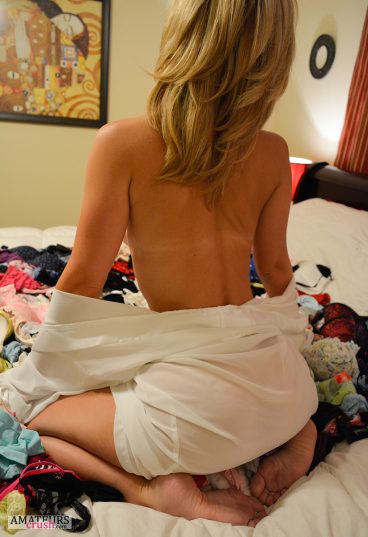 Flipping her hair back and stretching with her beautiful tight booty on her sexy lingerie collection: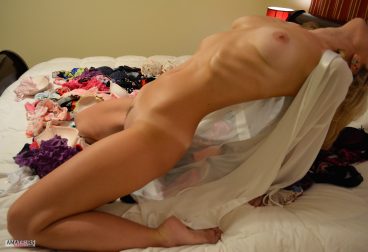 She's got a great body though! Maybe a little bit too skinny, but still fucking hot! Anyway, lets move on to our panty collection!
Thong, G-String and Bra's
Like I said.. She's not gonna wear all of her sexy panties that you see on the picture, but most of them though! And it is going to be hot! I know your panty fetish is screaming for some great pics right now! So lets get this started!
First, we gonna start with her bending over with that big ass in her purple grey sexy panty: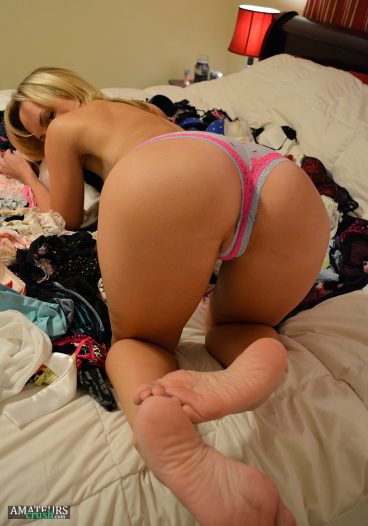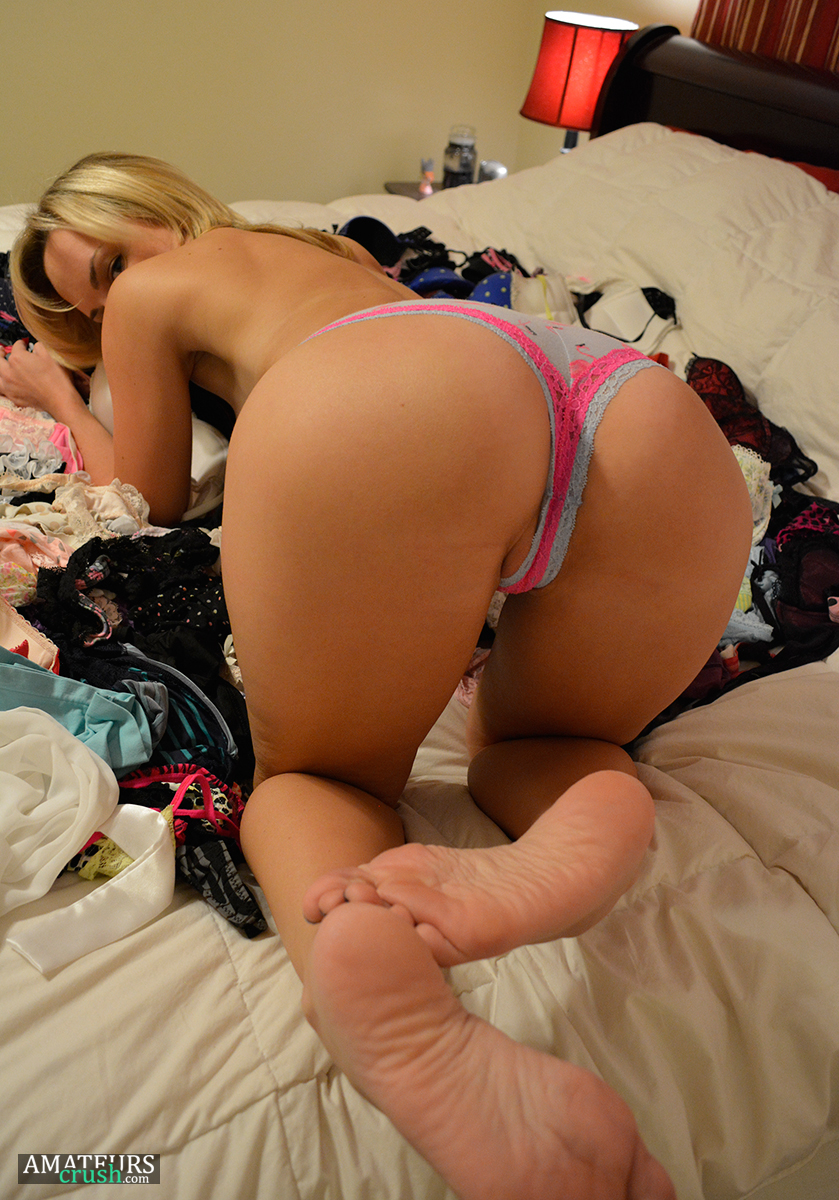 As you can see, it was a hard time putting them on with her big butt like that: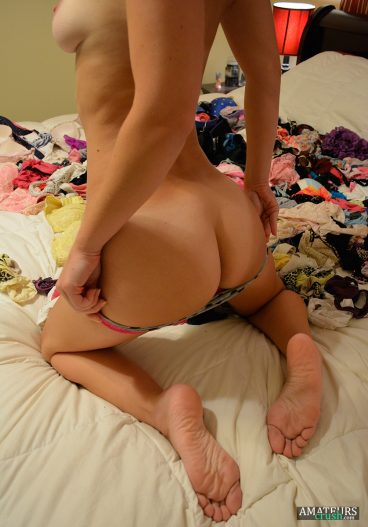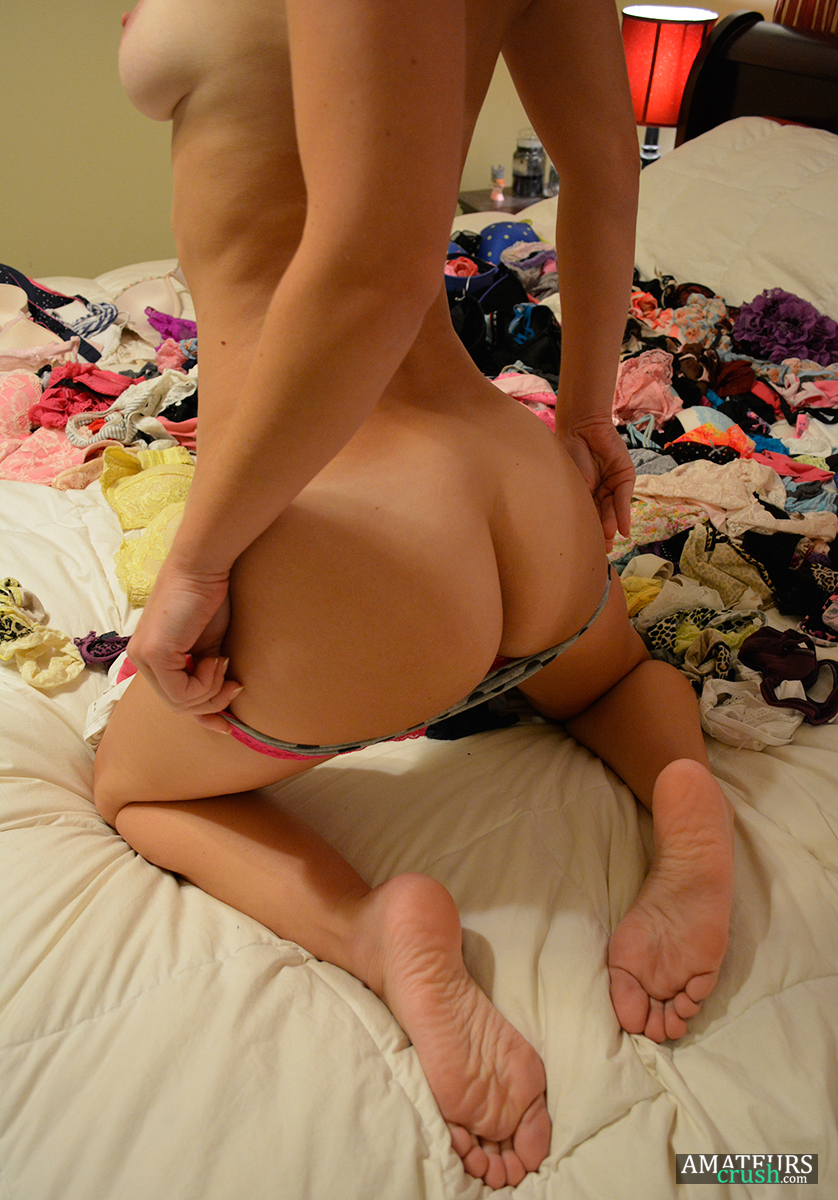 Seriously though, it must feel great to lie down on all those worn soft undies. Can you imagine how it would feel like if it was you on those wives panty collection? Everywhere you turn, you can smell those hot scent of worn fresh panties..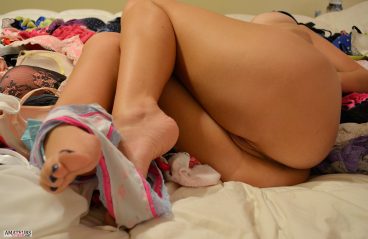 Next up, we got her lying on her side with her red bra and pink undies on: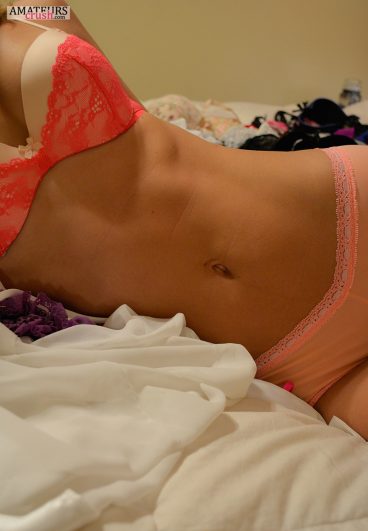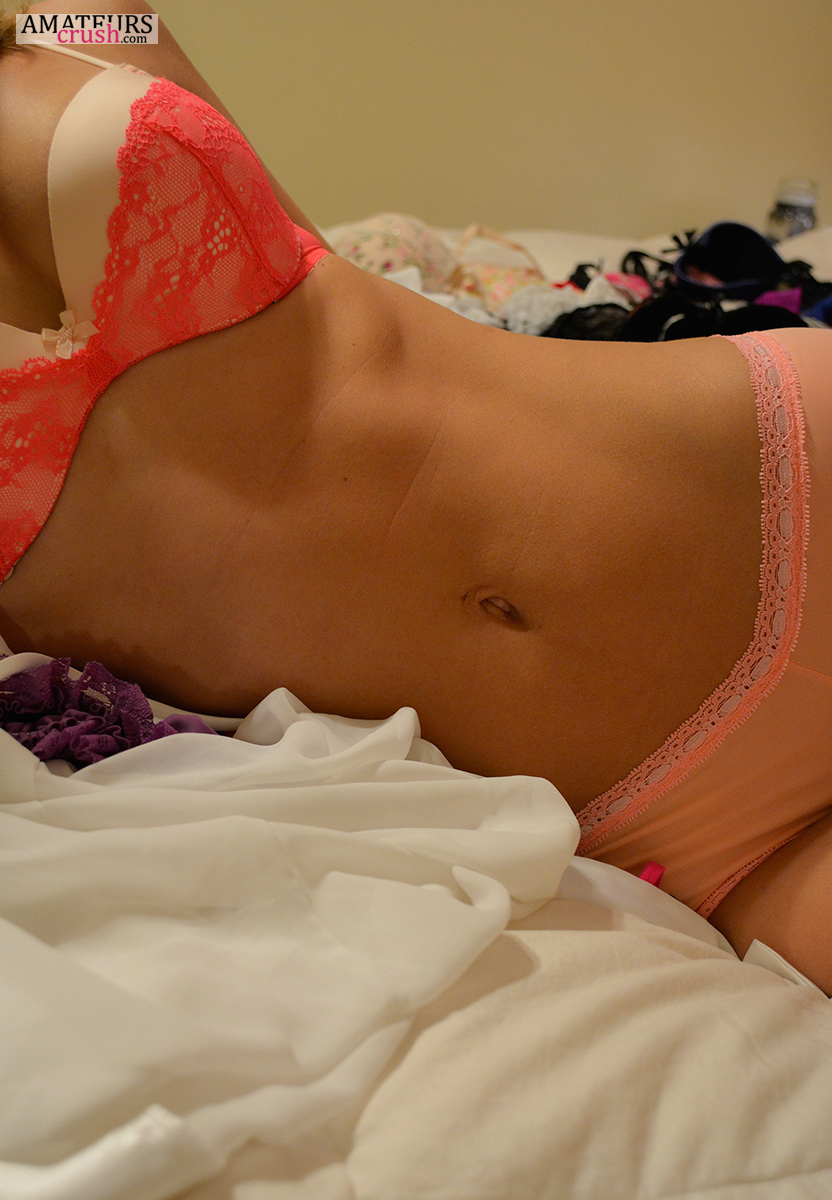 Followup by a beautiful ass pic of her butt in her pink sexy underwear: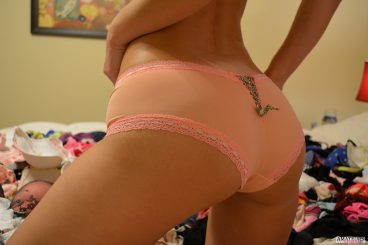 That ass looks really tight, right? <3
Next up, we got some sexy up close pictures of her wearing her black white undies: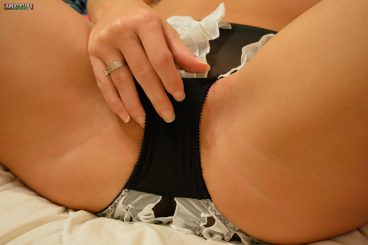 Definitely one the most loved colors for panties!
All that showing off makes her horny though.. So next up, we got a little bit of teasing of her touching herself underneath her black white sexy undies: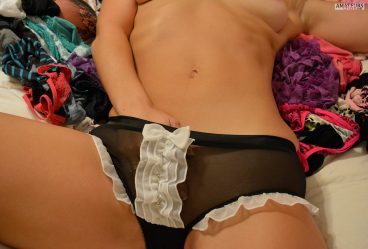 Time to take them off and try on some more underwear for our panty collection pics: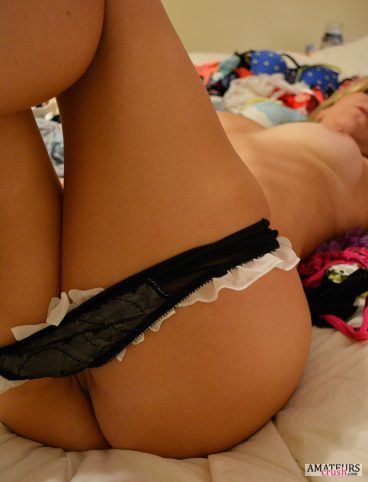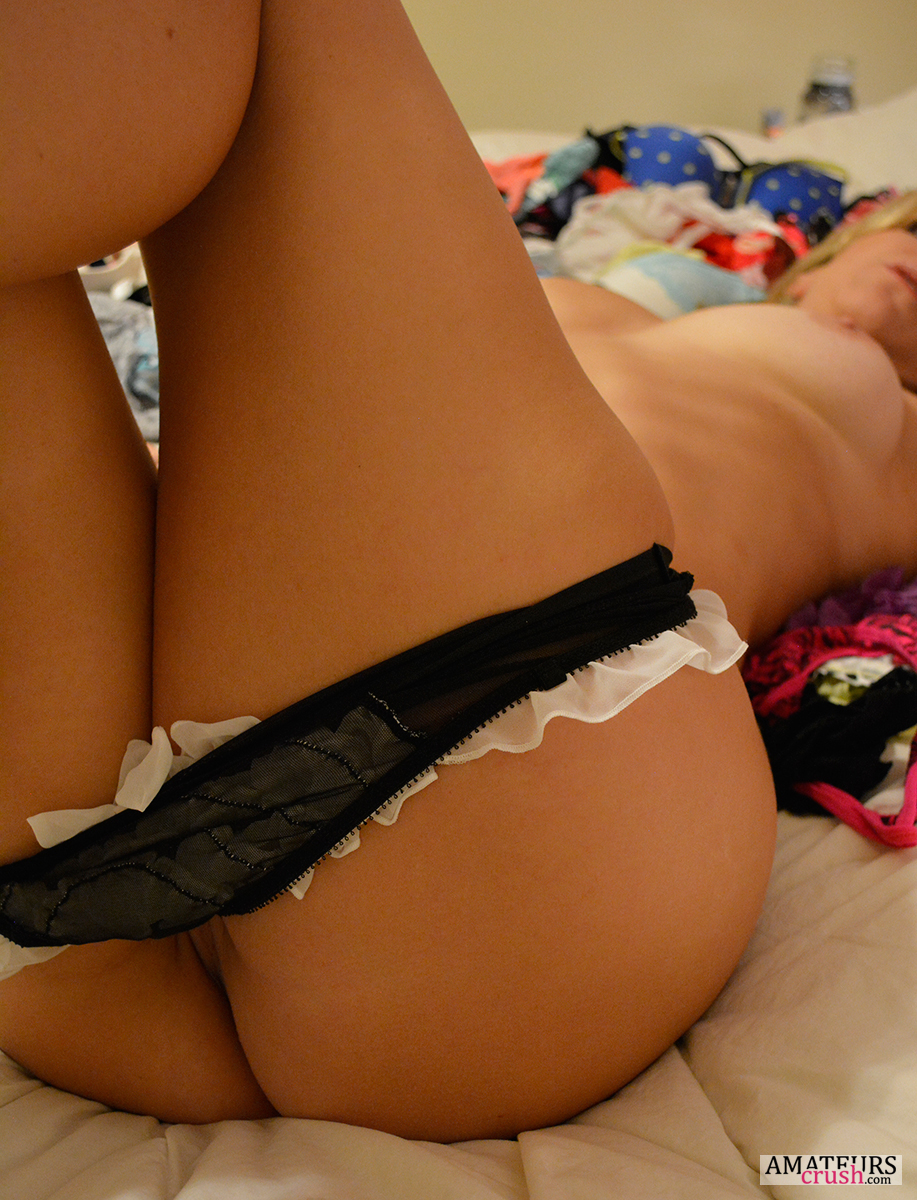 What do you guys think of her Bart Simpsons underwear?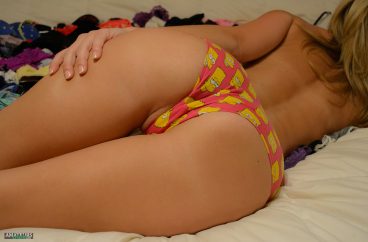 I bet it does satisfy your inner geek and your panty fetish!
Or maybe you like to see her in sexy white lingerie?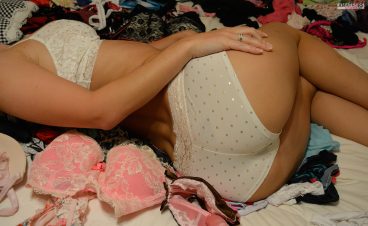 Now she doesn't got the super hot MILF big tits like in the Nude MILF Pics! But this will do too <3 I like the Bottomless Girl Pic though!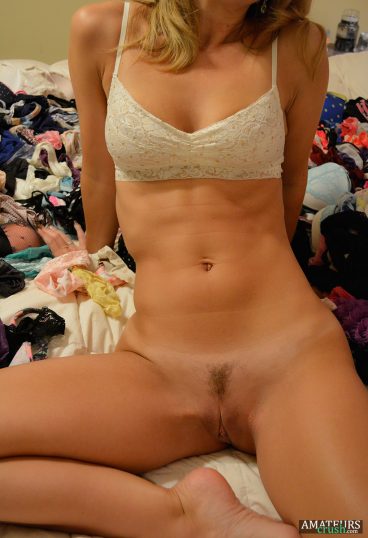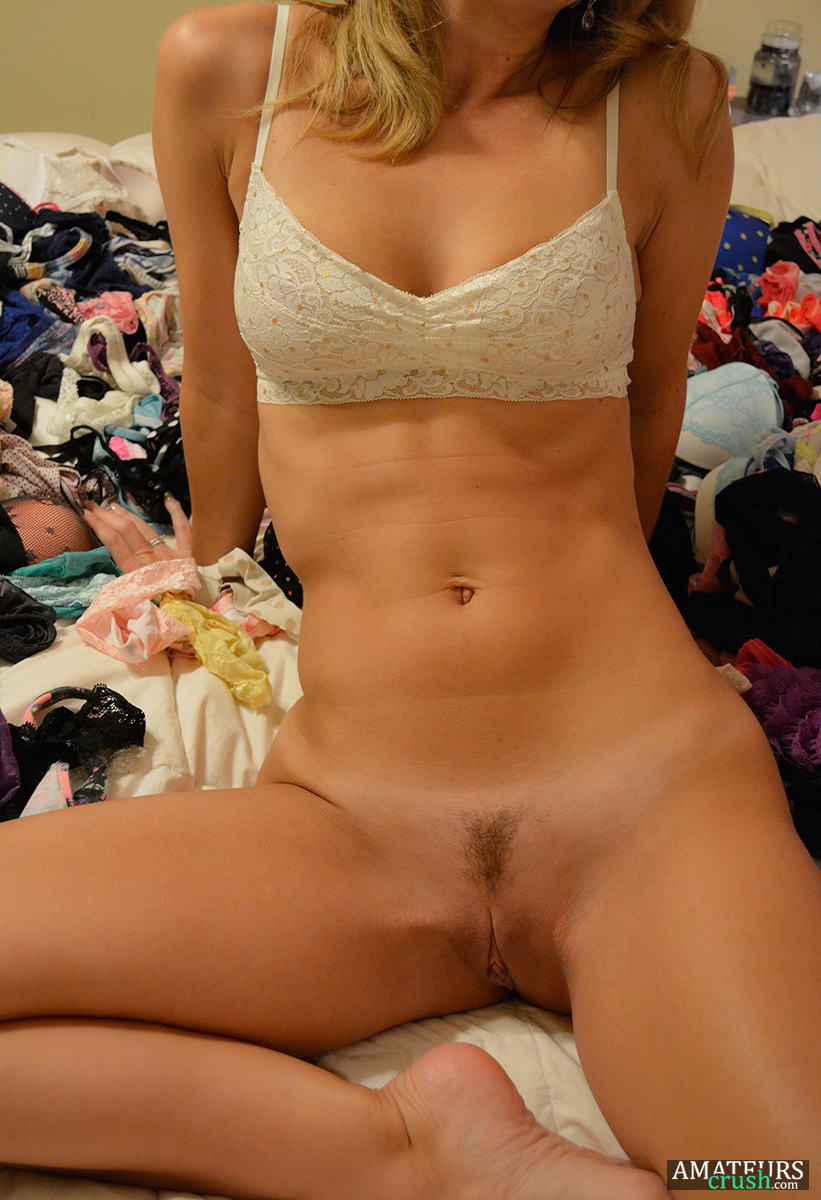 Does this satisfy your panty fetish? She's wearing a colorful red/orange thong while sticking that ass back on her panty collection:
You can't really ask for more from these wife in hot underwear pics..
On her flat stomach with her ass a bit up and her sexy panty just a little bit down to give you a small peek of her gorgeous delicious-looking butt hole: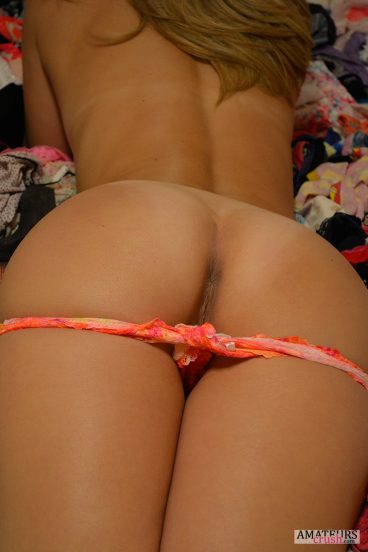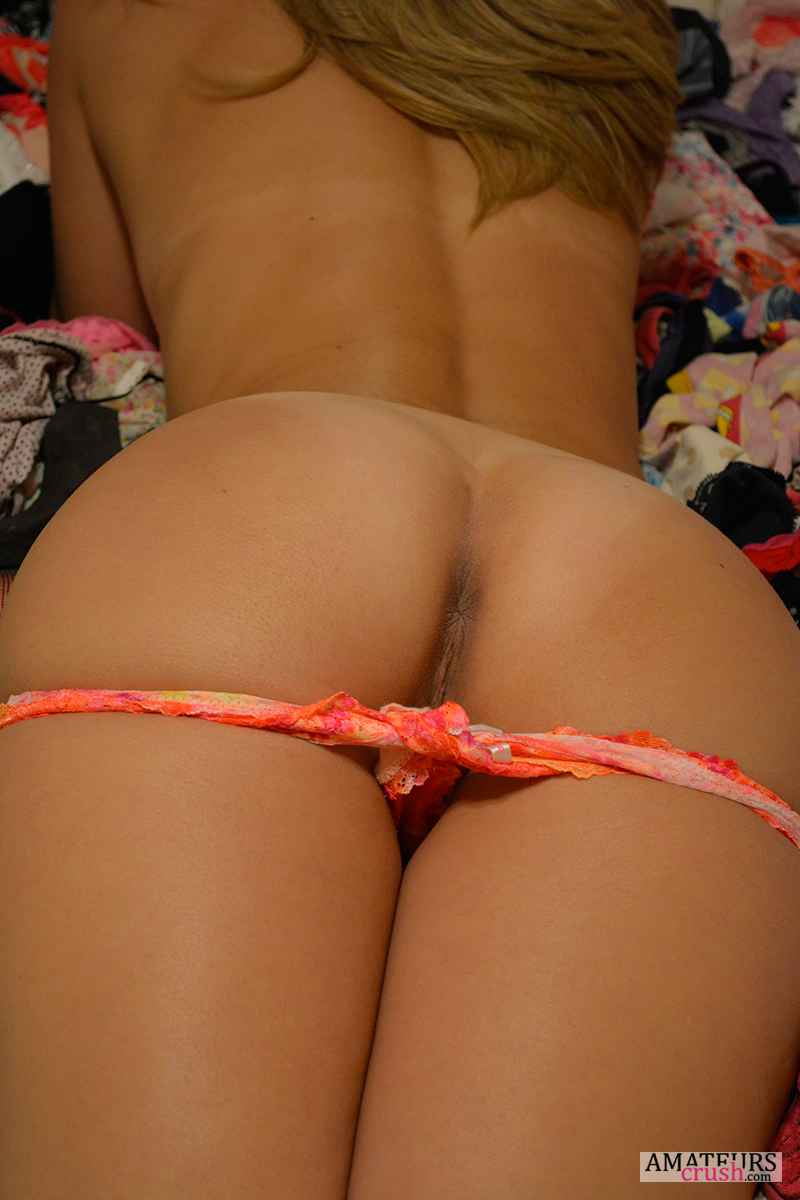 This sexy wife is definitely a beauty! And I fucking love it when they are on their stomach, makes their pussy so fucking tight <3
This is a great teasing pic of her covering her tits while showing that sexy trimmed pussy:
And you can see her whole panty collection behind it too. Nice!
So, what else do we got? Some super hot purple V-string out of her panties collection! That ASS though, fantastic for these panty fetish pics: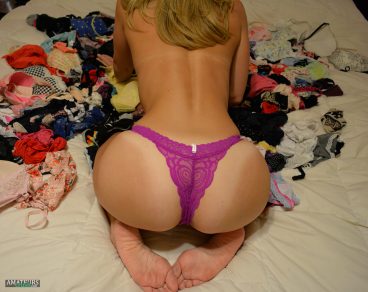 What another great teasing pic of her with her legs up and showing a bit of that pussy while her string is still around her thigh: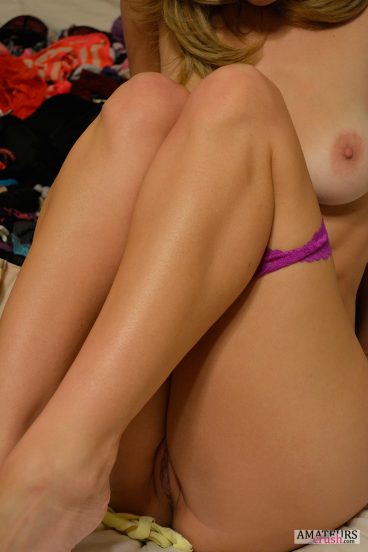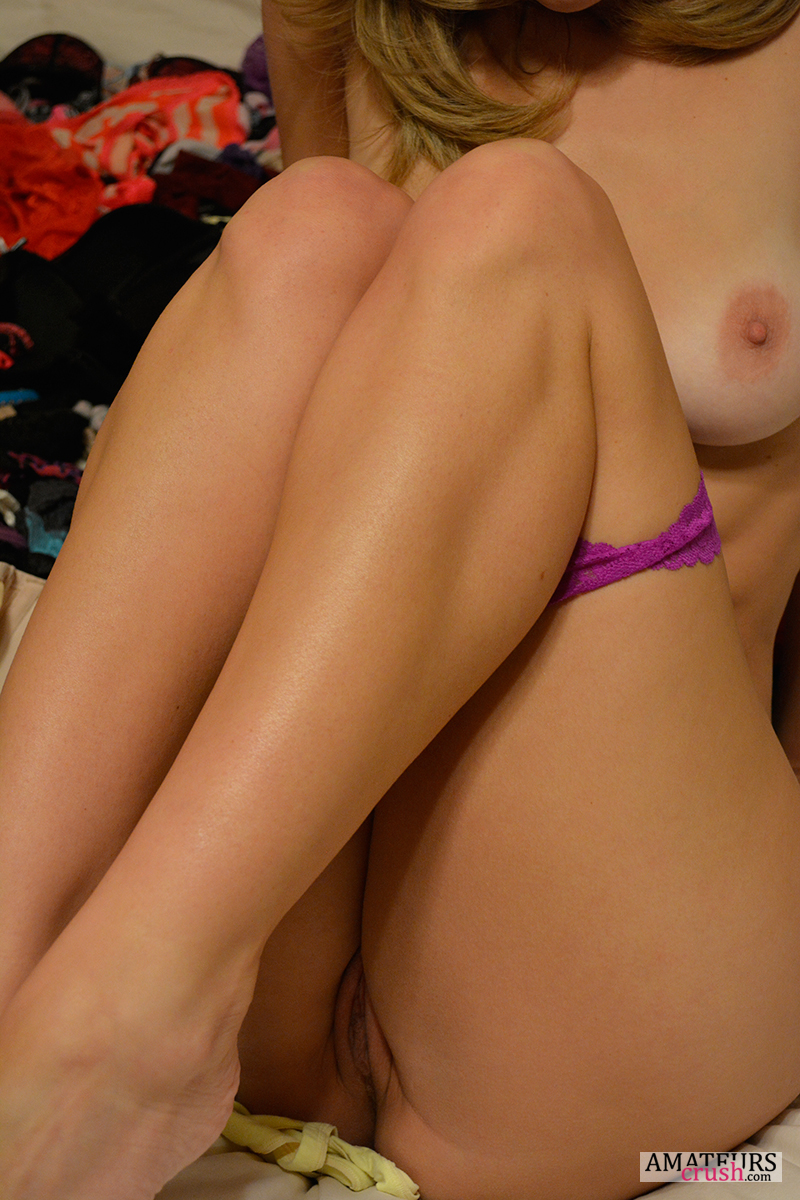 I would love to stick my face in that!
She's lying on her side and showing off her big ass and juicy Rear Pussy From Behind with her purple string just down her legs: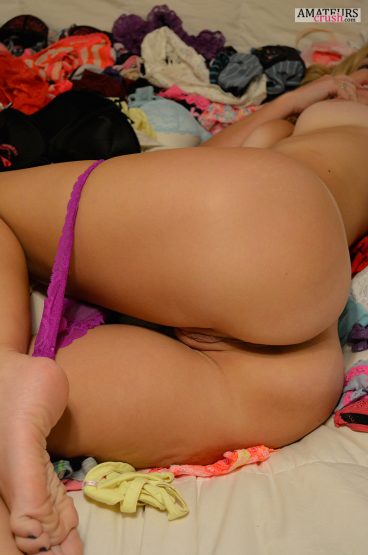 Next up, we got a nice colorful sexy lingerie that she's wearing for us from her panty collection. She's sitting on her knees and holding those tits up: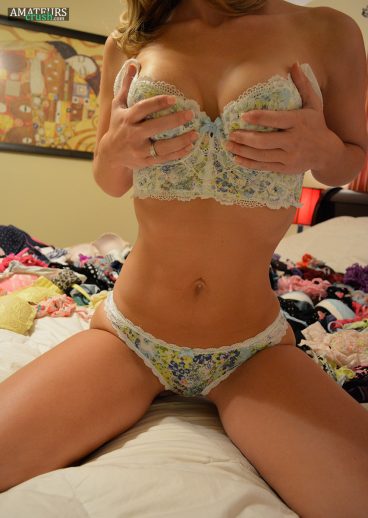 Maybe you would like her to get down on her hands and knees and stick that ass back, so you can see her panties a little bit better?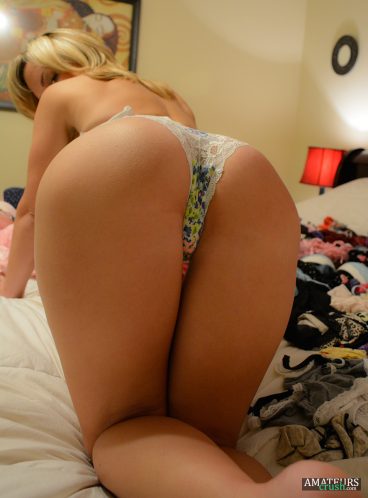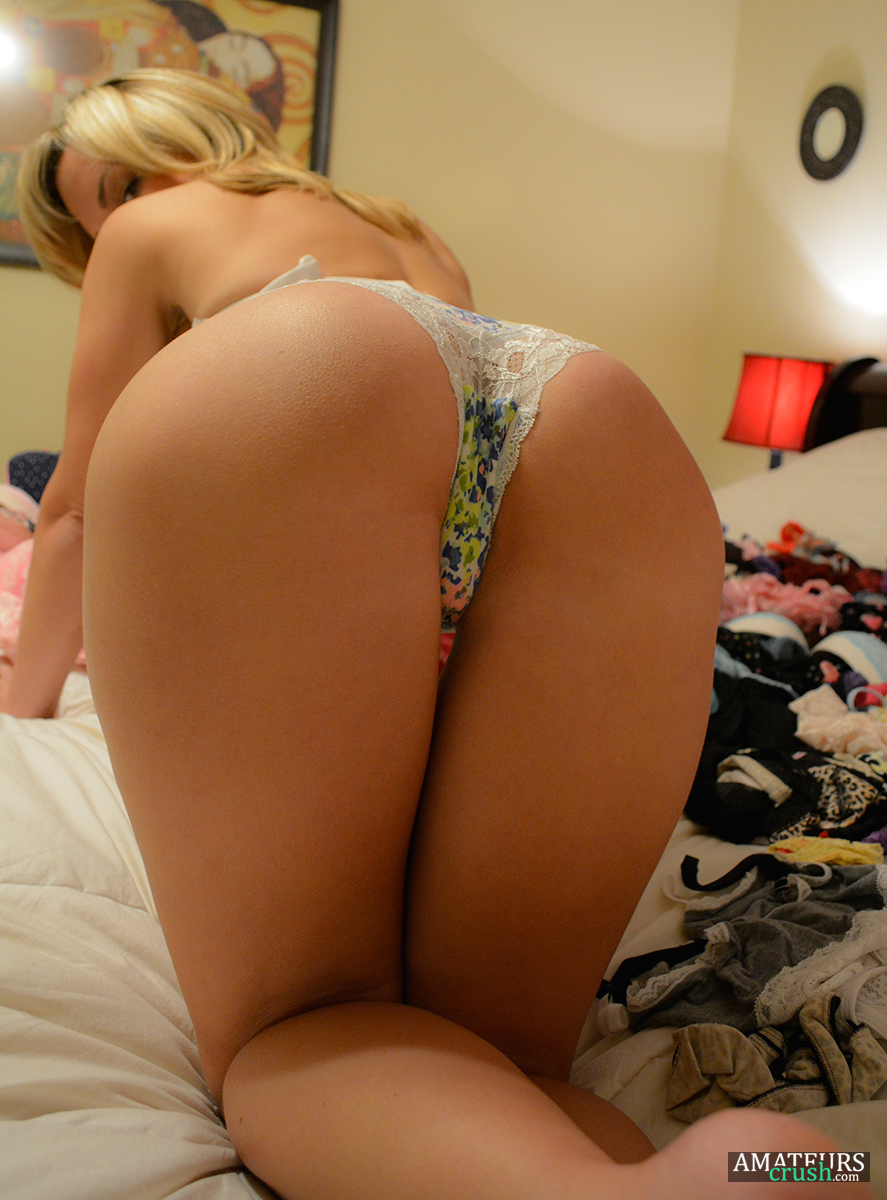 She's looking like she wants to be spanked here <3
All right, time to take those sexy undies off! Another superb up close picture for your panty fetish collection of her feet and underwear: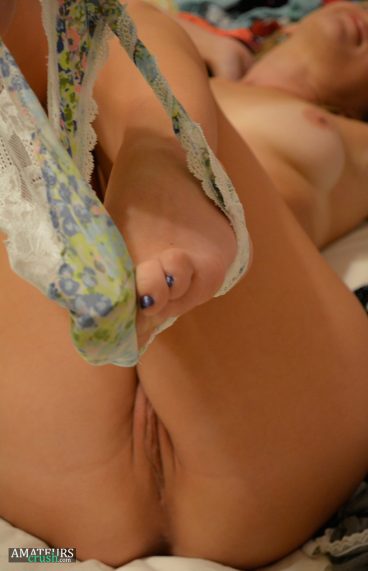 Taking them off with her feet is hard as you can see, but it does make some great pics though!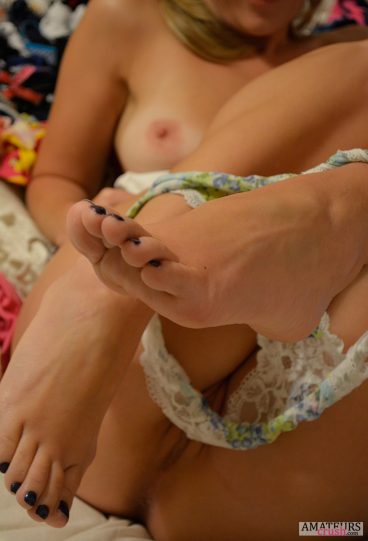 You can that this sexy wife has some sexy feet too..
On to the next one.. Here she's trying to put on the next undies for you panty fetish! Can you guess which hot one the next is?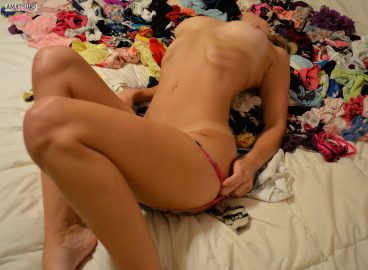 It's pink.. grey.. and has some black dots on it.. I bet you want to see more of this sexy underwear: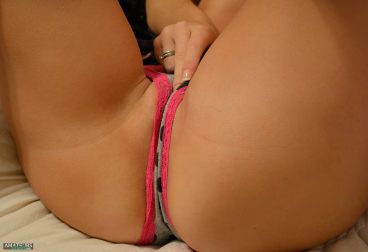 Don't worry, you're panty fetish will be satisfied! She's making sure you'll see every detail good from her panty collection!
I hope you like them girls bending over, cause here we got another fantastic bent over ass pic in her pink grey dotted panty: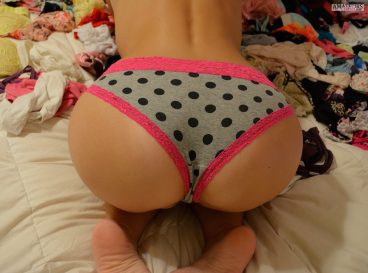 Another fantastic wife bent over ass in her pink grey dotted sexy underwear: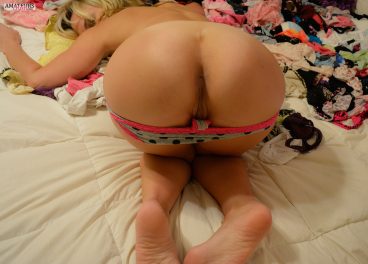 Now I like this sexy picture with her undies above her knees! She has legs up and spreading her gorgeous pussy while we can see her panty collection in the background: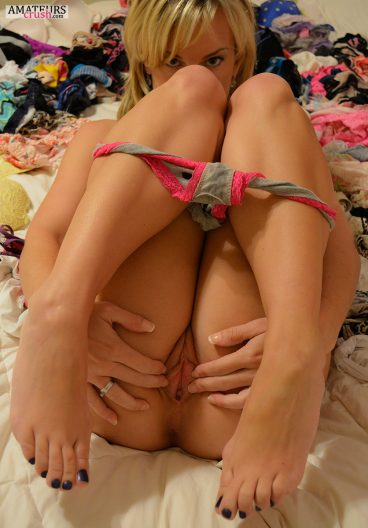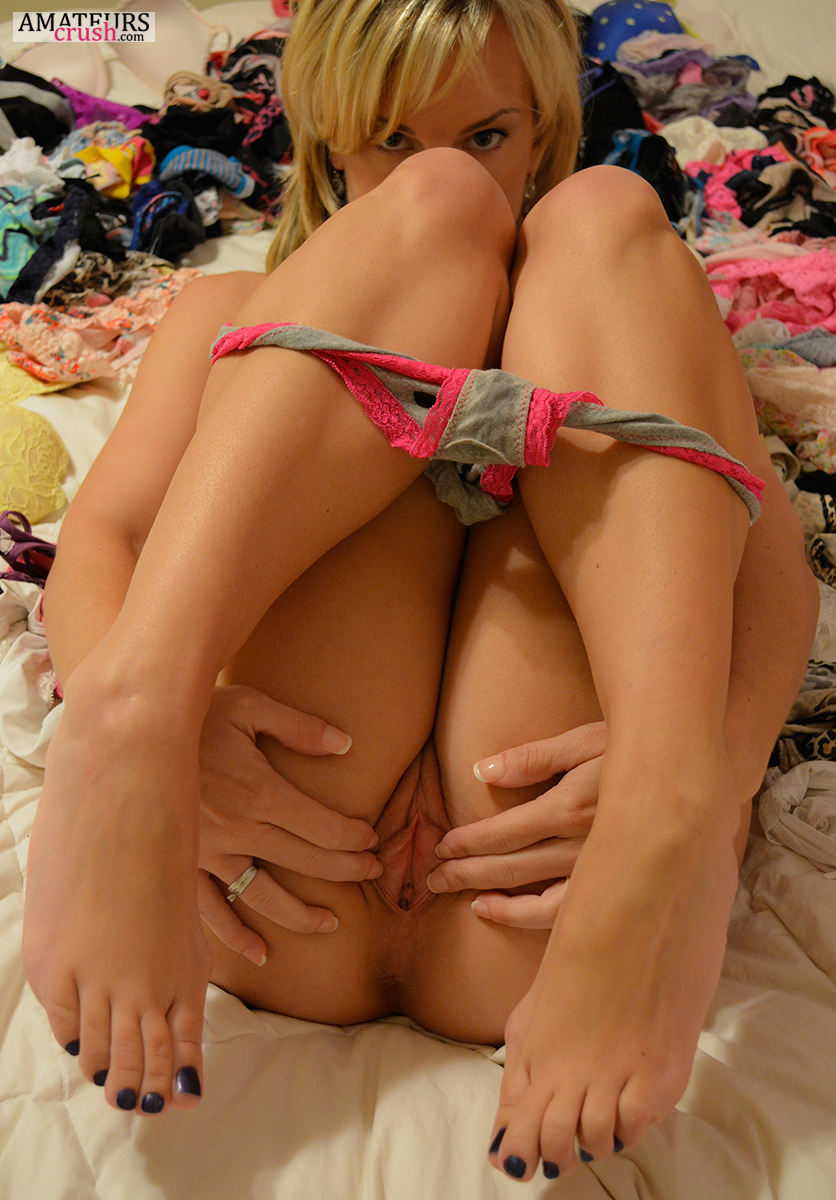 Finally we are down to our last hot picture of our gorgeous sexy wife! She's all tired from showing off her incredible panty collection as you can see. I guess she loves the smell of her own undies as she puts it in her face to take one last deep sniff while lying all nude on bed: