So, I came across these pictures, of girls showing their asses underwater, the other day and I thought that they were pretty hot. These pics are definitely worth sharing with you guys. This isn't the usual photos you would normally find on the internet, but the quality is just superb! Plus, I'm kinda an ASS lover guy. So, every pictures that has an amateur ass (small or big) from a girl in it, I would automatically love it! So, if you are a butt lover than this post at Amateurs Crush is definitely for you! Also, this post is kinda special, cause I haven't come across many of these high quality ass underwater pictures yet. I'm pretty sure you are gonna like this!
Now, judging by the amateur pics we got, this must have been an awesome vacation! I mean it got all the elements of making some in-fucking-credible sexy pictures: girlfriends, amateur ass, bubble butt, blue sky and beautiful crystal clear water! These two girls had some major fun all right! So, prepare yourself for some awesome ass underwater photo set!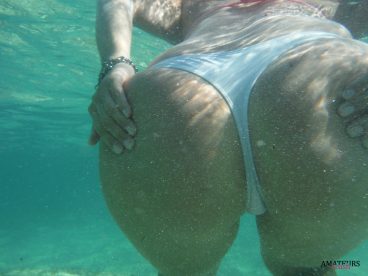 Crystal Clear Underwater Amateur Ass View
Lets get started.. Our first beautiful girl is wearing a nice pink tanga with a black edge. She's just swimming around in the sea, or rather trying to hold her head above water. Her girlfriend is making some nice ass underwater pictures in the meantime! I love how she bents her knees a bit and sticking that tushy back in the second picture. It makes her butt looks bigger than it actually is! That is a good-looking amateur ass for sure. But what I fucking love though, is the last picture! She's teasing us there, pulling her tanga slightly down with her 2 hands, giving us this amazing ass underwater shot! <3
Our next two sexy photos is from the front side of our amateur girl! Have you ever seen a camel toe underwater this beautiful? I bet you haven't! Unfortunately we don't have any full girlfriend nudes though, but these are just as hot too! In her last picture she's flashing her wet pussy, by pulling her panties aside. Her cunt has a very tasty-look. Don't you agree? I wouldn't mind sticking my tongue in that.
Bubble Butt Bent Over Ass Underwater
Next up: her bubbly butt girlfriend. Yup, her friend has an even greater ass! You can tell by the first picture already, how her amateur ass is floating on the surface of the water. Look how it sticks up above anything else. I bet she has a hard time sinking with that ass. No life-vest needed! Nope! Her ass is keeping her safe already. 😉
So, like her girlfriend, she loves bending her ass underwater. She loves showing us that perfect round tushy of hers. Imagine the things you can do to her rear end. I, myself, got some pretty good idea's how to spoil that lovely amateur ass. I know it would make her crazy. Anyway, the things these girls do to give us the perfect photos shouldn't go unrecognized. So, thank you!
Btw, you should definitely check out our girls bent over collection!
In the last picture you can actually see how big that amateur ass actually is! Good god, these are the kind of asses I can only dream about..
In the next couple of pictures we have a really, really, close up of her amateur ass! I love it how her girl makes a picture of her friends butt while she's gently touching it. I don't know why, but that is seriously hot! You can bet that she's testing the firmness of her ass and how bouncy it really is. I probably wouldn't be able to keep my hands of that ass too if she was my girlfriend!
We got some more amazing girlfriend pics for ya that you gotta see. Head over to the Latina GF Sex Pics for some incredible hot 59 Amateur Sex Pics! That girl has a booty too and her boyfriend is making some good use out of it!