So, I came across these pictures, of girls showing their asses underwater, the other day and I thought that they were pretty hot. These pics are definitely worth sharing with you guys. This isn't the usual photos you would normally find on the internet, but the quality is just superb! Plus, I'm kinda an ASS lover guy. So, every pictures that has an amateur ass (small or big) from a girl in it, I would automatically love it! So, if you are a butt lover than this post at Amateurs Crush is definitely for you! Also, this post is kinda special, cause I haven't come across many of these high quality ass underwater pictures yet. I'm pretty sure you are gonna like this!
Now, judging by the amateur pics we got, this must have been an awesome vacation! I mean it got all the elements of making some in-fucking-credible sexy pictures: girlfriends, amateur ass, bubble butt, blue sky and beautiful crystal clear water! These two girls had some major fun all right! So, prepare yourself for some awesome ass underwater photo set!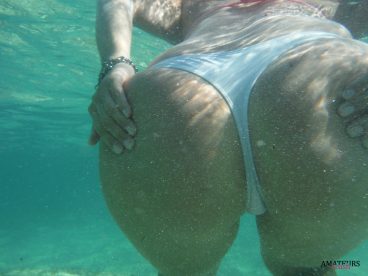 [Read more…] about Amateur Ass Underwater – Not an everyday post you would see!