There is just something about girls with glasses. Those spectacles make them look more intelligent and thus more interesting. And god knows, how much I love smart (nerdy) girls! Just so goddamn sexy. All these girls that wear glasses just look like (and pretend) they are a good girl, but we all know that deep inside they are naughty as fuck! Like every other girls on my blog. And here we got some good proof of it as well! 45 Sexy Amateur Pics of naughty naughty 18+ Teens, Girlfriends and College Girls showing their (mostly big) tits and hot pussies! We got them with and without clothes. So we got something for everybody! I hope you enjoy these hot girl with glasses pics!
"Aren't I so cute with glasses"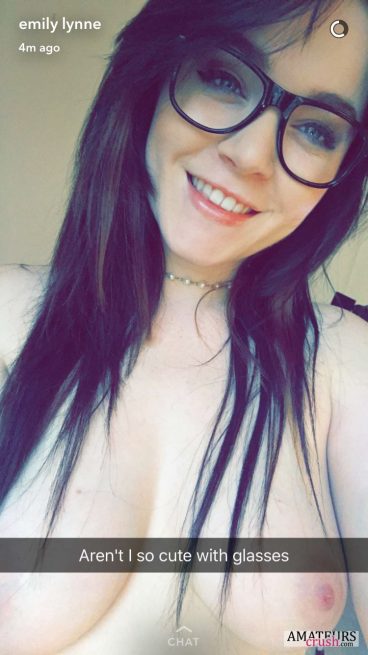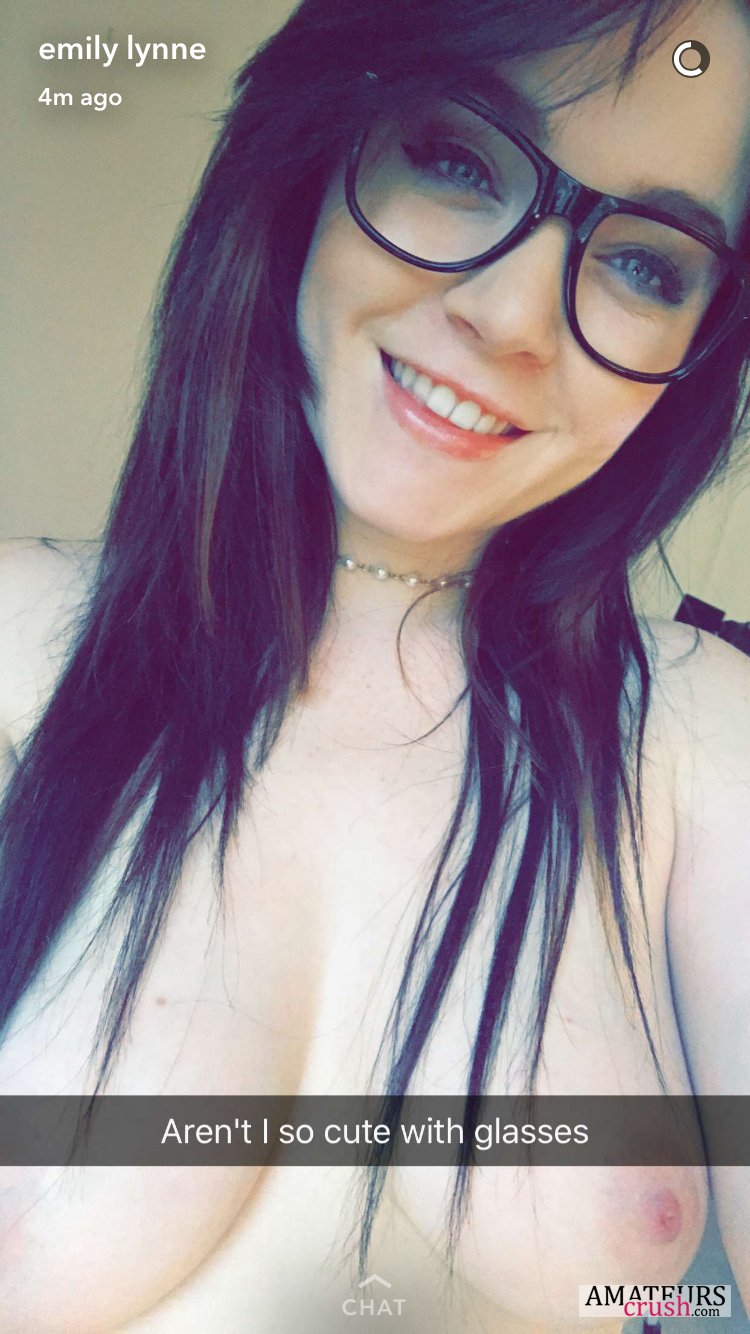 Damn right you are Emily! Cute as fuck!

Glasses, Spectacles and Monocles
Let the fun with hot girls with glasses begin! I hope you are ready for some sexy nerds and got some tissues with you, cause their sexiness will definitely give you a nosebleed. Starting with a nice unzipping of a blonde babe in her dress and wearing those sexy spectacles: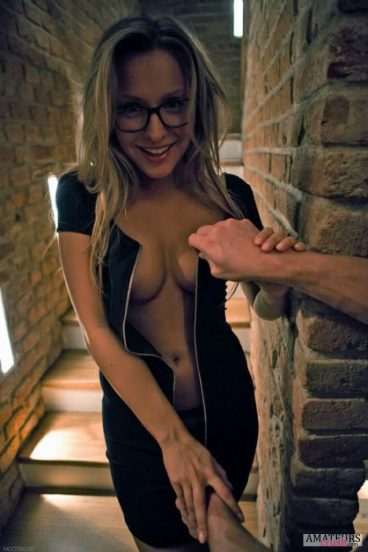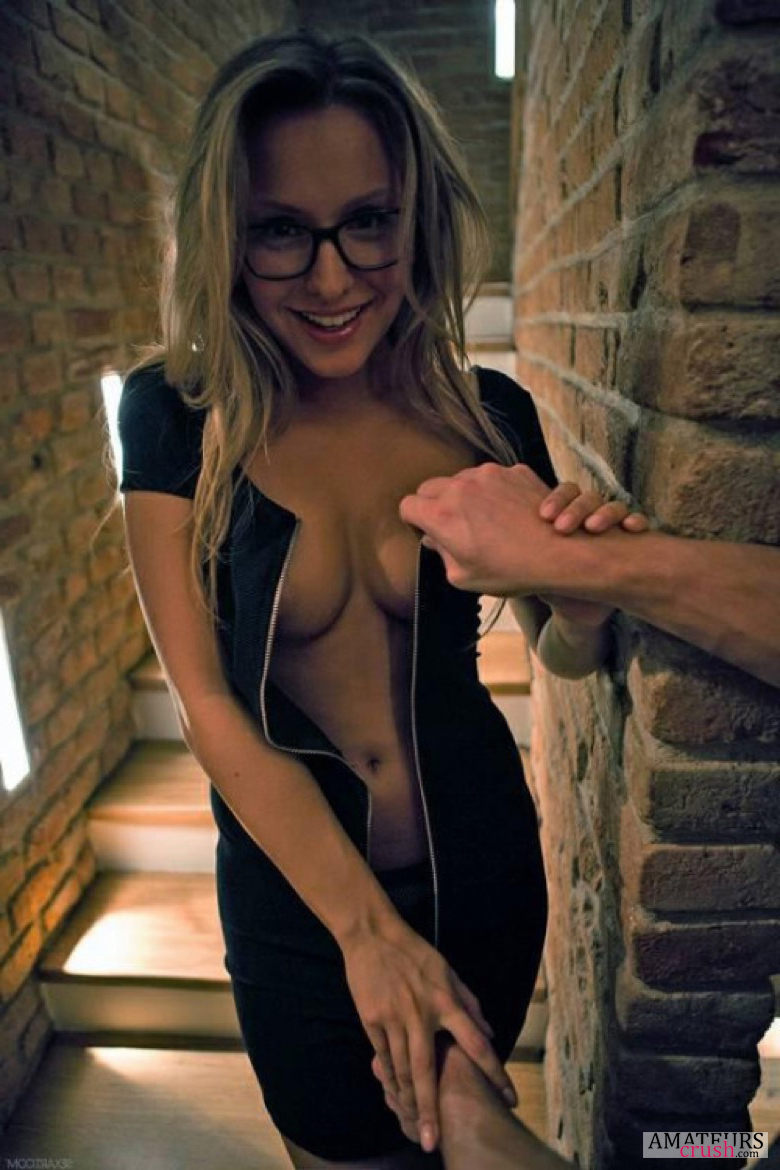 You can only imagine where this night would lead too with this girl with glasses..
You can never go wrong with one boob out in a selfie, especially when you look like a hot busty nerd like her: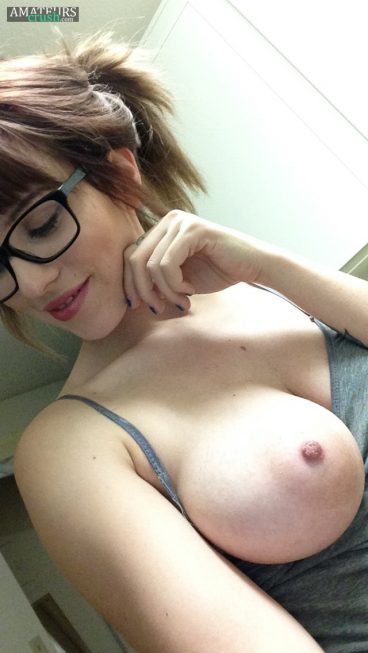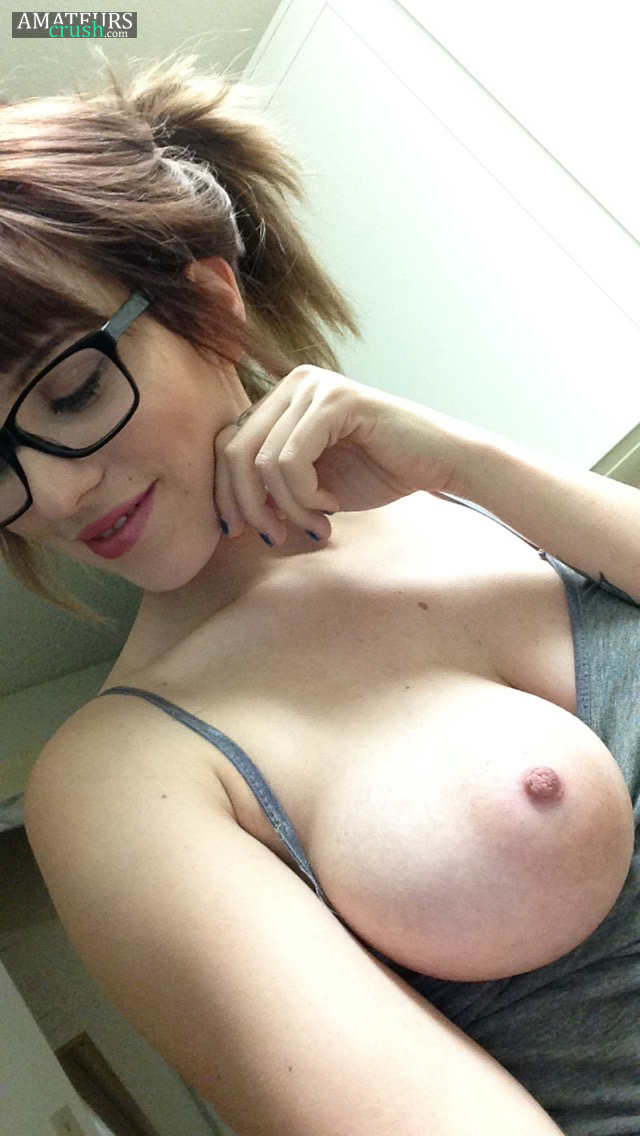 Just perfectly round and natural Busty Tits for you to look at <3
Now these are the college girls with glasses I would love to date! A real fine blonde babe in her bra and wearing glasses: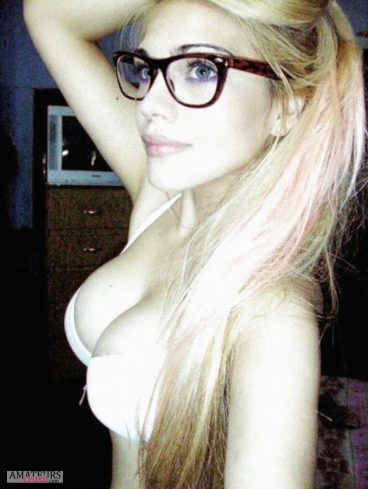 US is filled with cute barista's like her! I can only imagine how busy it is.. day in and out.. everyday.. with hot girls with glasses like her serving you drinks: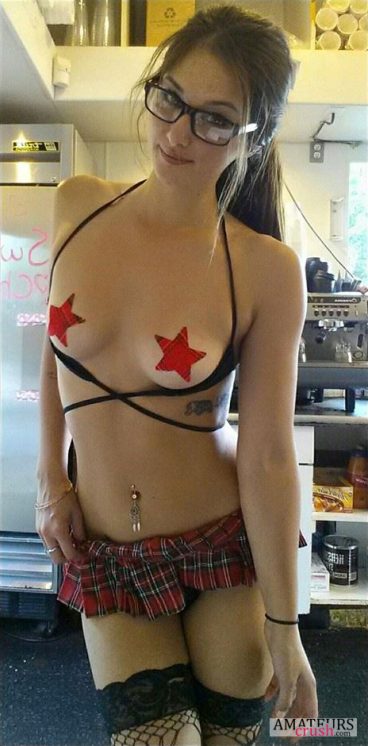 She's such a teaser too! Lifting her sexy mini skirt up a bit like that. I can't tell if she's wearing No Panties.. But I would love to visit her and find out though.
Now the next one looks like she could be the sister of our last one, but this busty girl with glasses is more fuller!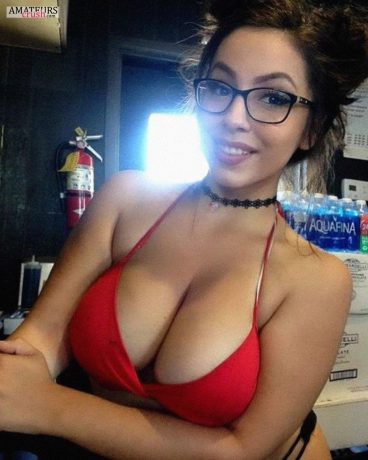 You got to love these barista's!
Now this is a fantastic ass pic of a girl with glasses and showing her bubble butt in her black thong: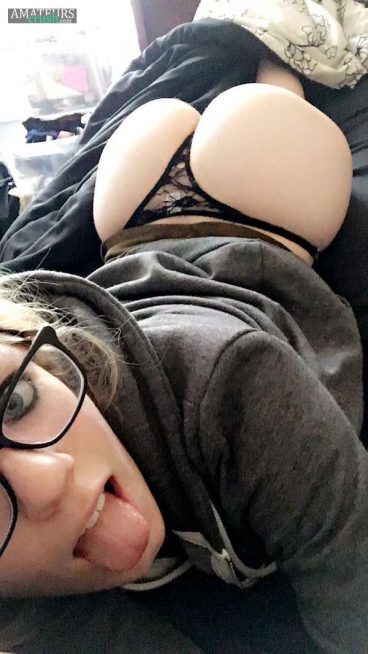 And I would love to see that ass jiggle!
With the next one, we can only imagine how big her breasts are if she's able to lift them up like that and bite her nipple piercing like this: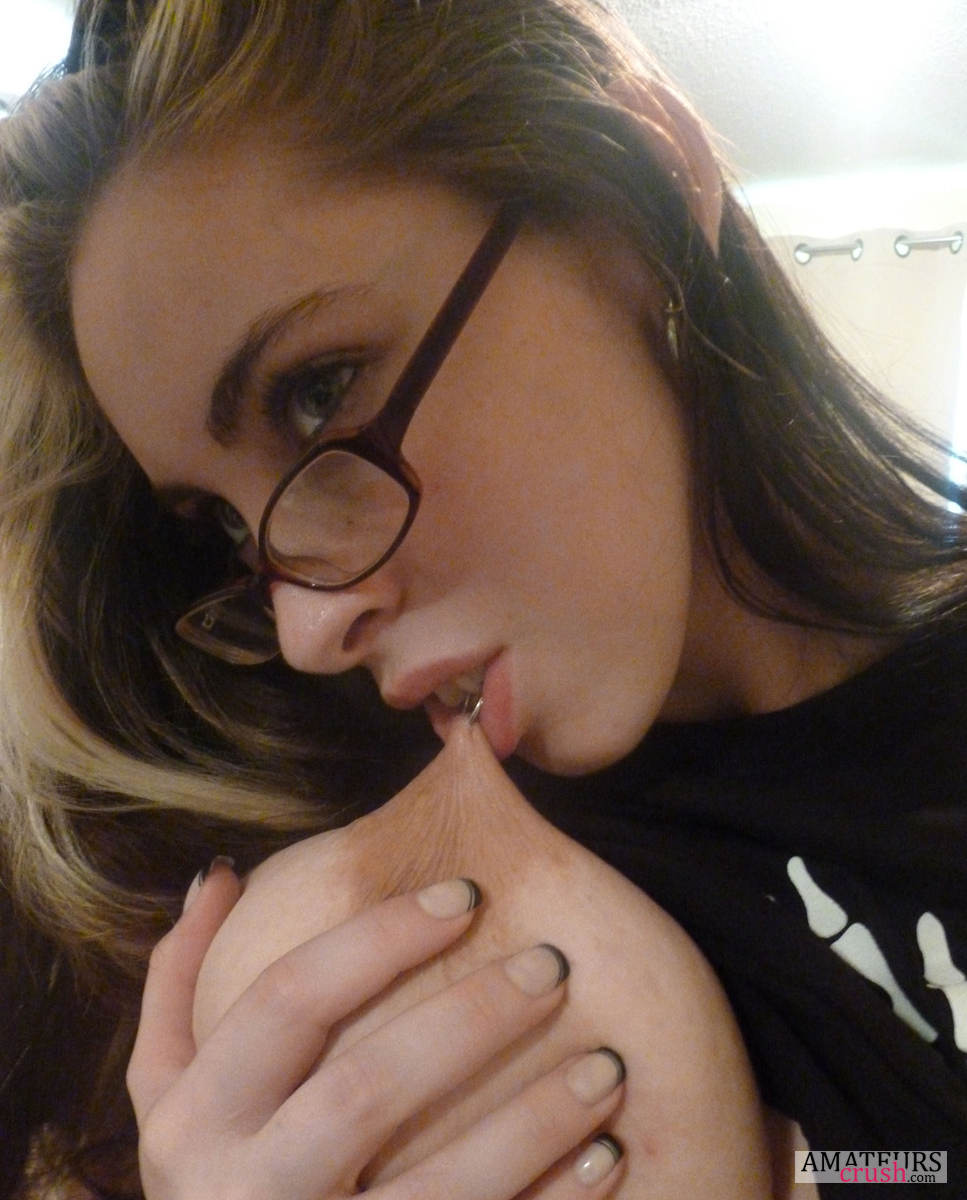 She definitely looks like the girls with glasses that can teach me a thing or two about making a lady horny by her nipples.
Another fantastic selfie from a hot busty girl wearing glasses. She looks like a secretary that I would hire on the spot: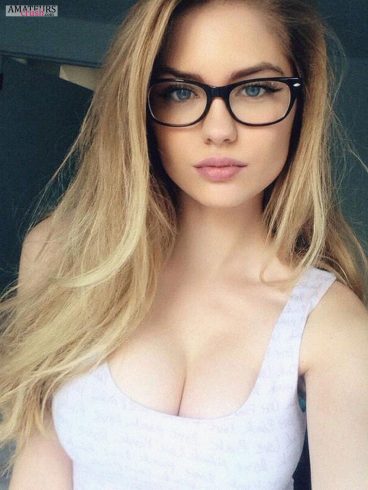 Have you ever seen a nude teen with glasses and showing her beautiful big tits? Of course you have! I posted some hot Nude Teen Pics of a sweet 19 year old yesterday!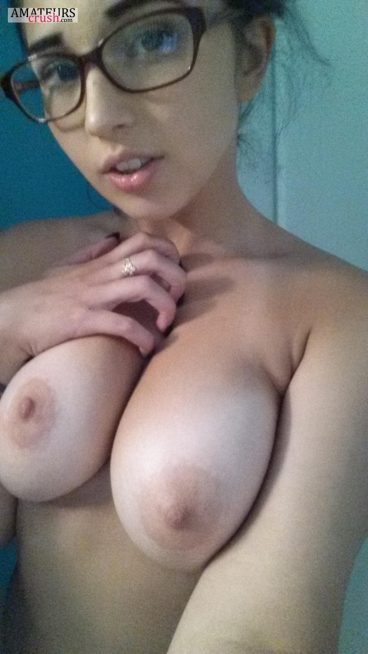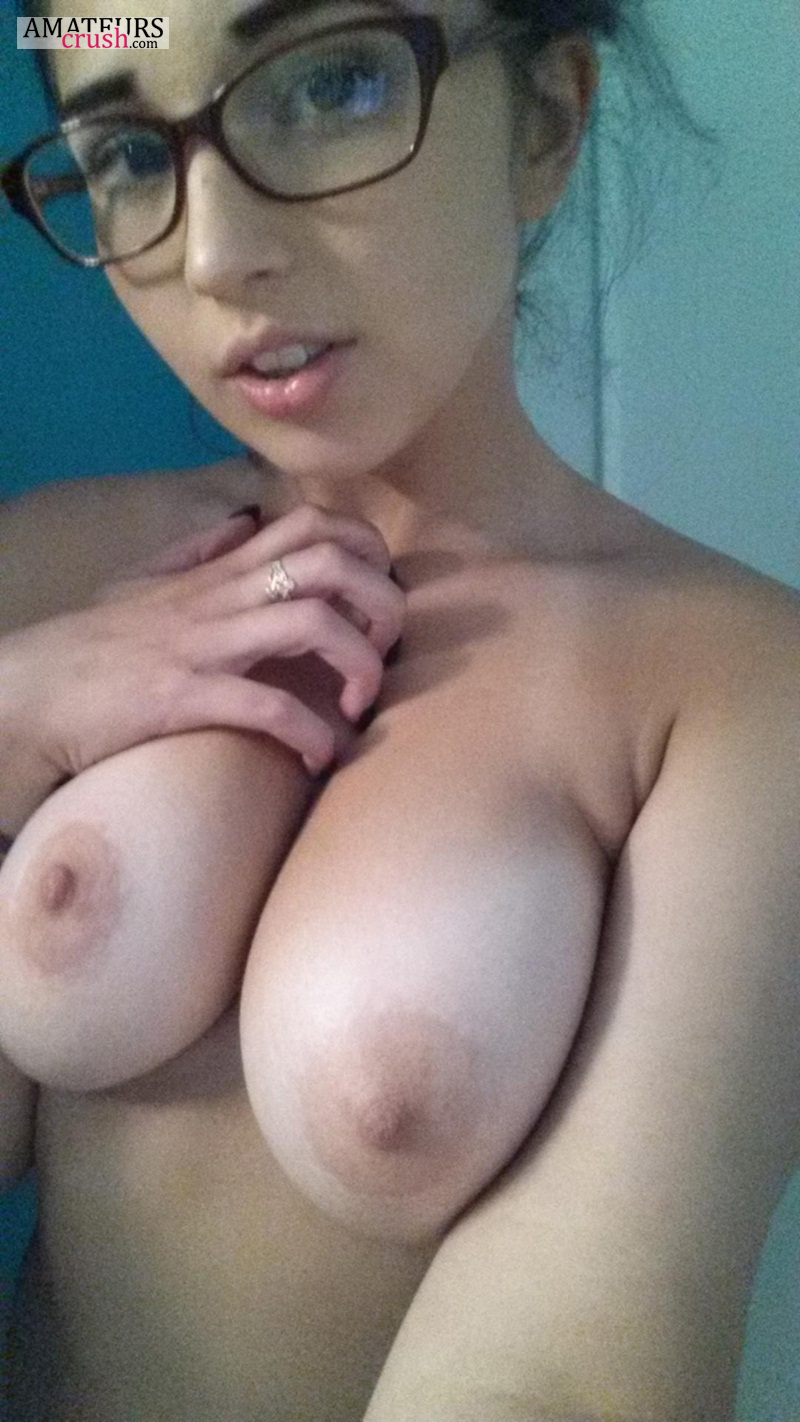 Or do you prefer a hairy pussy from down under from this cute girl with glasses and her busty underboob?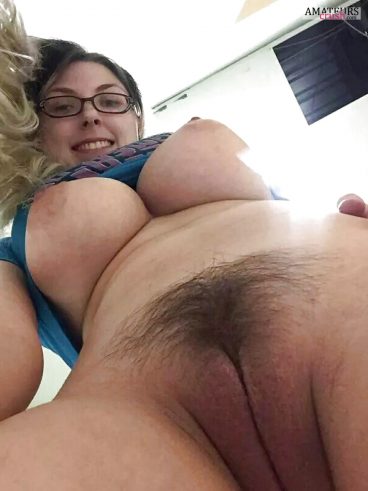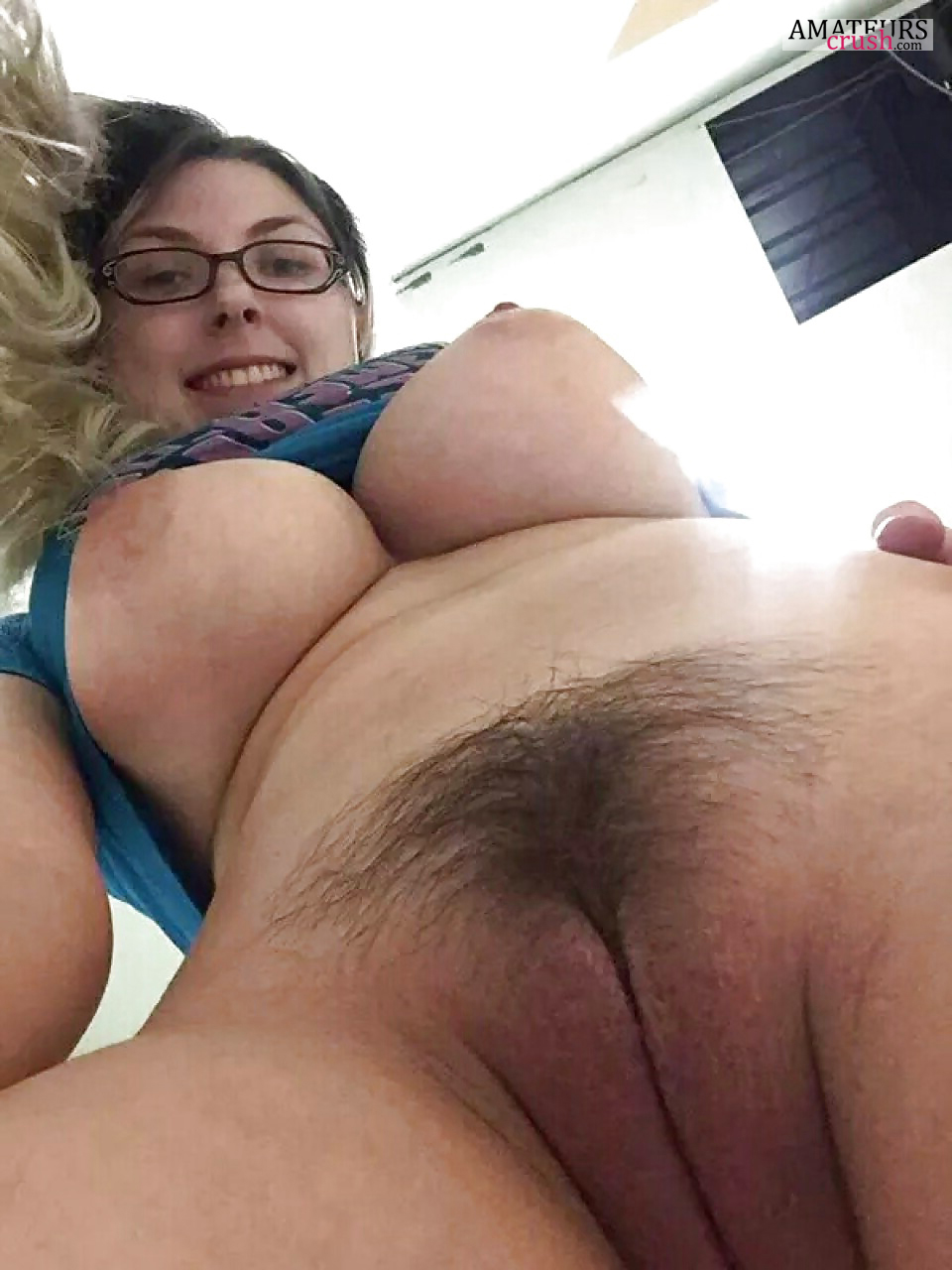 I bet you're really glad to have checked this post out. I told you it was filled with hot girls with glasses!
Girl Wearing Spectacles Flashing
Of course we also got a small set of pics of a hot girl with glasses flashing us her good parts! First, we'll start with this naughty look that she's giving while teasing us with her fingers down her shorts: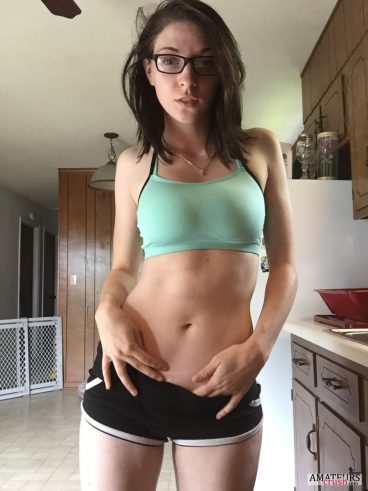 Followup by a nice small peek in her shorts:
"Yeah you like what you see, don't you?"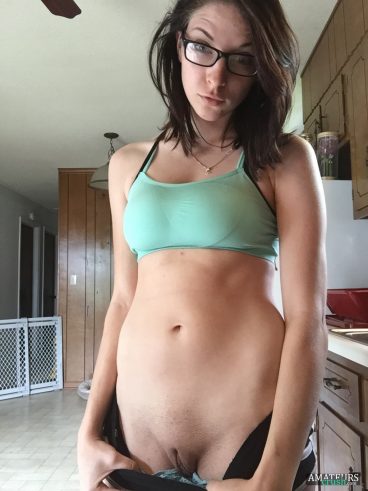 Of course we like to see some super hot bald pussy pics! She's definitely one of the naughtiest girls with glasses here.. Or is she?
Now she got some more parts to show you.. This naughty girl wearing spectacles is naughty as fuck: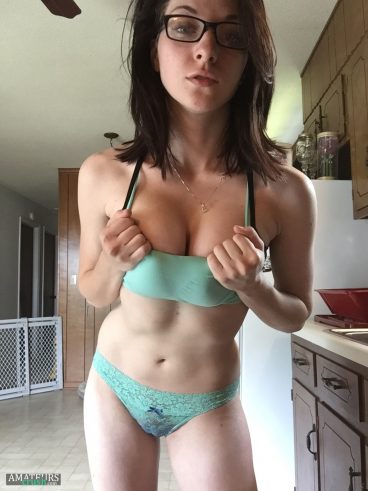 Finally she's lifting up her top here and flashing us those magnificent boobs: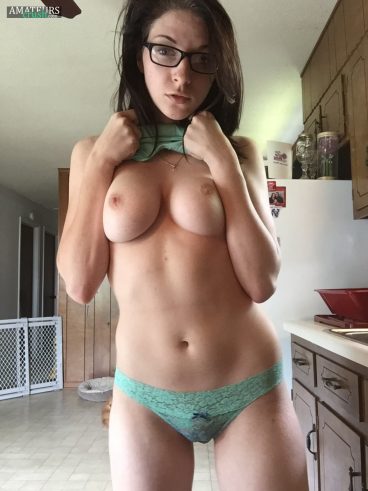 And if you closely, you can even see that sweet Camel Toe of hers!
Girls With Glasses
Imagine these girls with glasses giving you some tutoring.. Holy shit! What an amazing big cleavage. She's definitely out for you attention: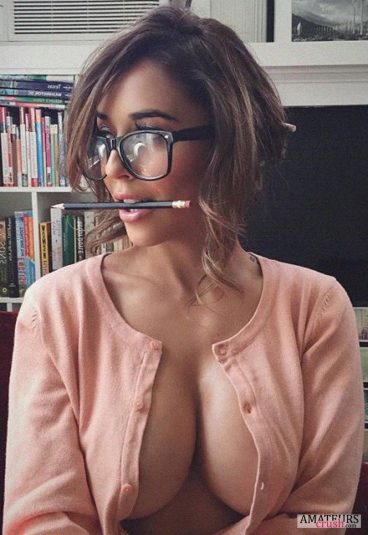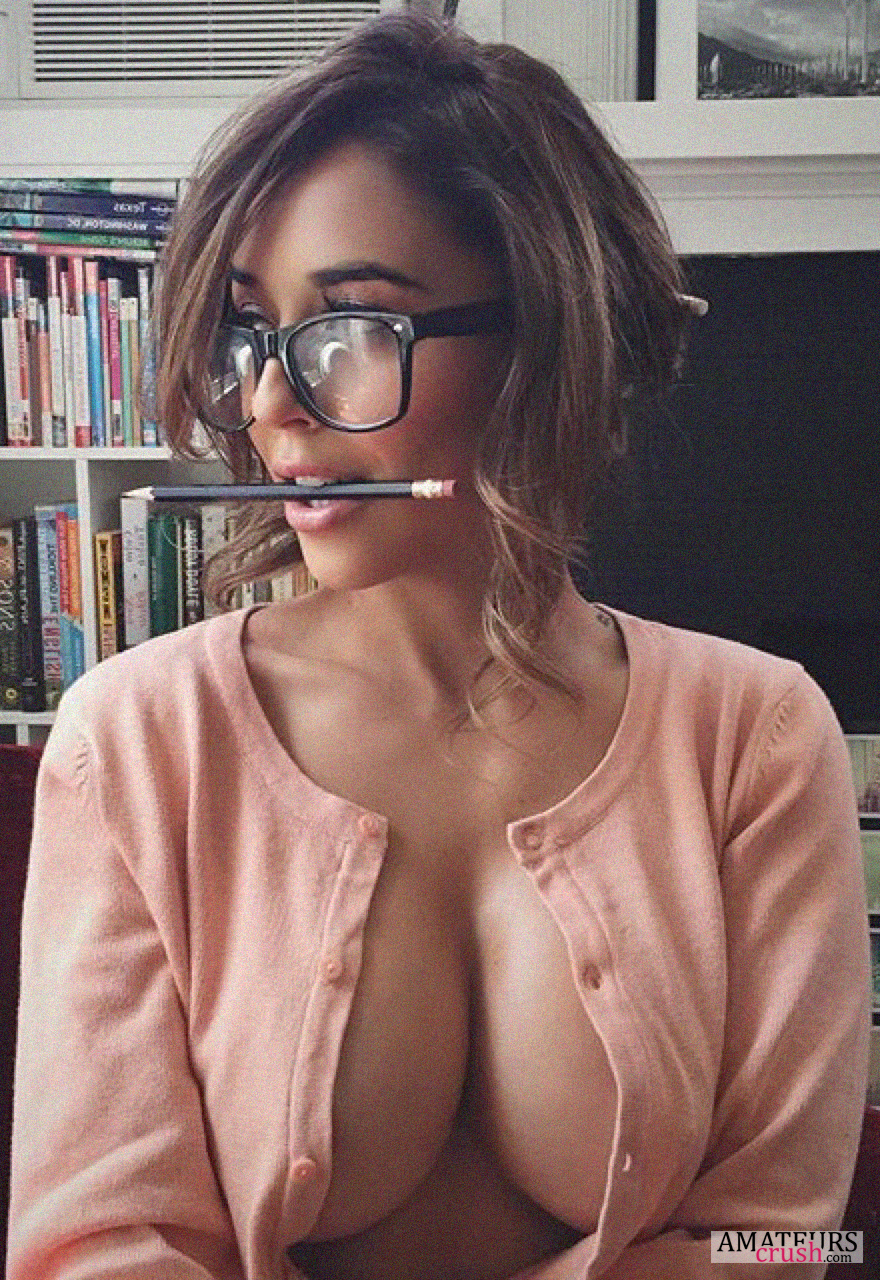 Anyone got some more pics of her? For research purposes of course.. I need some tutoring myself..
We got plenty of young 18+ girls with glasses like this nude teen right here: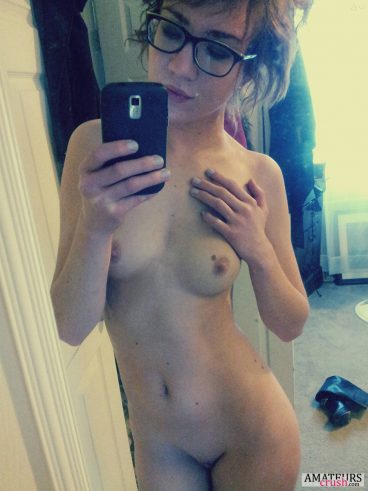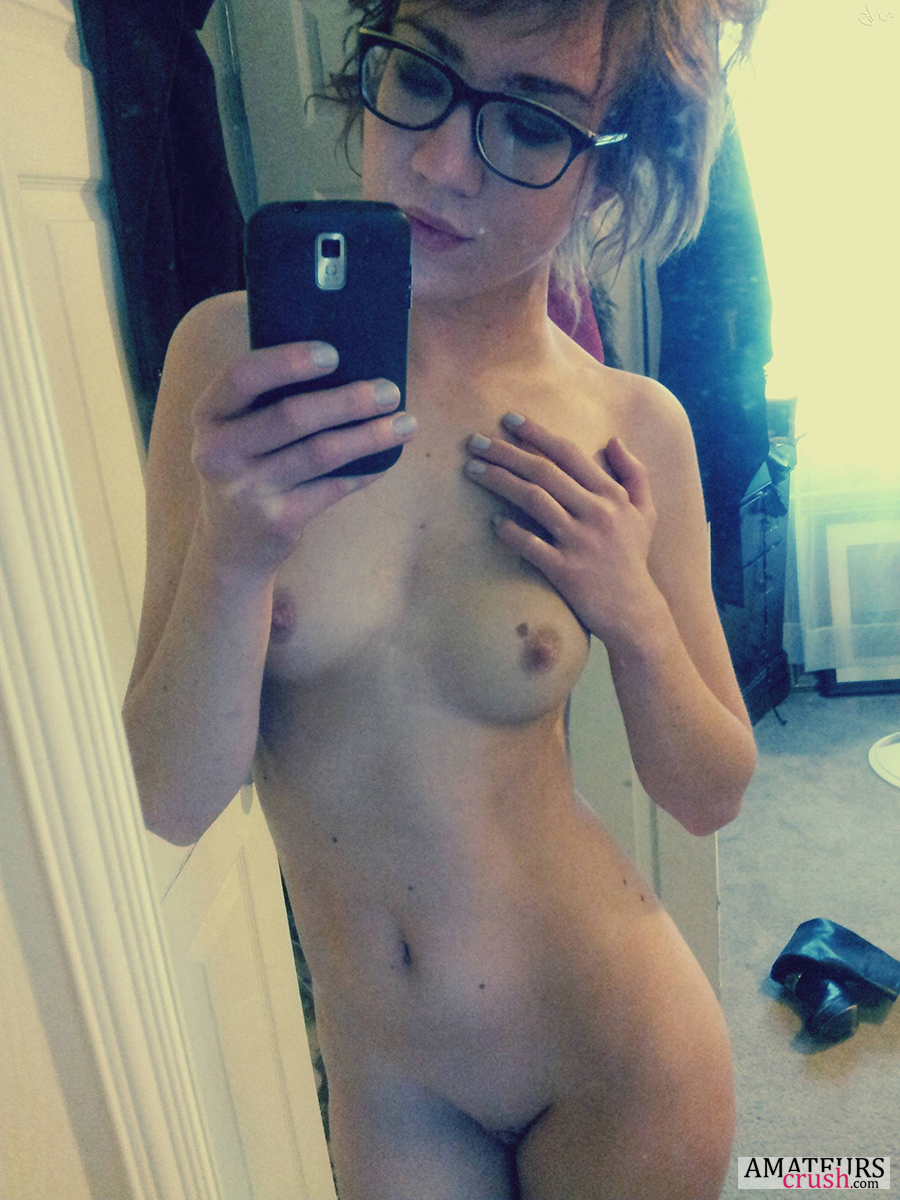 Super cute! I bet she's the popular nerd at school <3
No doubt that nude college girl pics are the best ones: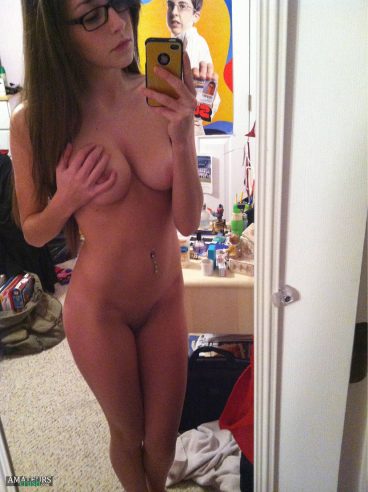 Or do you prefer girls with glasses flashing their tits in selfies?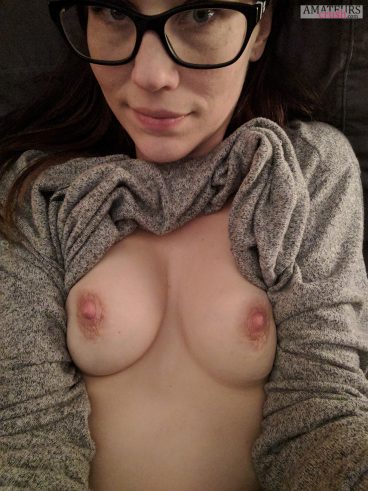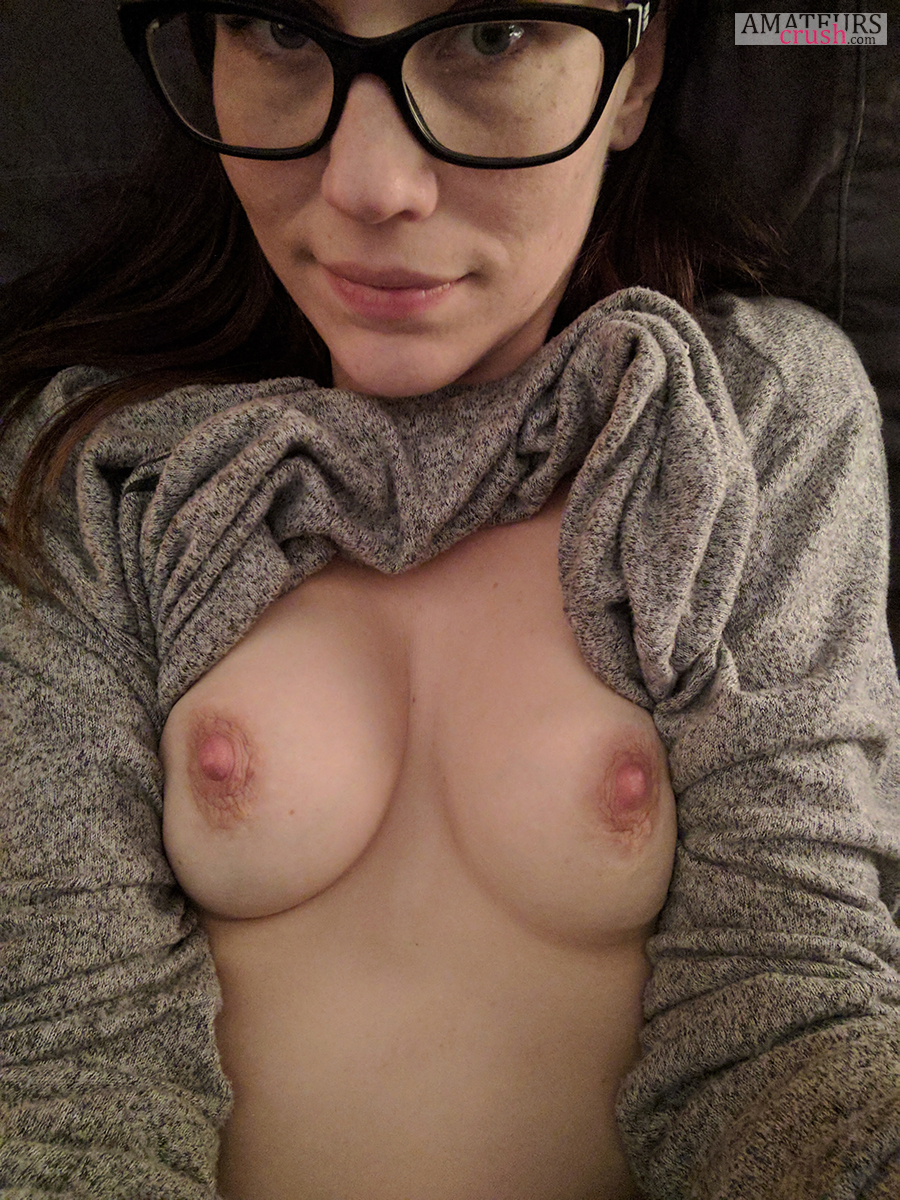 But I know you are going to like this nude girl wearing glasses and showing her big breasts in this selfie: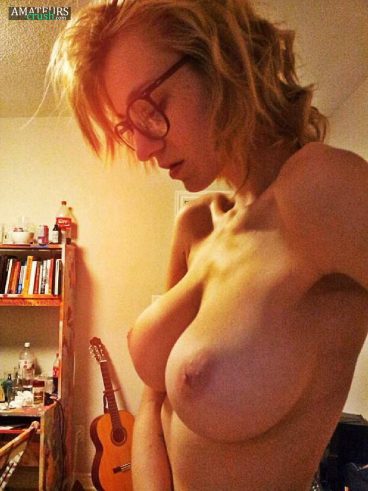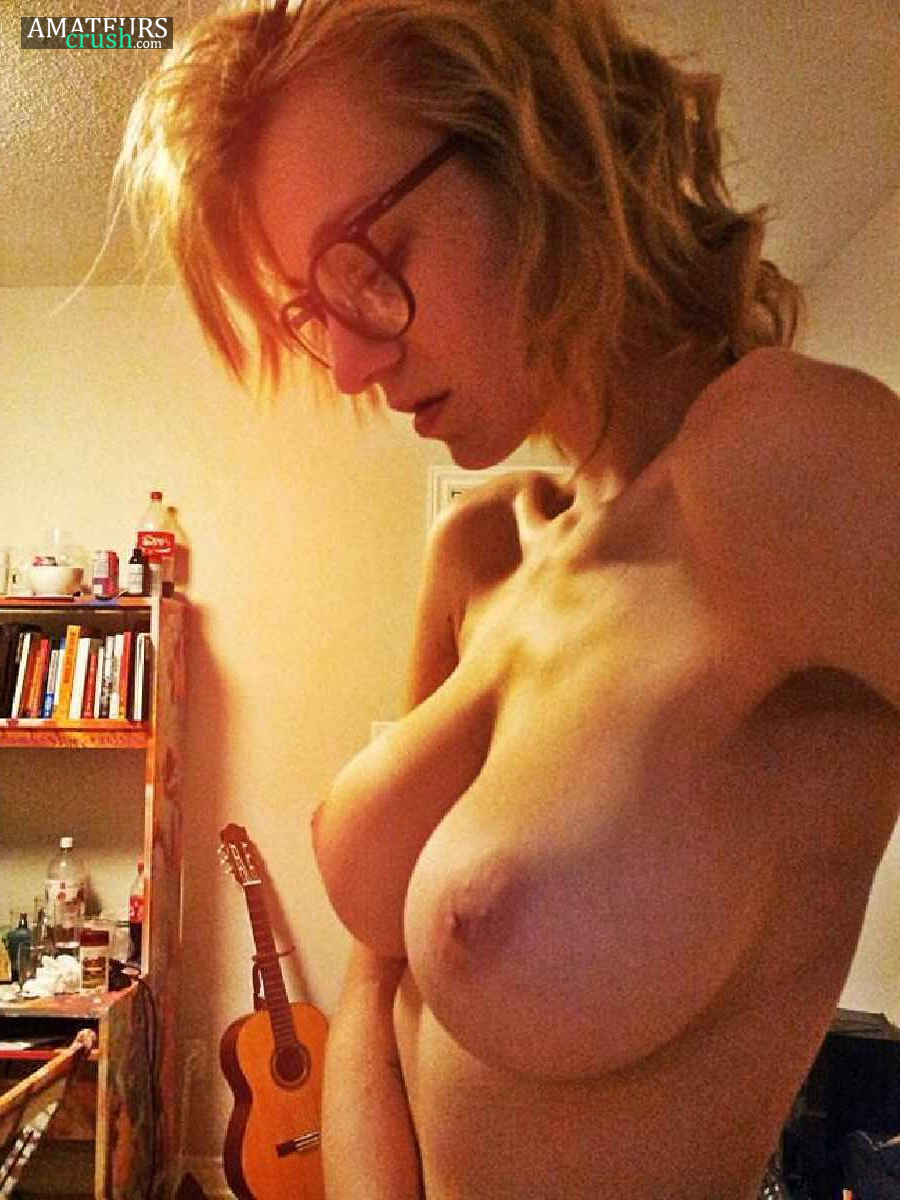 And of course we got a cute teen with glasses in a normal selfie too showing her big cleavage: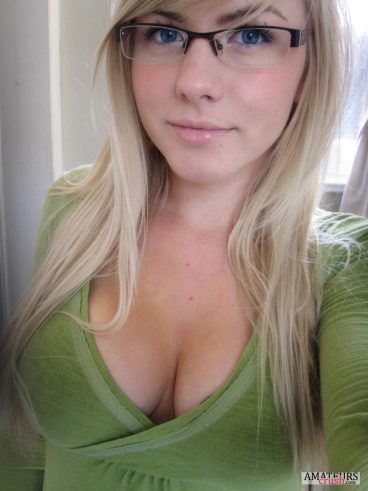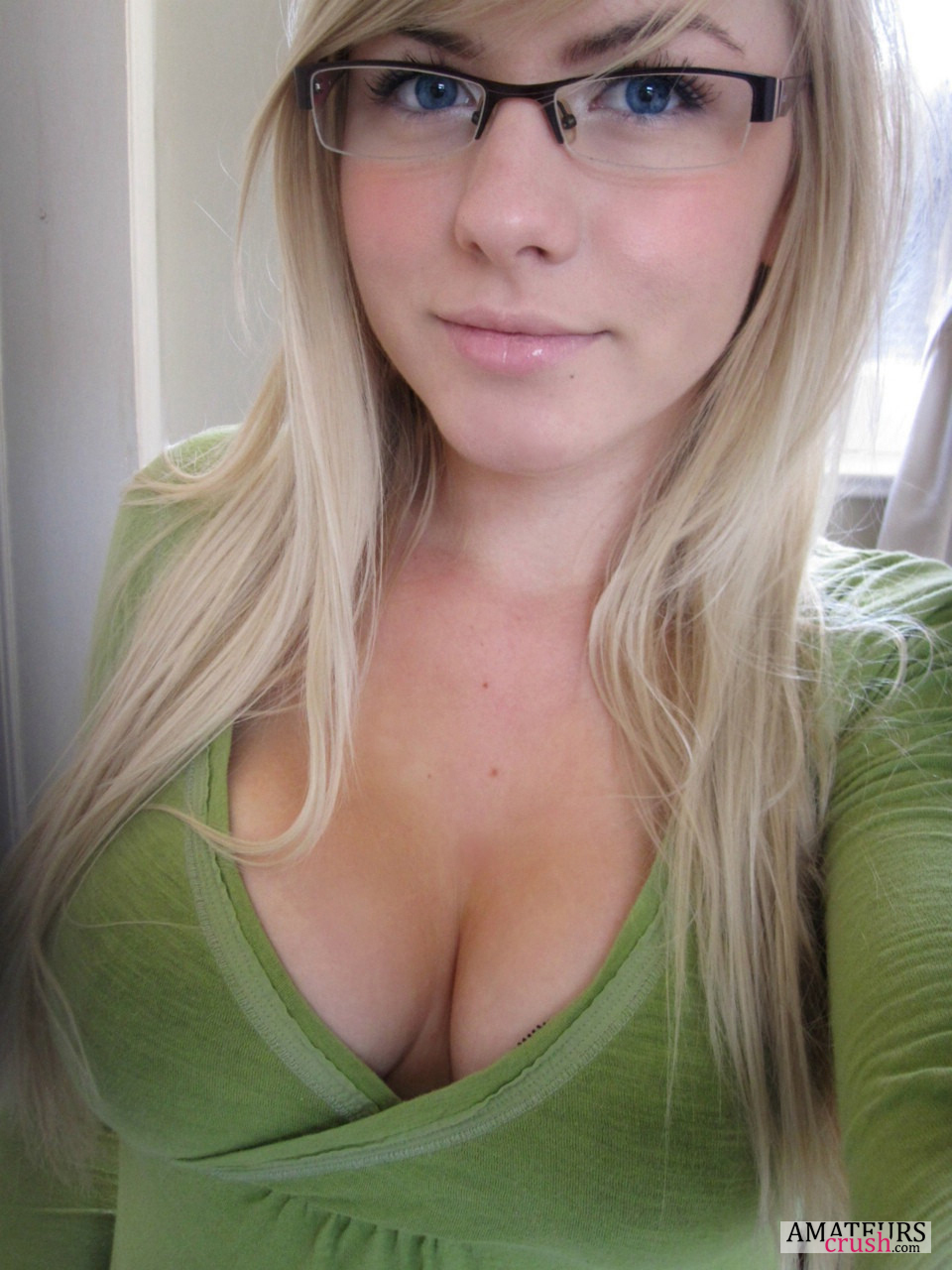 We got plenty of these cute girls with glasses for you in this post!
One finger in her mouth and flashing us her boob. She knows what can turn a man on..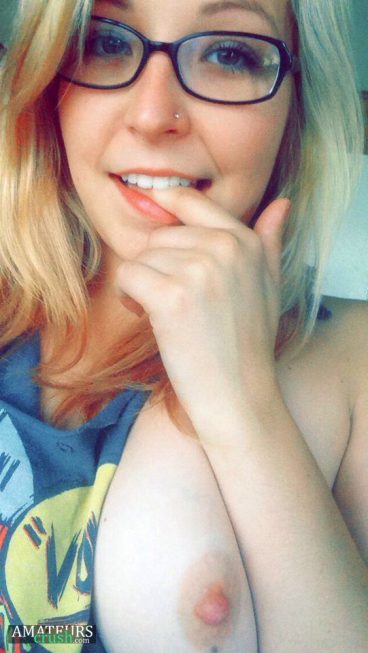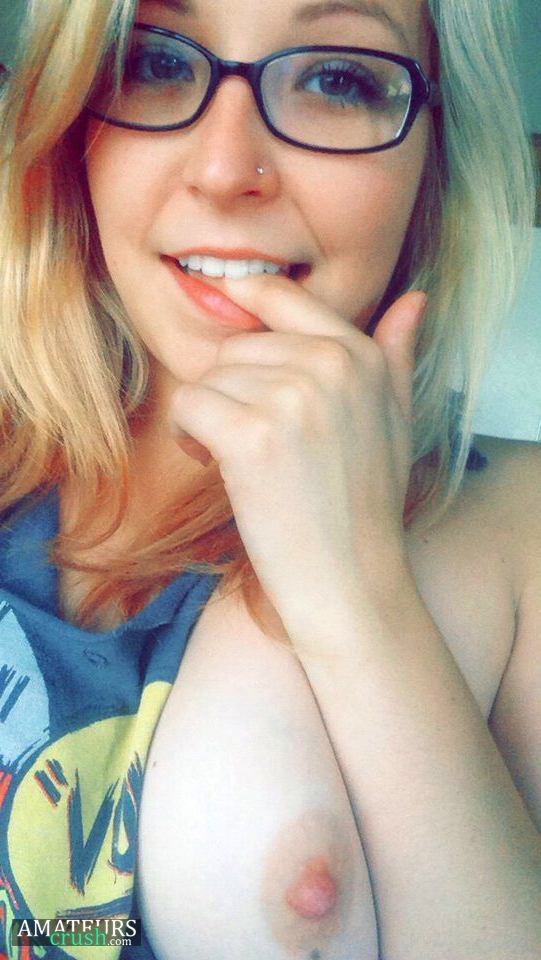 Of course we got some more cute teen girls with glasses showing off their puffy nipples: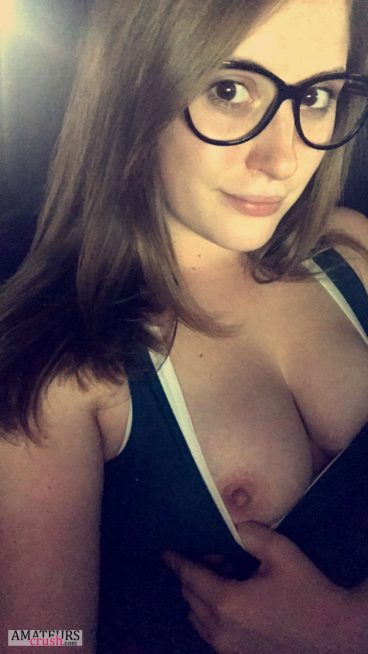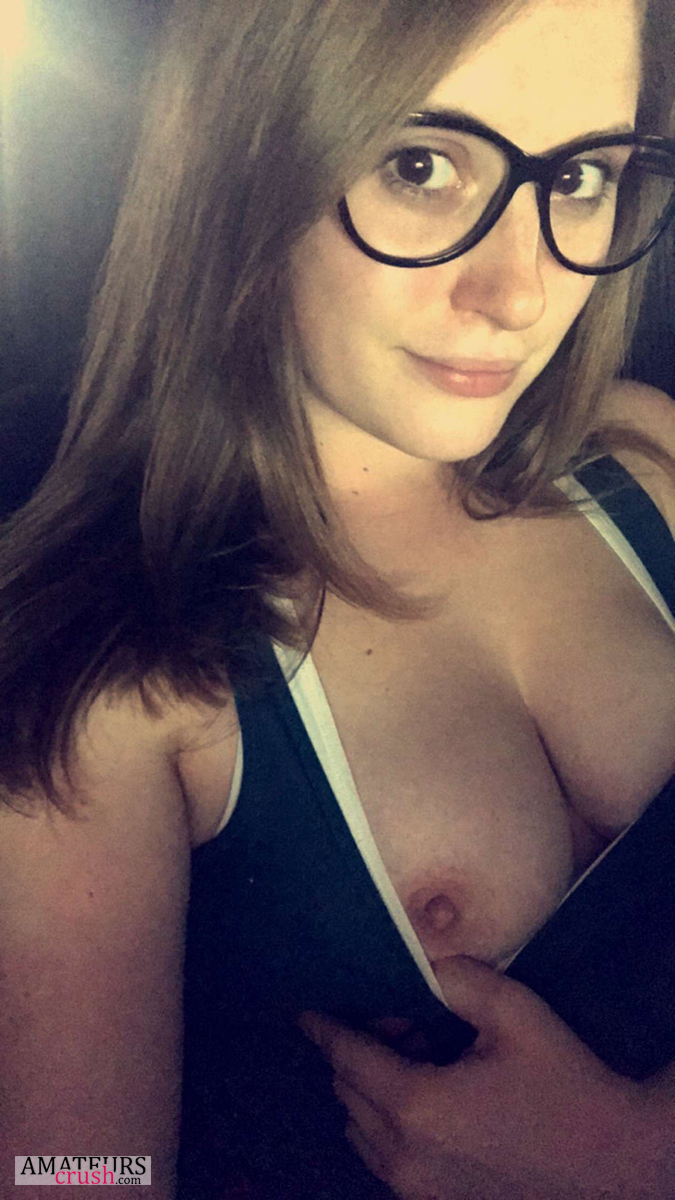 And it looks a Sneaky Public Flash though.. I'm guessing by the light behind her, that this girl with glasses is in a movie theater.
Now the next girl with glasses looks like a Busty Petite Girl that I love so much! Uneven boobs, but that doesn't matter though. I love tits in all kind of shapes and forms! Little or small.. Even or uneven..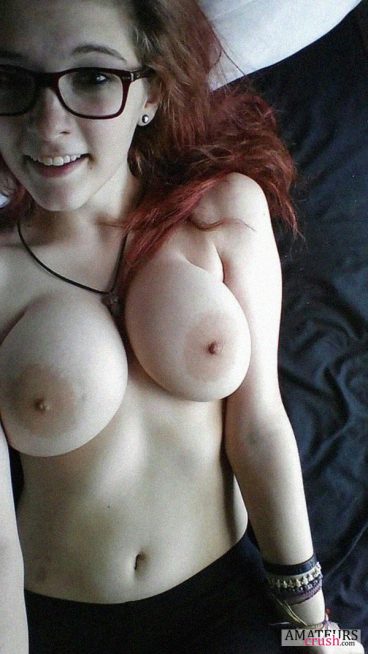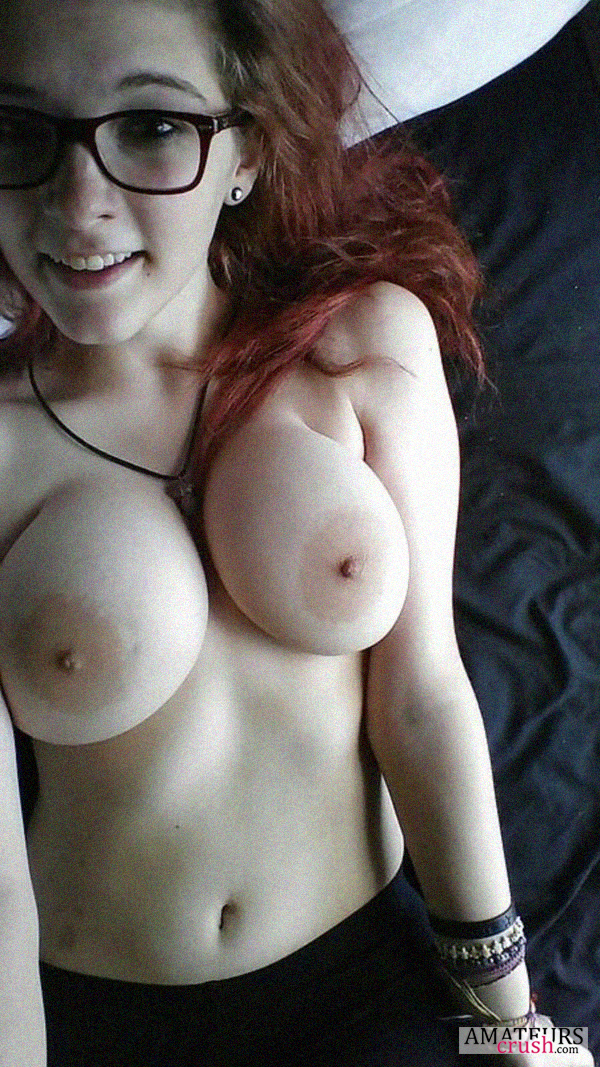 Now this is definitely a room from a young college girl with glasses! I love her big ass though and that juicy Rear Pussy selfie!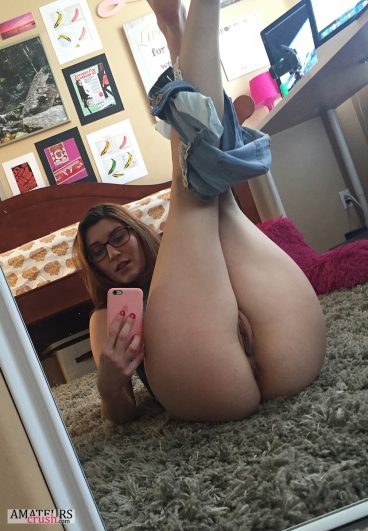 Wow! What a tight bubble butt on this petite teen with glasses: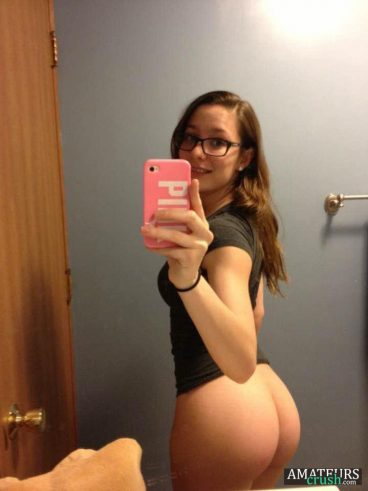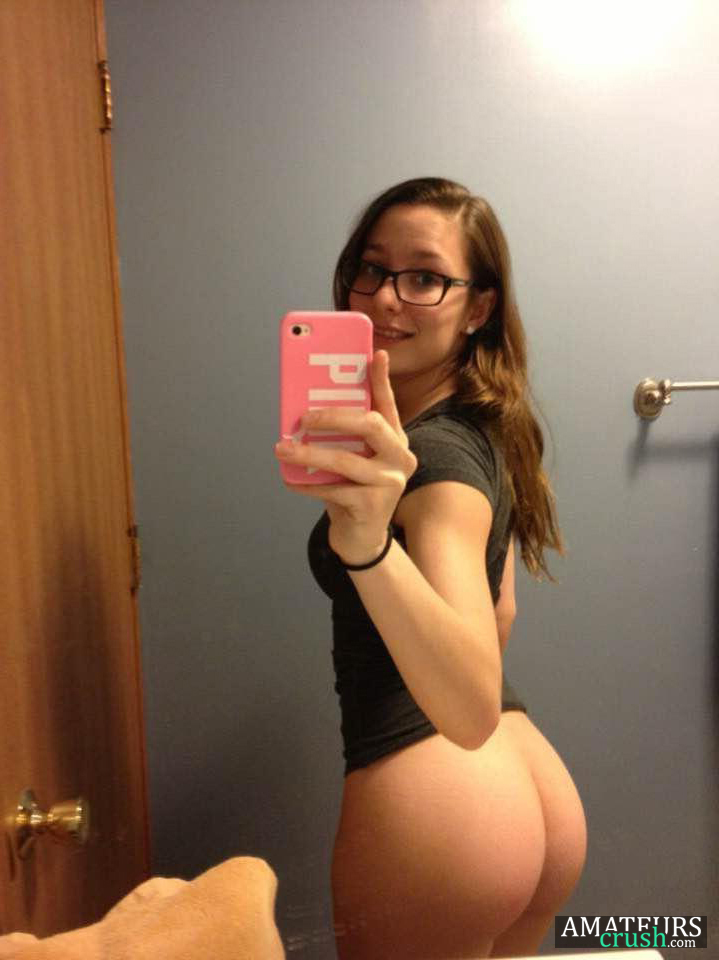 Naughty Snapchat anyone? I would love to receive some dirty and naughty snaps from this Nude Ginger Girl with glasses: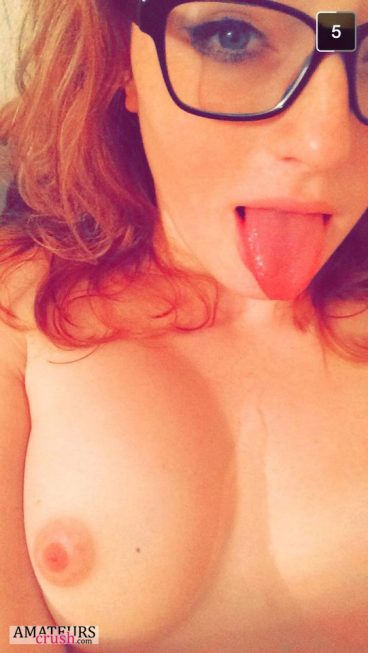 What a cutey!
Naughty Girls Wearing Spectacles
Oeff! Of course these girls with glasses knows how to make a man (and girl) horny.. She's wearing a sexy white dress with her big juicy titties out for this amazing selfie: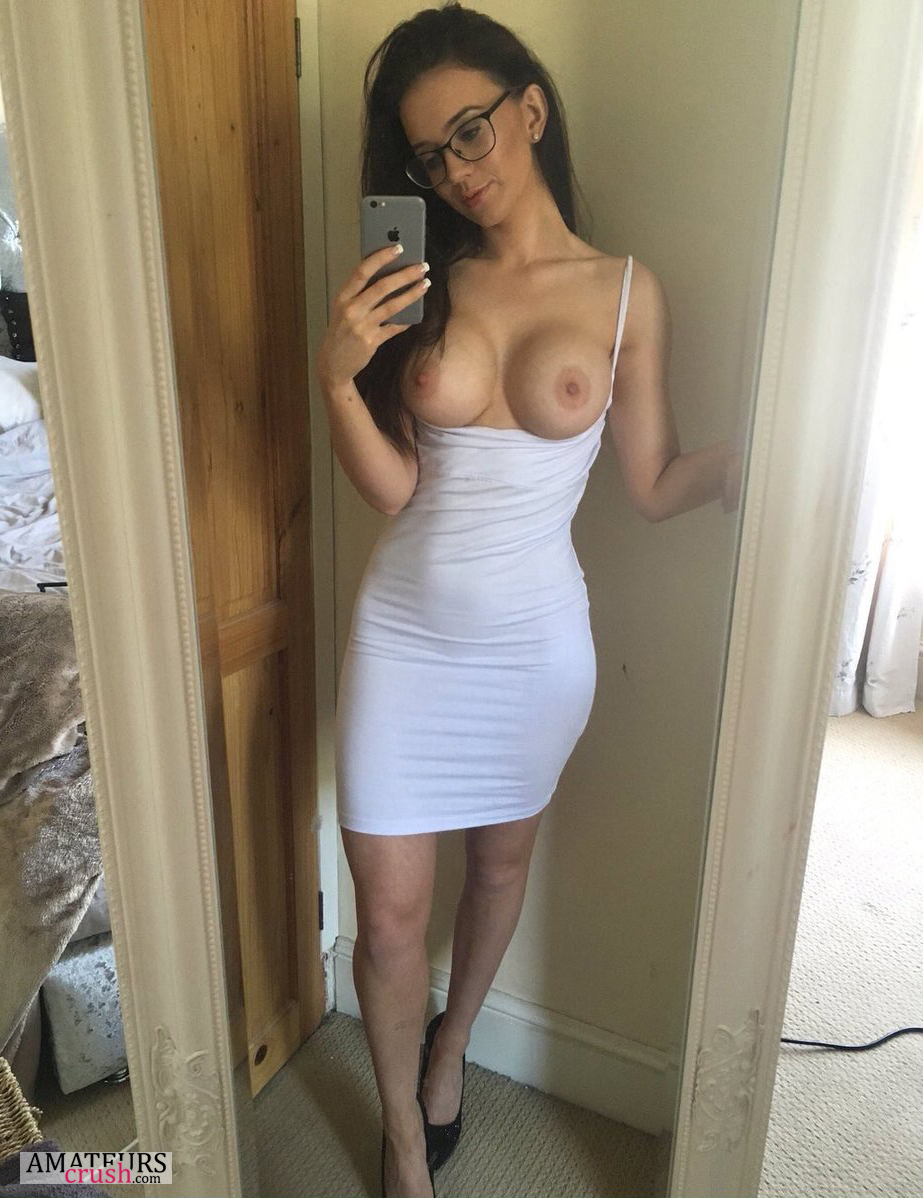 Slut alert! The kind of slut that I like to spend a few days with every week of course! This girl with glasses has it all.. She's wearing here blouse open and showing of those amazing big tits and a tight sexy slutty mini skirt that I so much love to see on girls: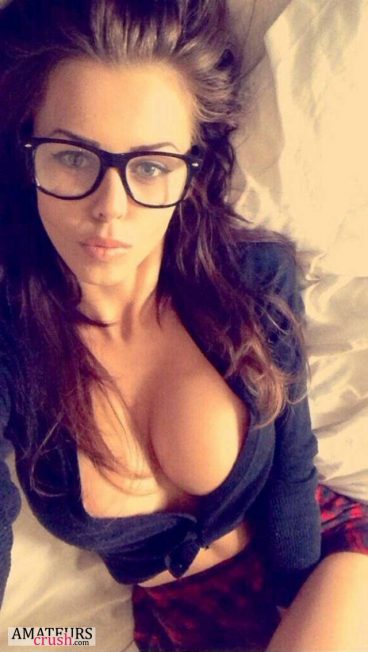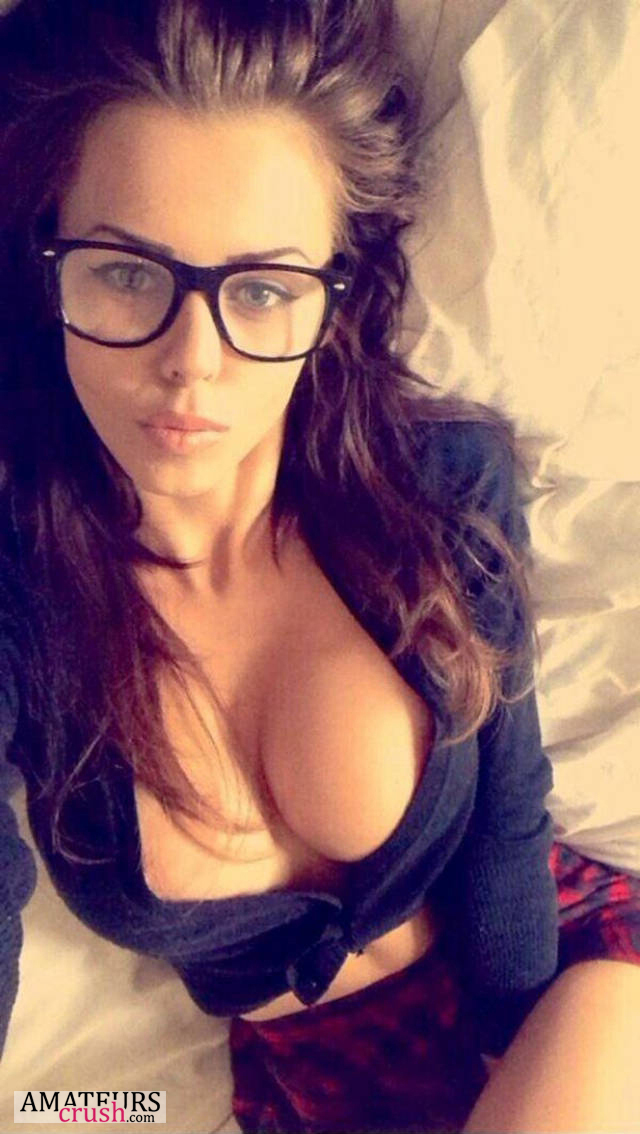 Busty nerdy girls with glasses in bikini and showing her hot cleavage selfie here: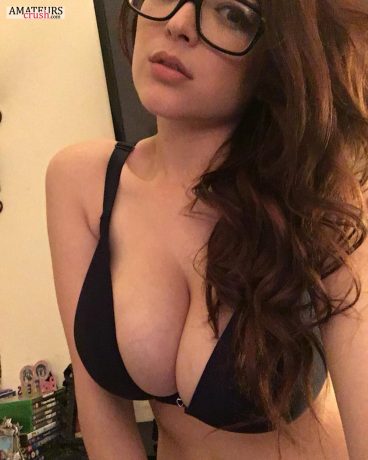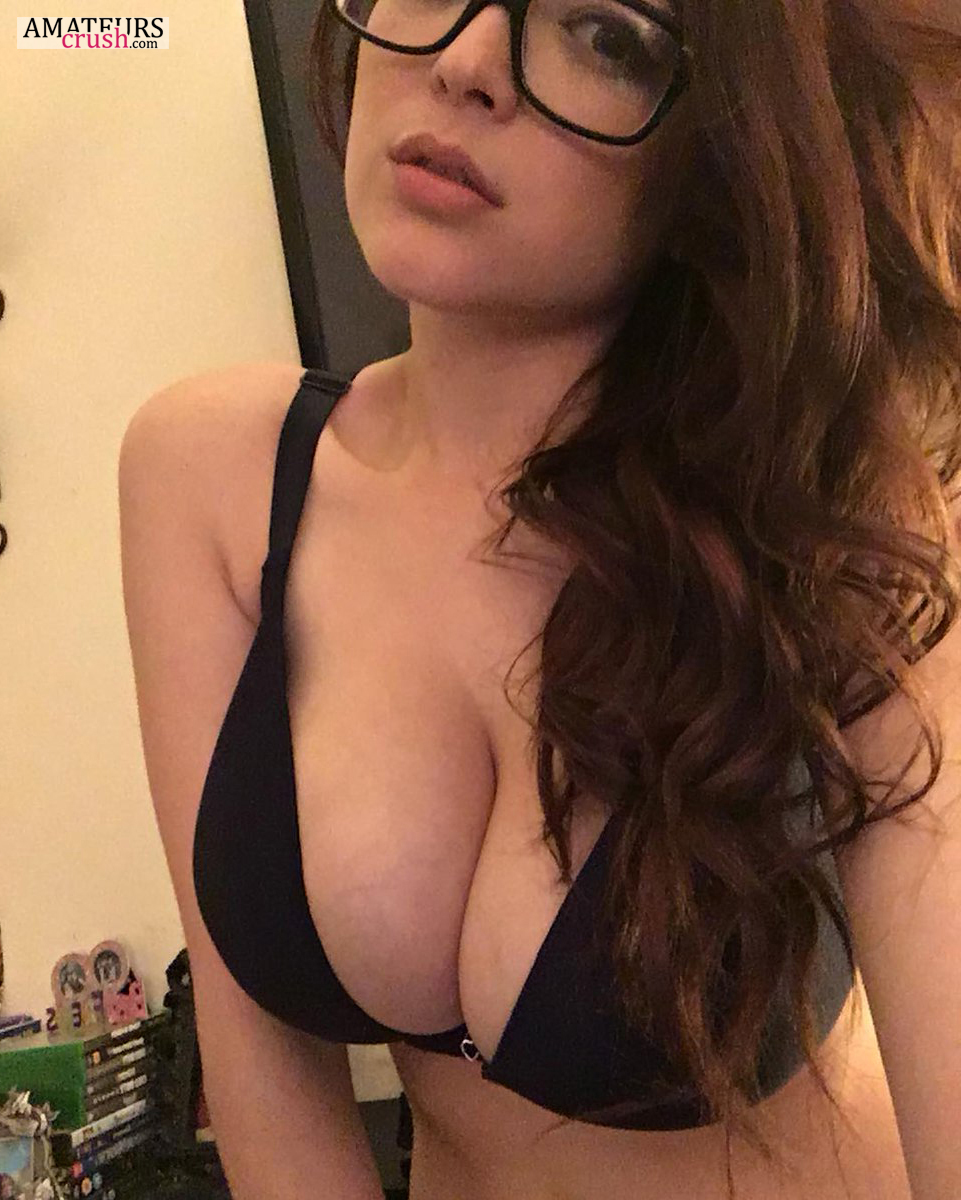 Now this is what I call a Busty Girl with glasses! Holy cow! Those are some incredible big breasts: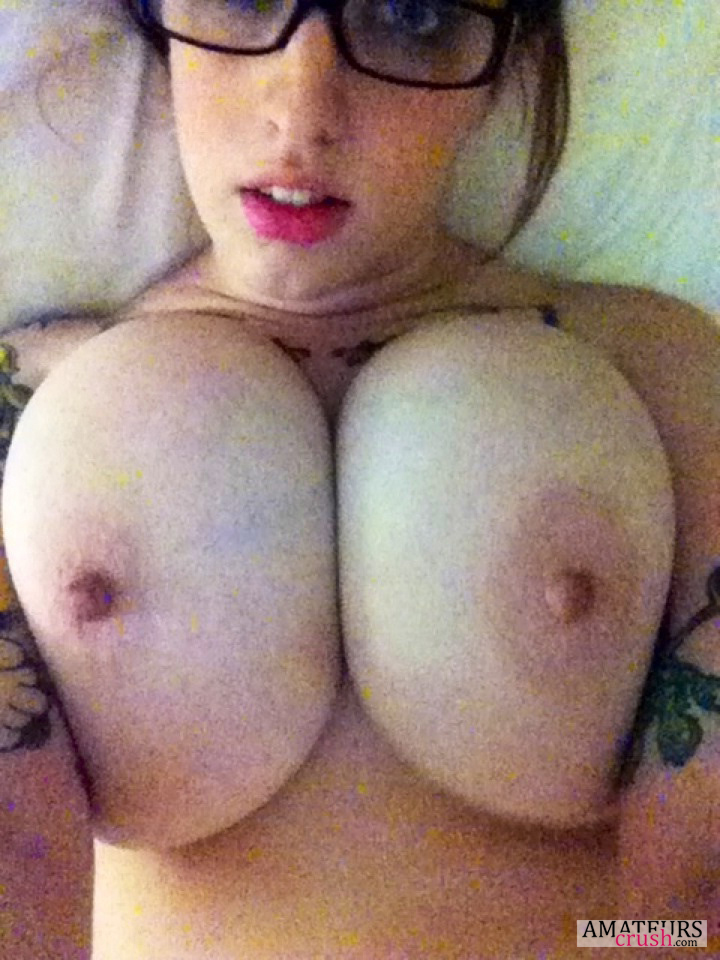 Next one looks like another secretary with glasses that you could have fun with during work time: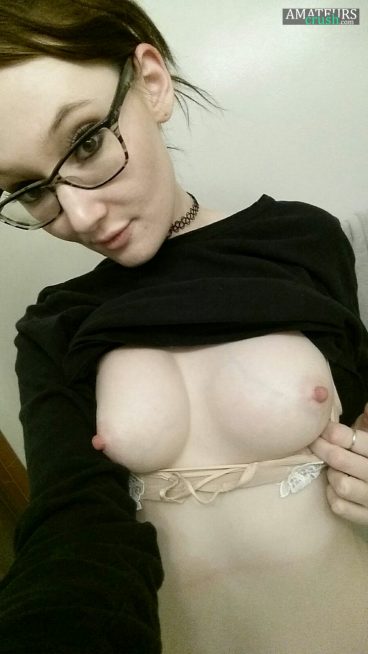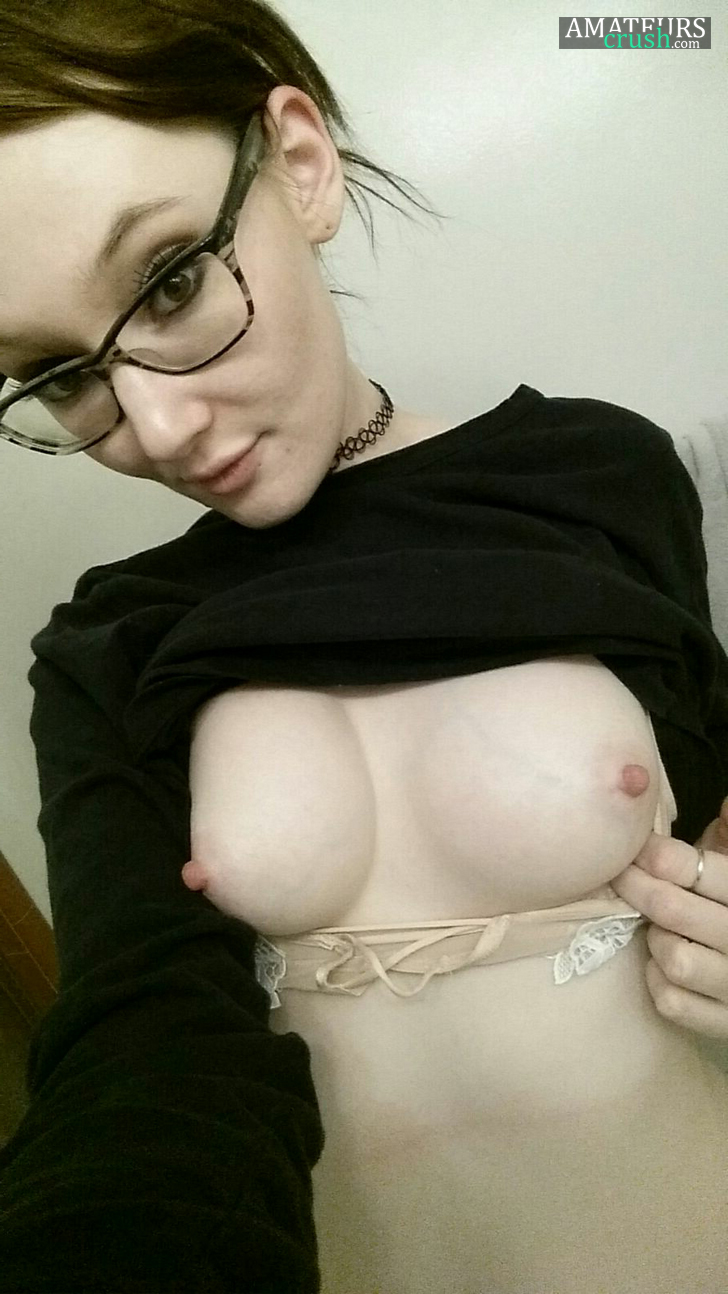 Girls with glasses flashing their tits and making a nice selfie are always great to look at! Especially when they have those puffy nipples too <3
Hooters! Always a great place to hang out with, cause they are filled with hot busty girls like our Chloe right here: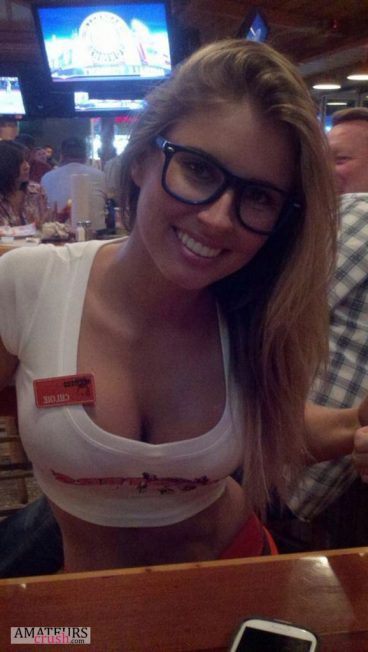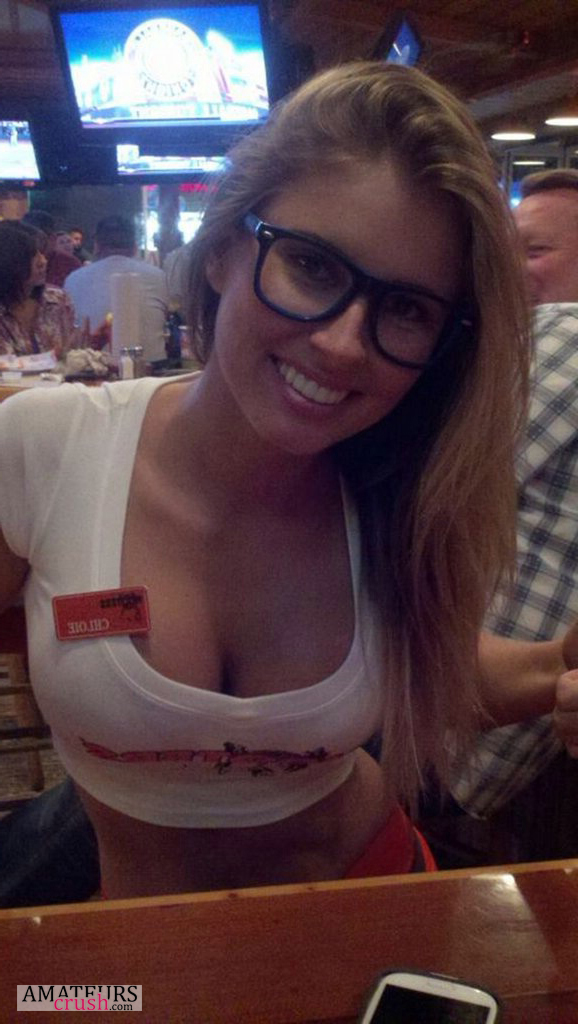 I love Asian girls! Cause most of them wear glasses like her and look smart as fuck and at the same time naughty too: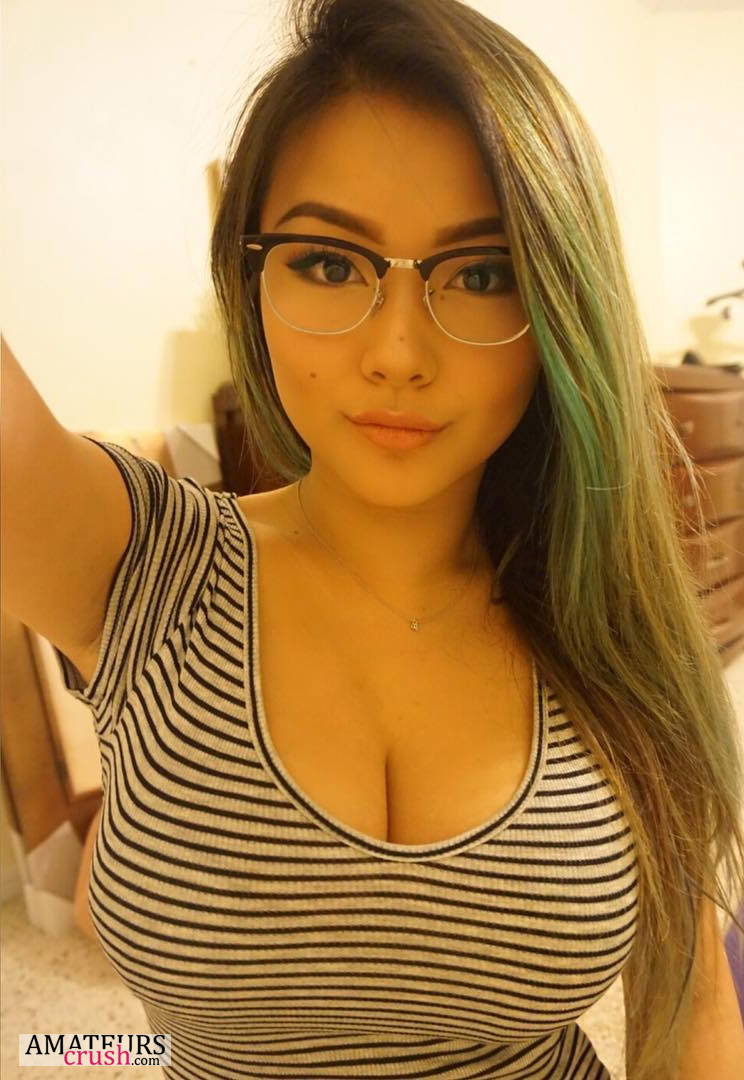 And have you seen those jugs? Good lord.. They populate like one third of the total population but I just can't seem to find those busty Asian girls with glasses..
Another fantastic tits out of a college girl with glasses in her lazy outfit showing her amazing juicy tits: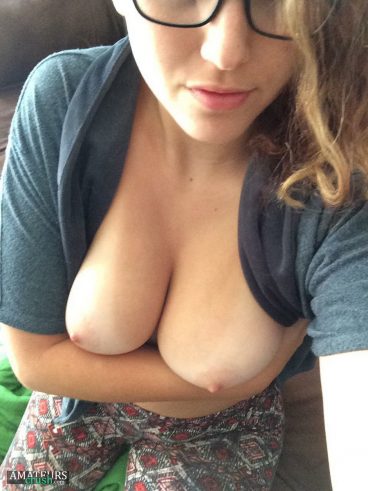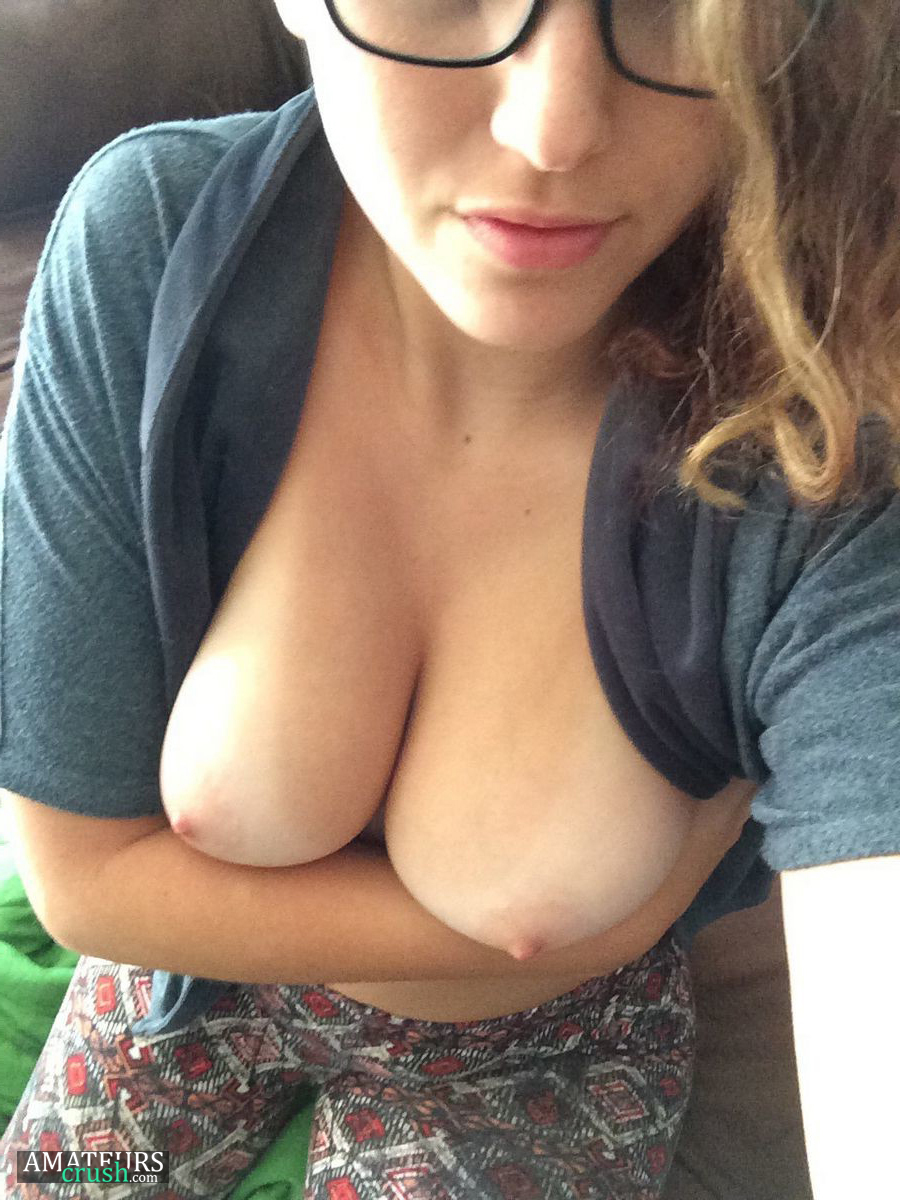 And here we got another cute teen with glasses taking a shy selfie in her tight panties: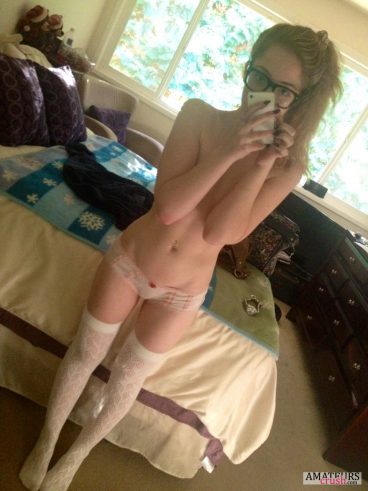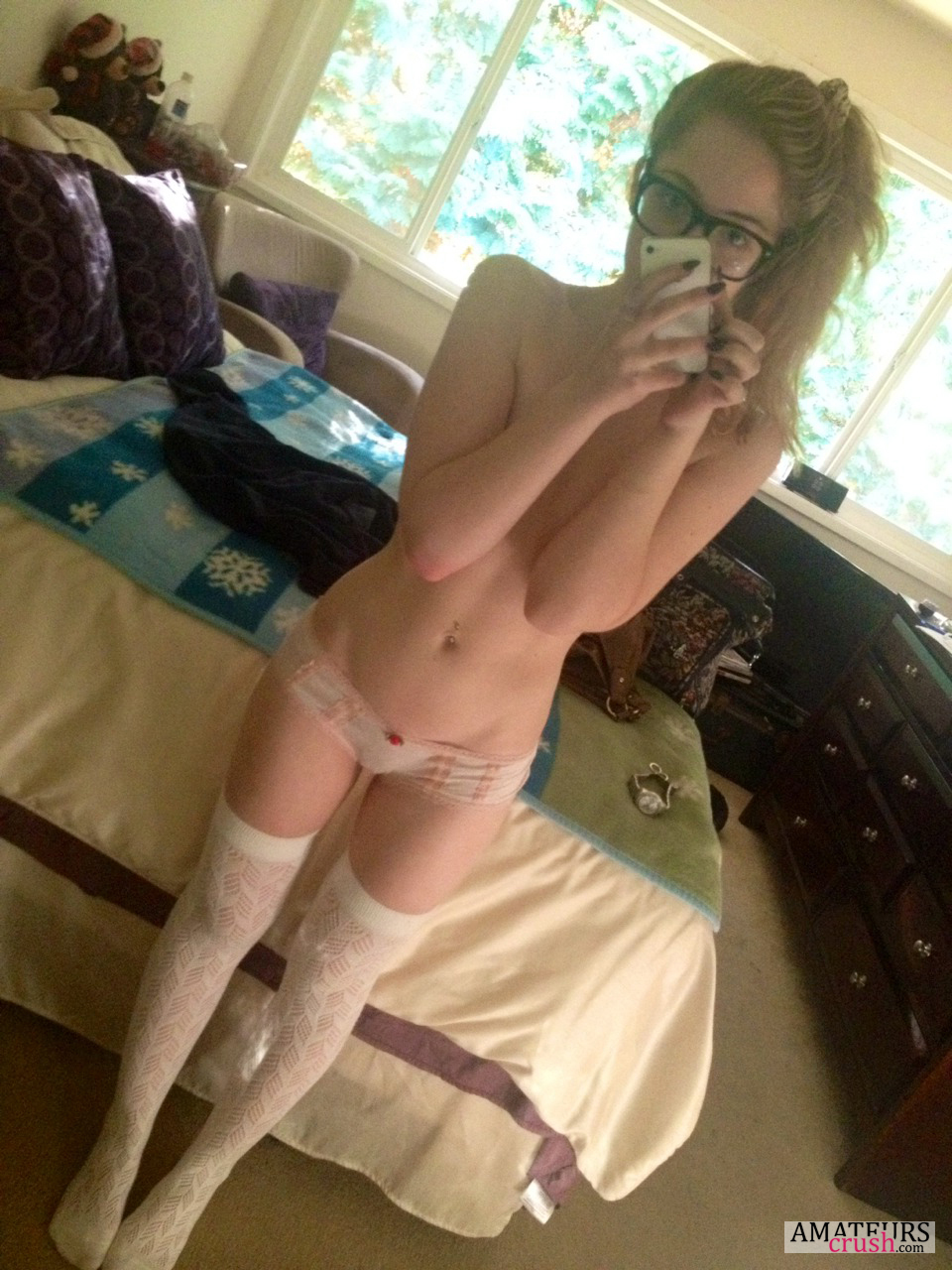 More Sexy Girls With Glasses
You know how hot and cute Asian girls with glasses can be.. Yeah most of them are smart as fuck, but they can be naughty naughty too like this girl with glasses bending over <3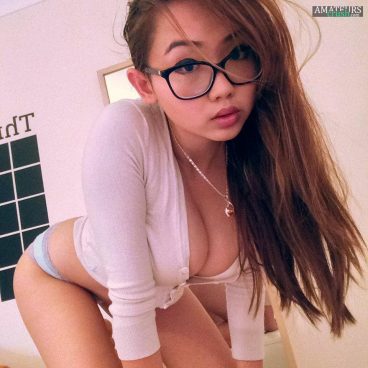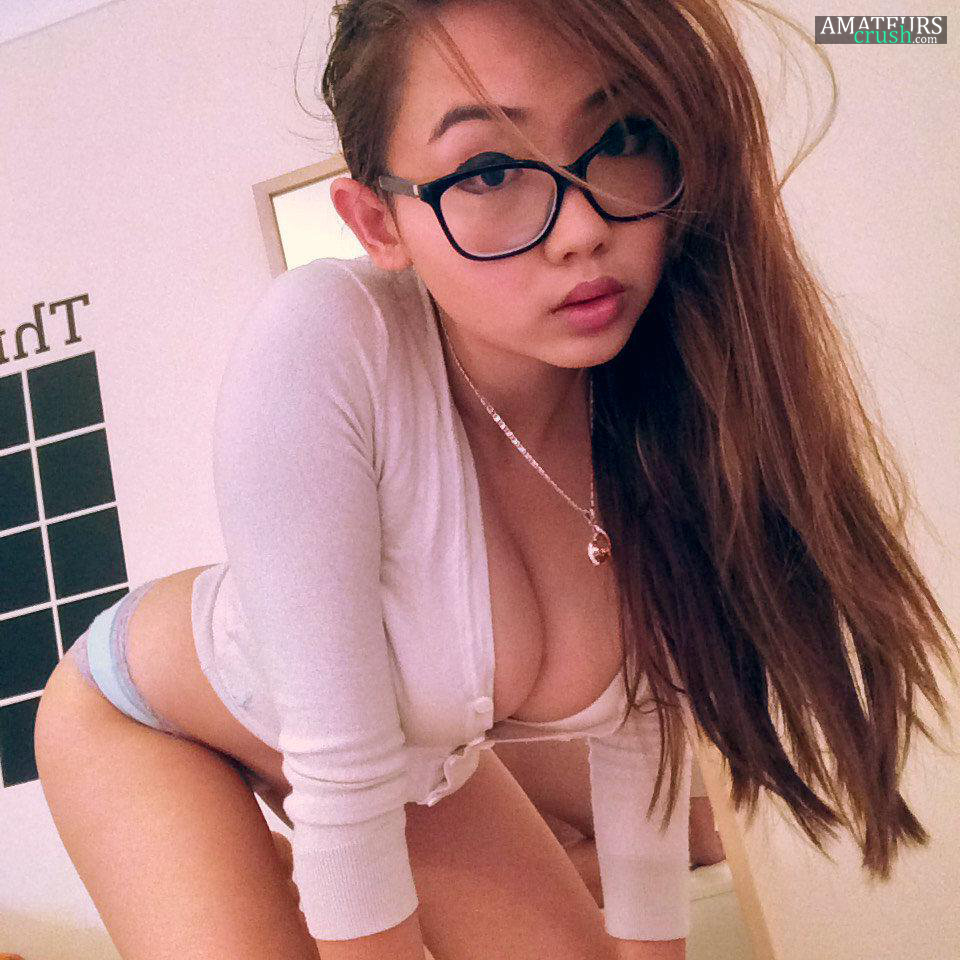 And have I ever mentioned (probably like a million times already) how much I fucking love Girls Bent Over?
So did anyone ask for more college girls with glasses pic? Cause we got a pretty hot one right here showing some amazing cleavage: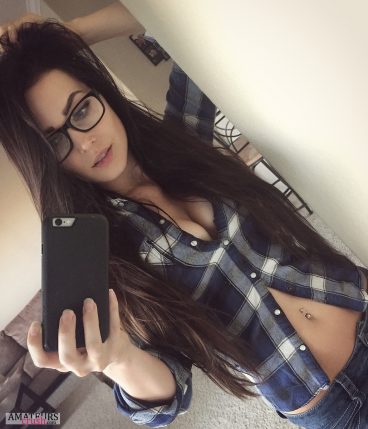 Now this is how you kill time while waiting in your car. Tits out and taking a nice selfie of it: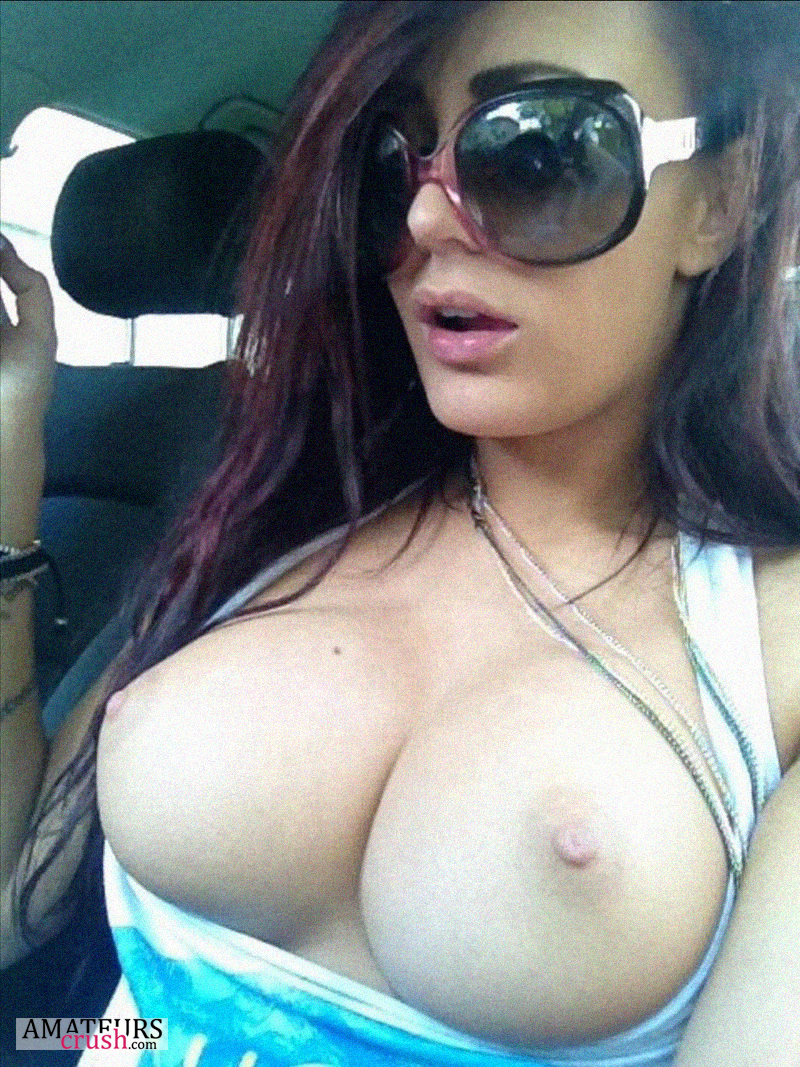 She's got some big beautiful Busty Tits though.. And I know you guys are thinking: "Wait, what? Sunglasses?" But yeah, sunglasses are still glasses! So she still falls under girls with glasses pics!
How many of you guys or girls here would love to take a bath with this sexy girl with glasses? She's giving you that look that you've done something naughty and is about to punish you..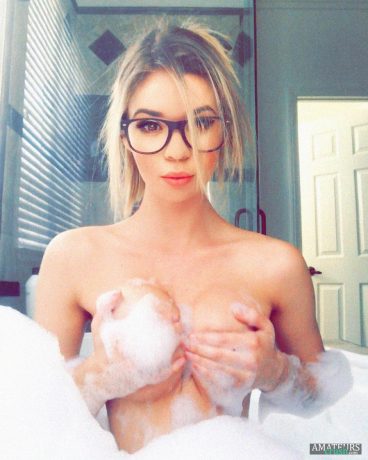 So the question is: are you going to let her punish you?
I just love looking at girls with glasses, with or without clothes on! Cause they are cute and beautiful as fuck like her: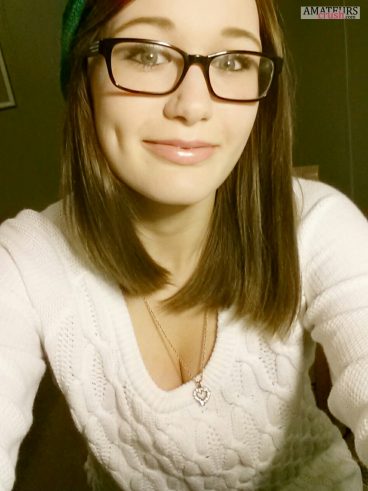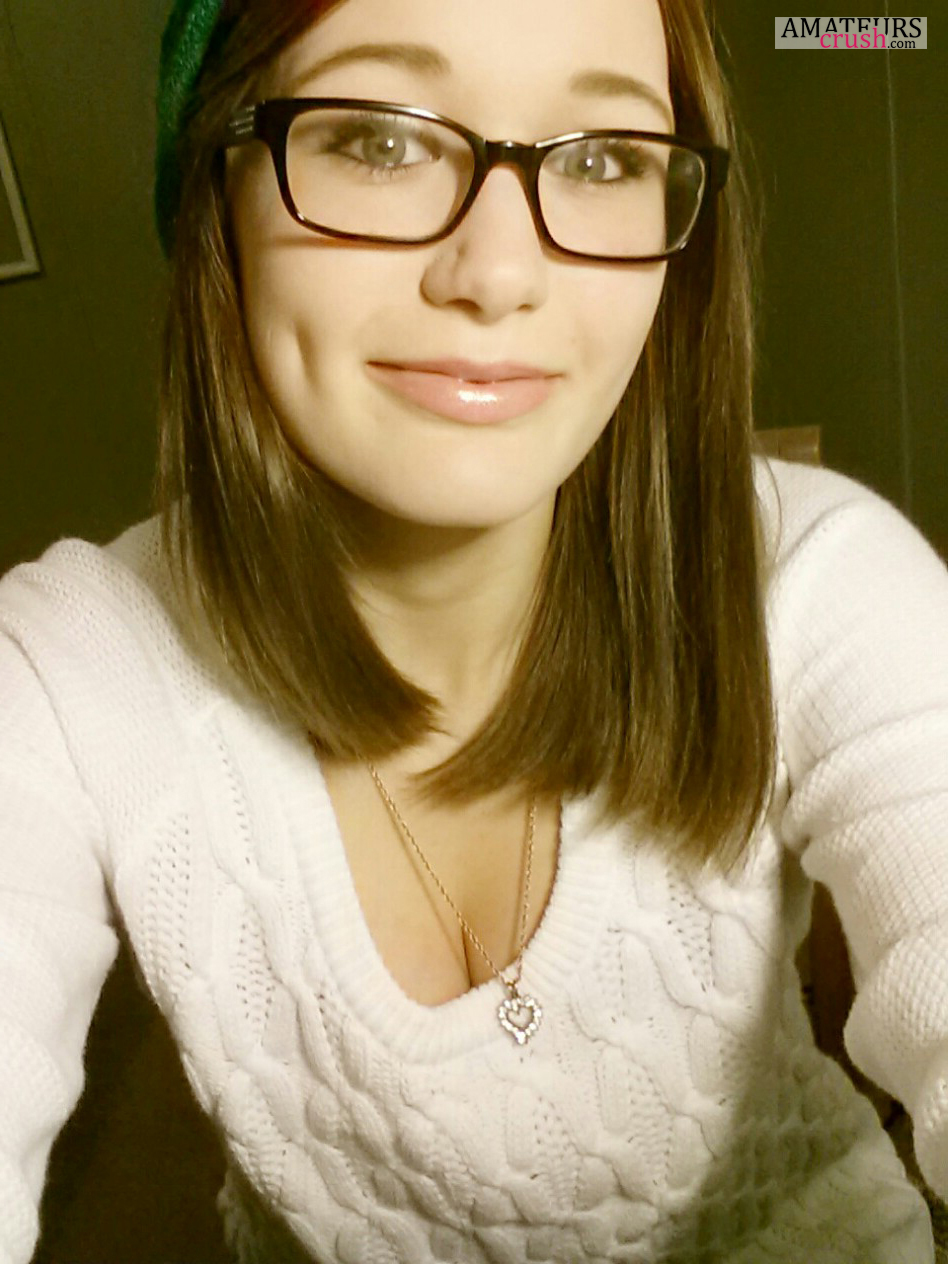 Jealously is a sin.. But goddamn her tits and those titties from her friend.. Can't blame her at all..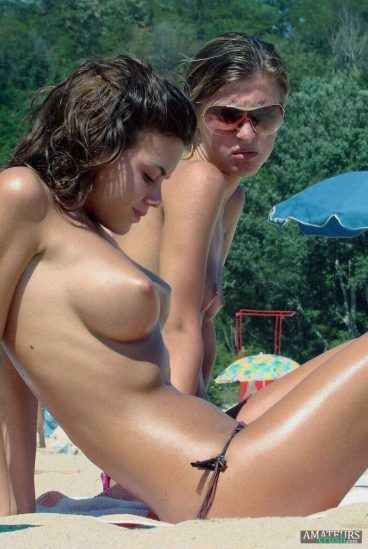 I love perky Banana Boobs <3 And so does she apparently..
Wet girl wearing spectacles in the shower and showing her big breasts with a big smile: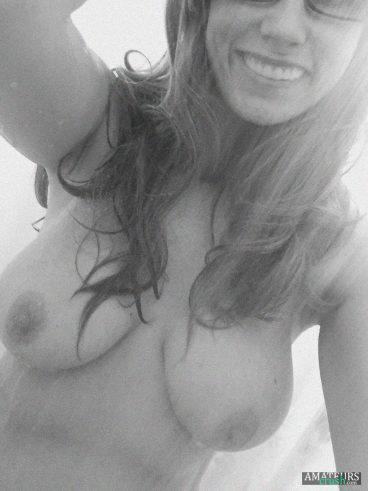 It's like she couldn't be more happier! What a slut..
Now our last picture looks like a really fun girl with glasses to hang out with. Cause she's wearing a super hot dress and showing some huge cleavage while having a drink in this selfie: