Sexy and naughty nude brides, showing off their hot pussy and tits, before, during and after their big wedding day on AmateursCrush! Sounds pretty hot, right? Well, these pics definitely are! These are real amateur wives-to-be pictures and we even got their bridesmaids showing us some good stuff! Yup, next to our Naked Wives to be pics, we got some slutty bridesmaids for you too! You are definitely going to love this post, filled with all kinds of different real wives! Some of these wives are pretty kinky too! I know you want to find out which ones..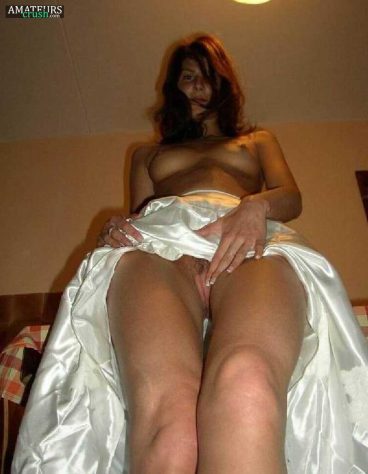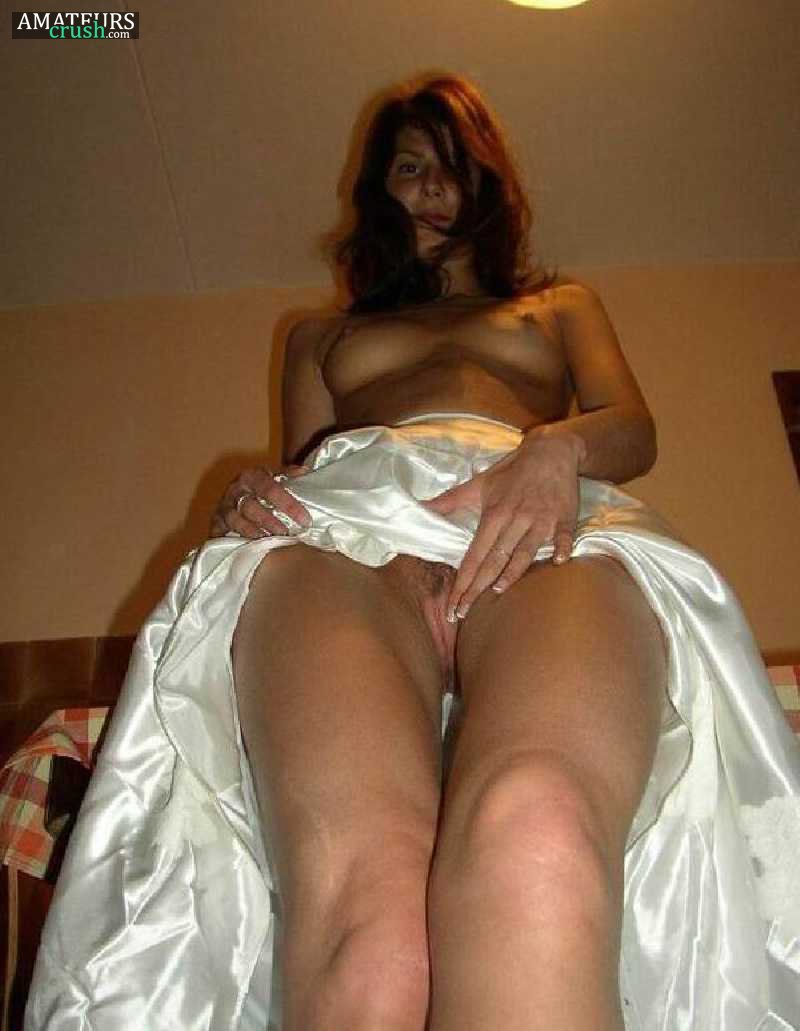 Sexy & Nude Brides
If you ever do get married, you gonna wish she's gonna be as hot as this naughty bride right here. Our first awesome picture is a slutty wife showing off her beautiful tight ass and we can see a little sexy side boob too <3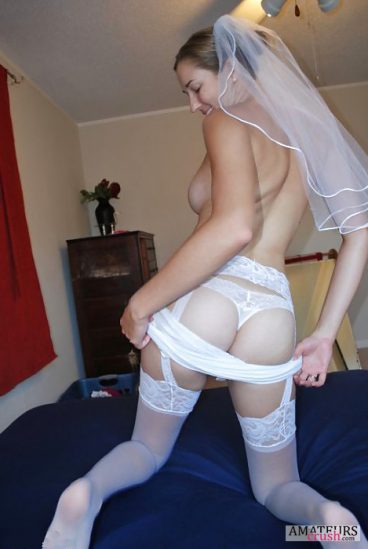 Great photo to get you into the mood of some hot & steamy sexy nude brides pic!
Next up we got a naked bride putting her dress on for the big day. She's topless, so we can see some sexy wife titties here: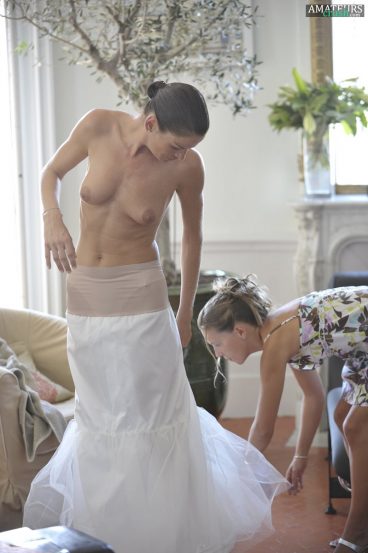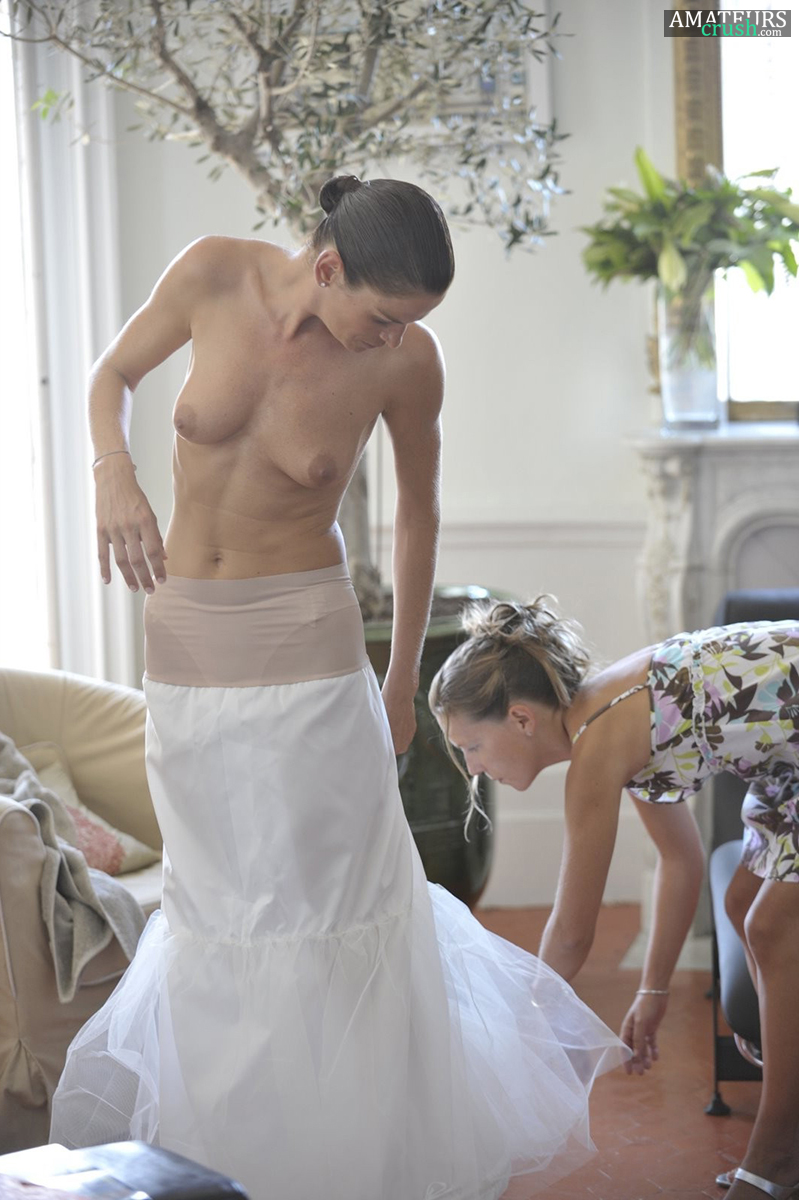 Oehlala! A nice oldskool picture of a hot young wife in her sexy lingerie. This fresh naked bride is still wearing her bridal veil, while her bra is off and hanging down her waist. This girl has some nice fucking titties and I would love to put my mouth on those!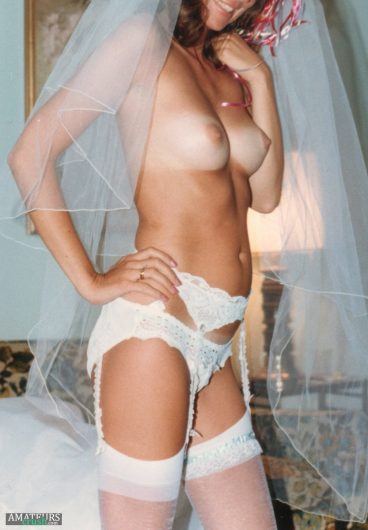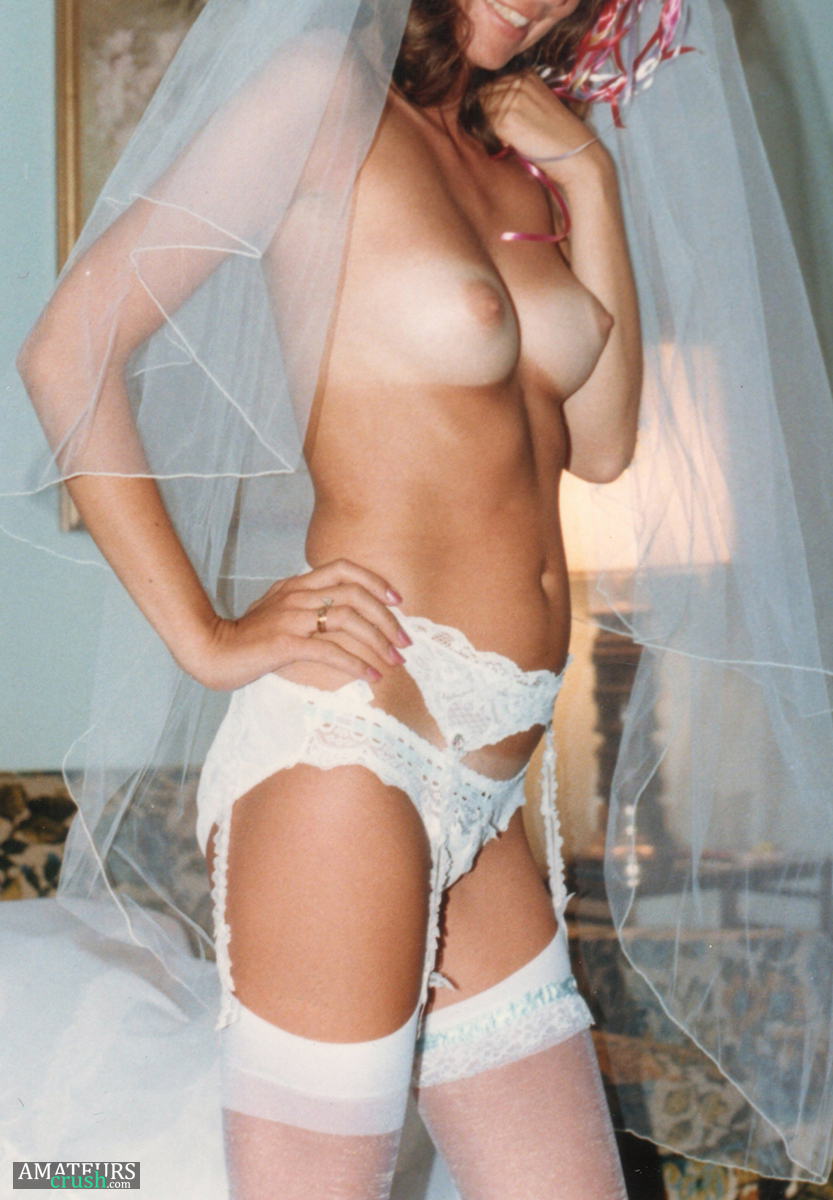 Banana Boobs a.k.a Torpedo Tits on a hot naked natural redhead bride! It is time to move the party to inside her panties!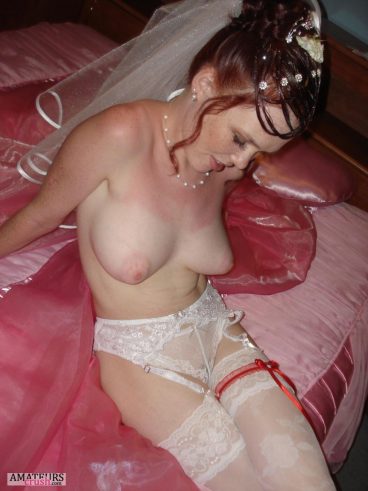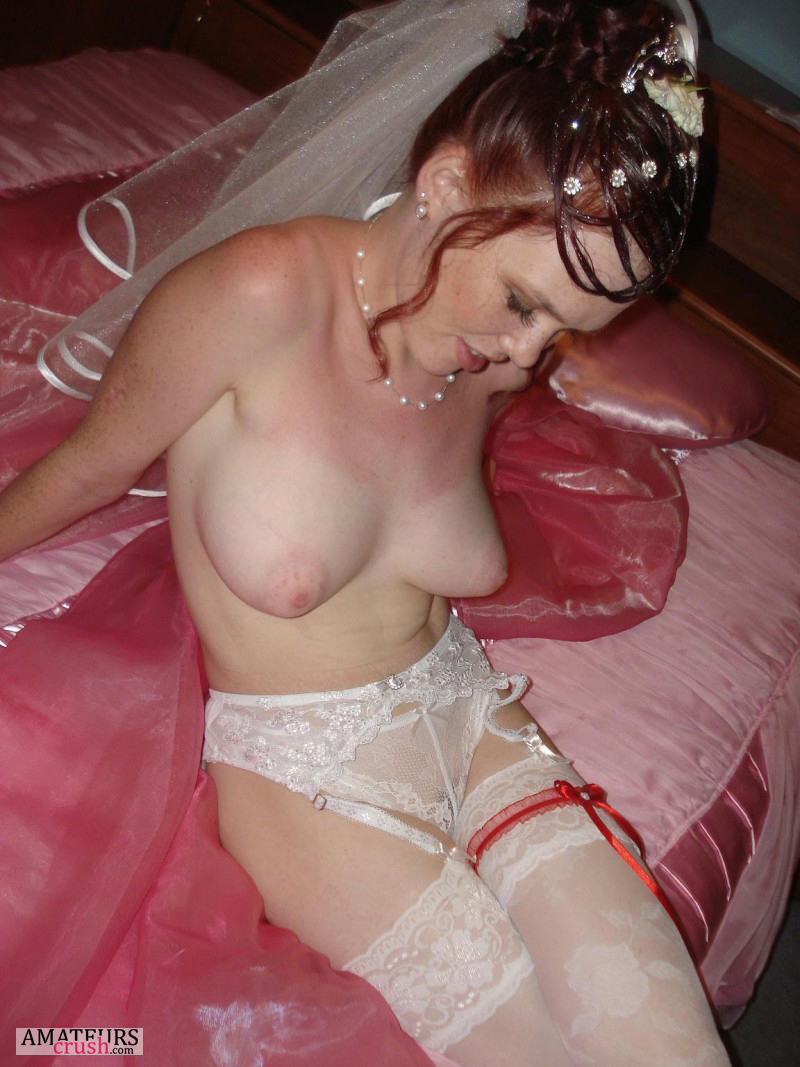 Another clothes on and off with a sexy blonde nude brides! On the left she looks like the normal average good girl MILF, but on the right she's the dirty and naughty slutty wife we all secretly want in the bedroom: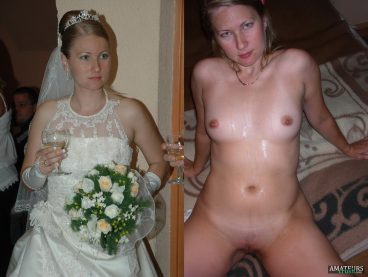 This nude bride took a nice cumshot all over her body like a dirty ho <3
Next up we got some naked brides and bridesmaids showing off their incredible pussy and ass: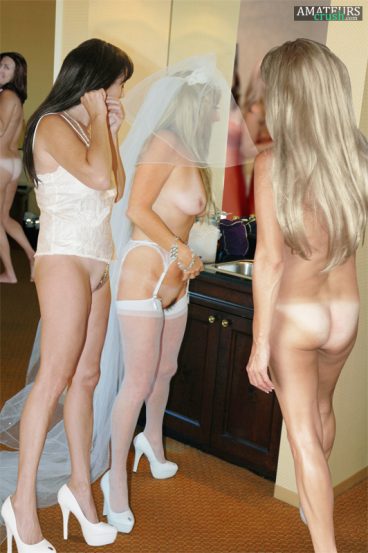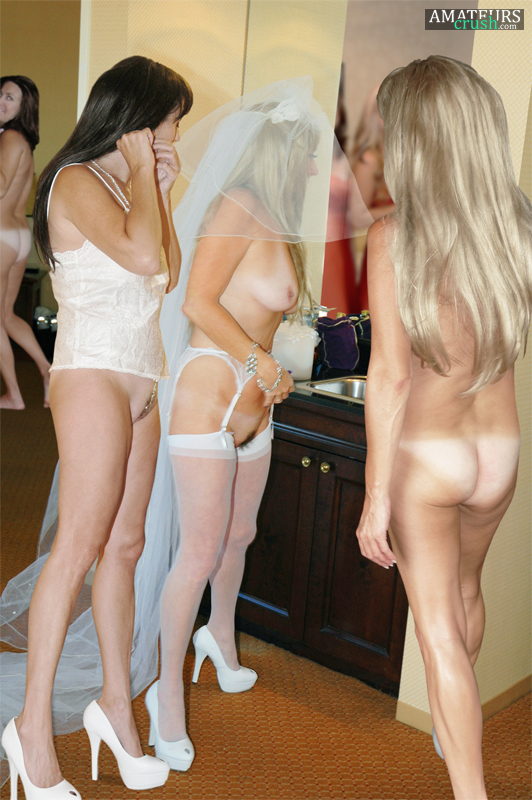 If you look closely you can see that the naked bride is a bit hairy.
Naked Brides and Bridesmaid in Blue Dress Set Pics
All right, next up we got a topless set pic of one of our hot nude brides, dressing up for the big day: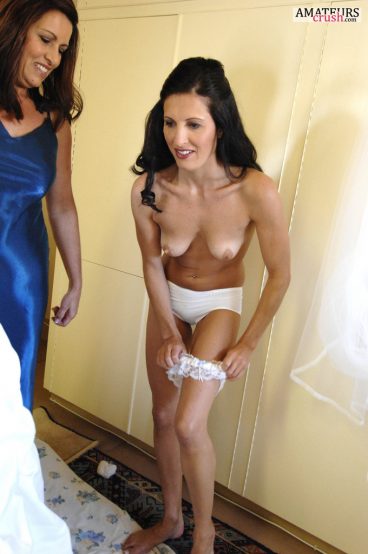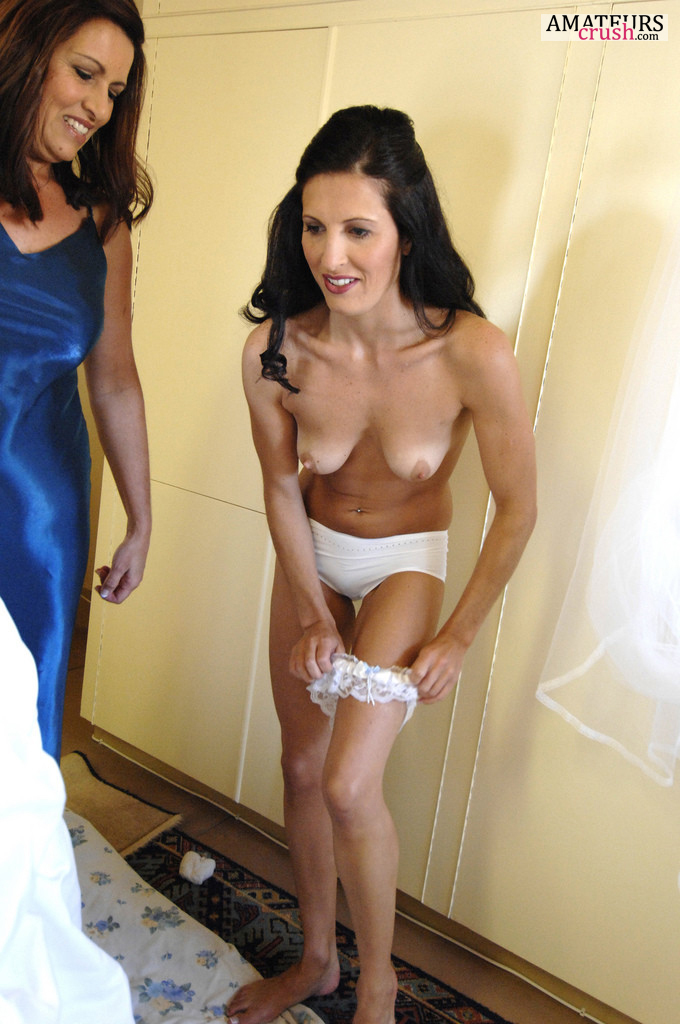 We got her bridesmaids helping her getting into her sexy white wedding dress. They look like sisters, don't you think? Anyway, one of our nude brides got her beautiful titties out here: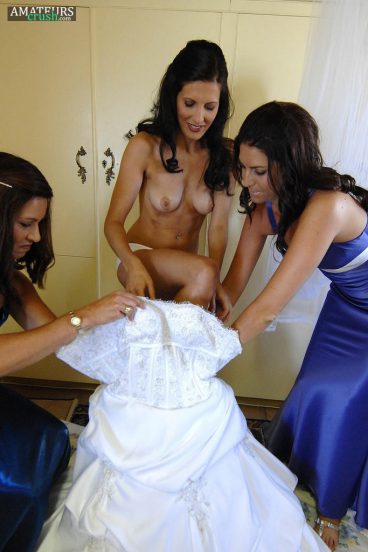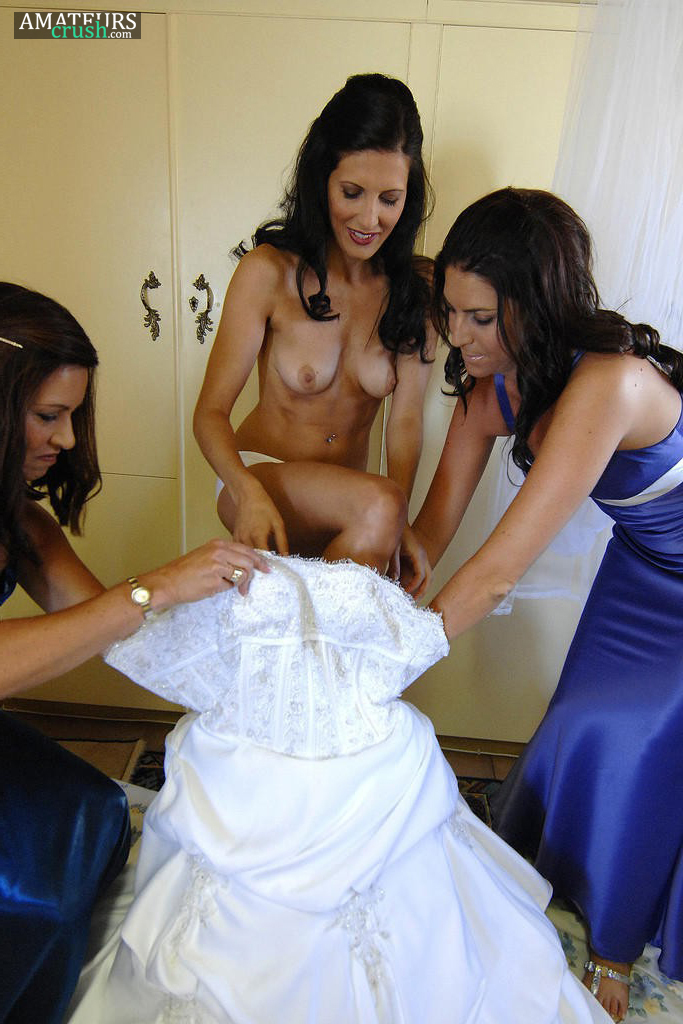 Followup by another hot wife tits pic while still putting on that dress: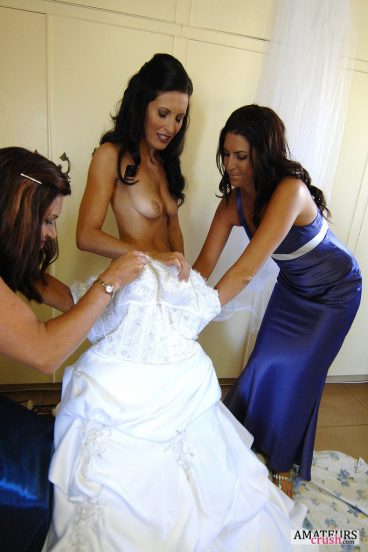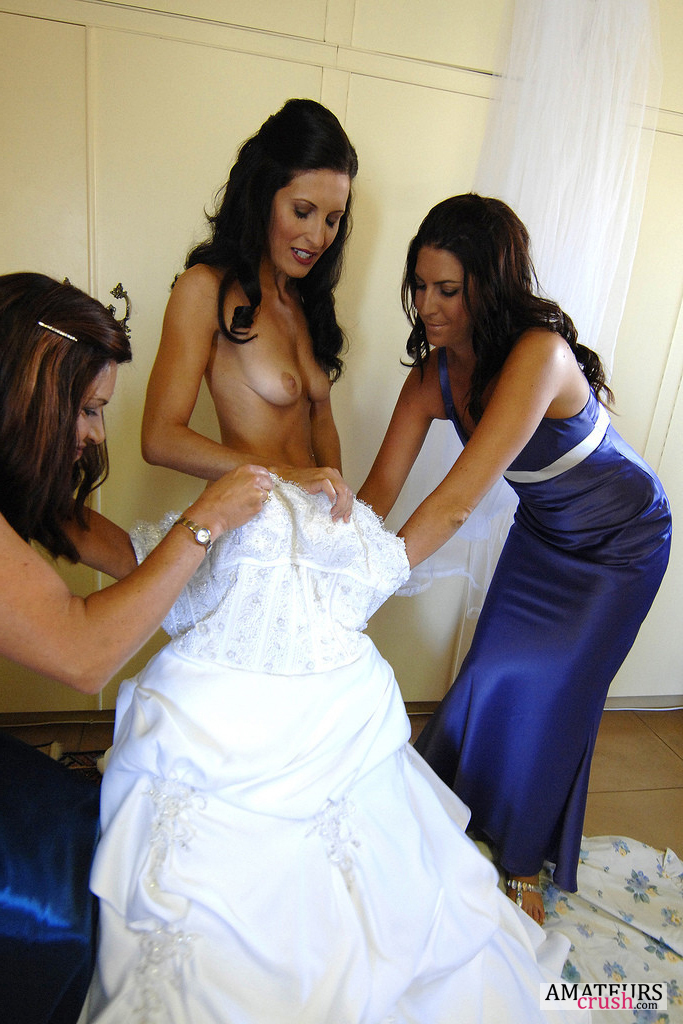 Naughty Naughty Sluts
Yup, I'm talking about this wifey right here. She's lifting up her dress to show us that tight lovely ass of hers: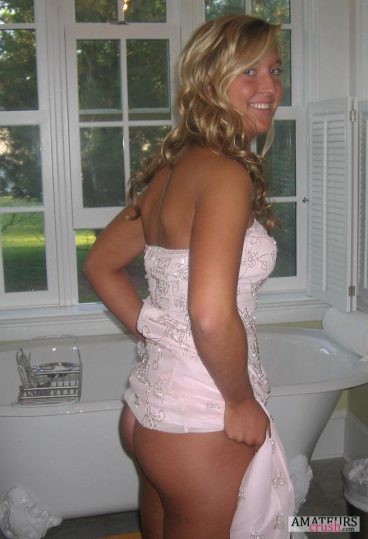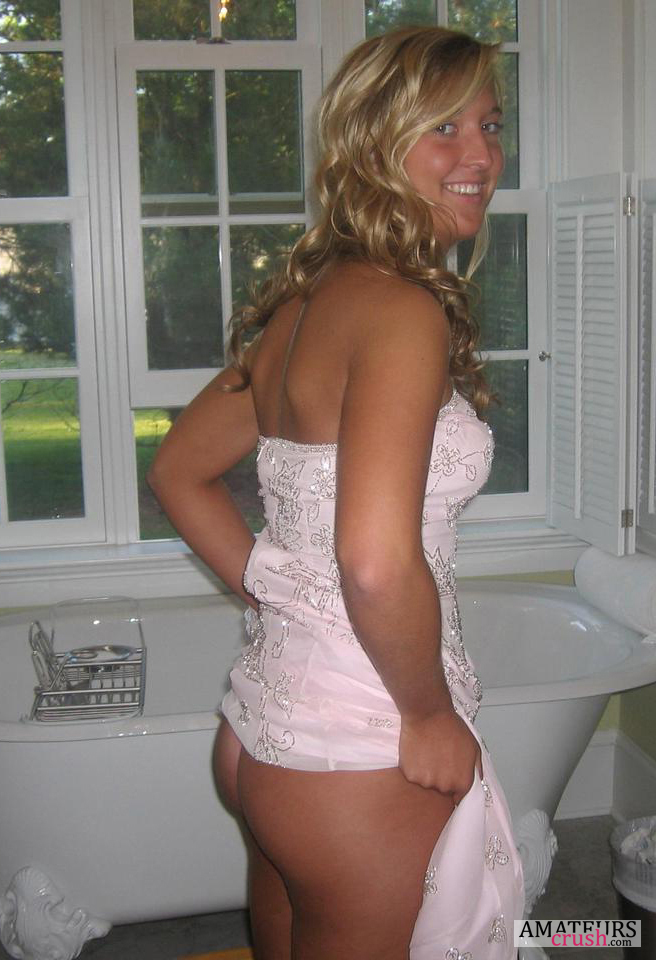 Your big wedding day can be very exhausting! We got one of the nude brides tired as fuck on her bed here. Her husband took the liberty of taking off her panties and make this incredible remember-able picture of his night. Even though she's passed out, her pussy is still begging to get fucked. What a beauty!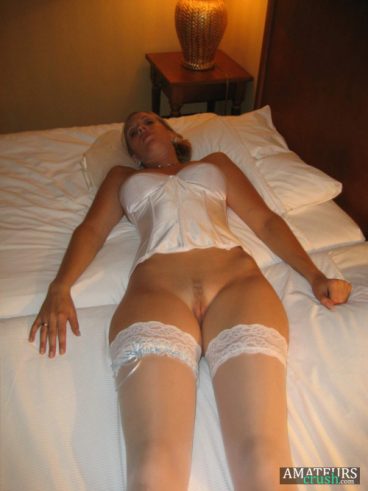 Great thick thighs too! I bet our slutty bride has a very big ass.
Yup we got some more awesome clothes on and off pics of one of our nude brides! This one is really cute though: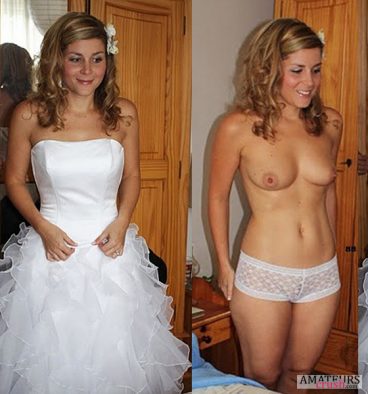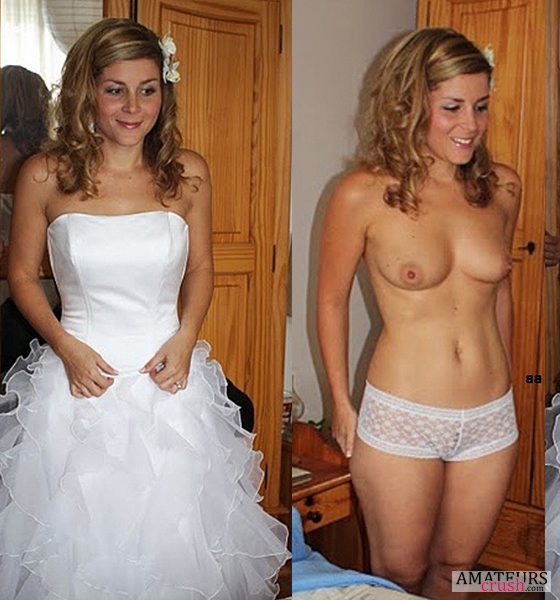 Her bridesmaids took a picture that she probably shouldn't have taken. She doesn't want her family find out that she's a slut, comfortable taking pictures in her undies..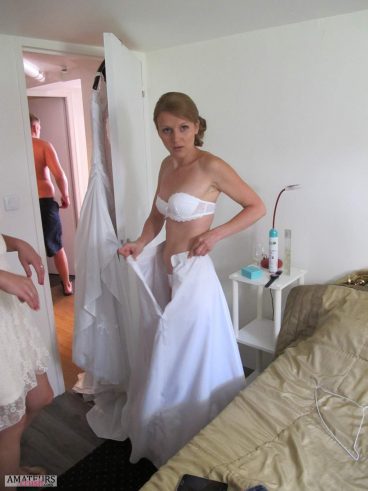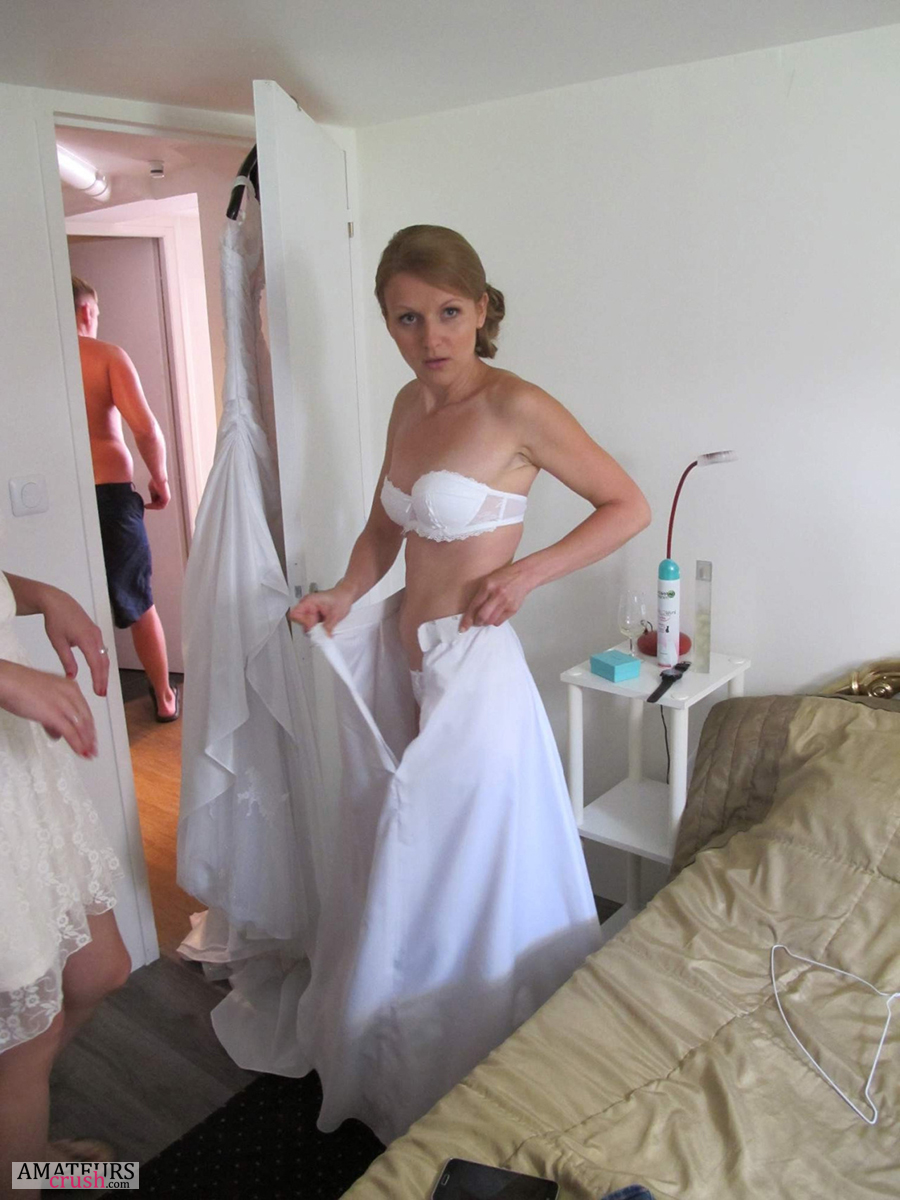 Fresh and young nude brides with their legs open must smell great <3 Great tits out and pussy pic here: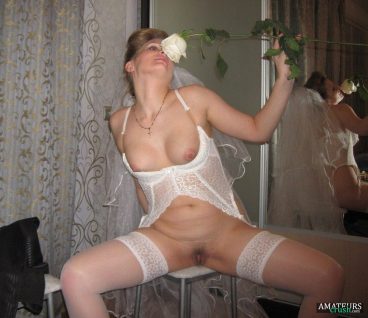 This slutty bride knows how to make sexy pics to get her husband off!
Submissive Asian Bride
If you are into submissive slaves, then the next girl is definitely a turn on for you! We actually got one of our Asian nude brides here in some kinky photos. In the left picture our slutty bride looks like a 'normal' good girl who doesn't do naughty things, but on the right picture you can see her all tied up with some nipple clamps hanging from her tits while she has a bone in her mouth.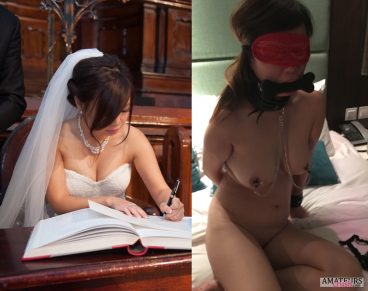 I guess she has been a very naughty bride and needs to get trained immediately!
Ah! Delicious Asian pussy of our kinky wife spreading her legs with cum all over that juicy vagina of hers <3 Her hands are all tied up and she's wearing some hot lingerie. I guess this girl got fucked good and hard, just how these sluts like it!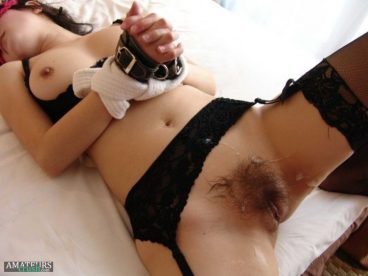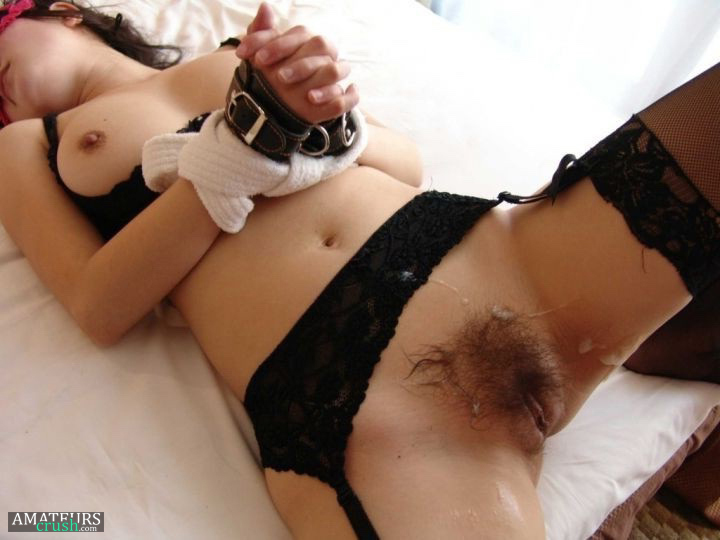 More Naked Brides
One of the many bent over nude brides in this post.. She's still wearing her wedding dress, but this slutty wife is so horny that she can't wait for some good pounding from behind. That big incredible sexy pussy lips is waiting for somebody to open their doors!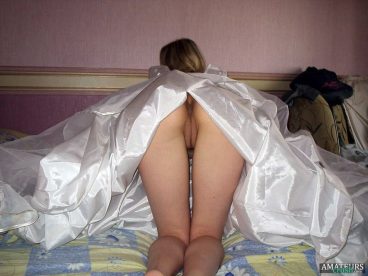 Followup by a slutty bride to be on the left picture and on the right we got her spreading those legs for a great close up pussy pic: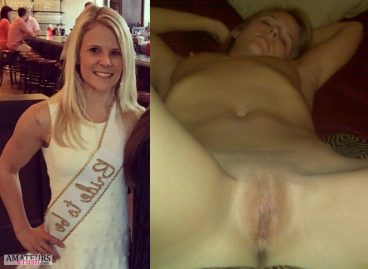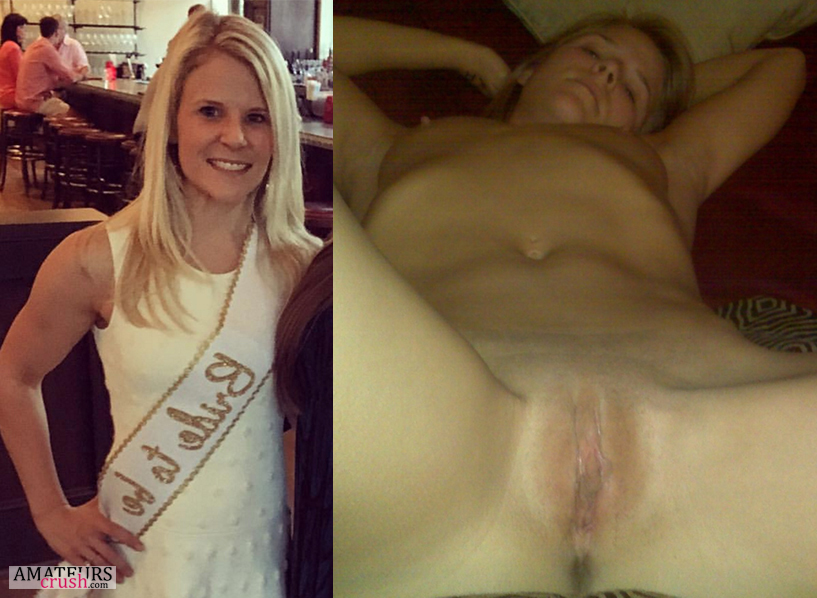 These naughty bridesmaids knows how to make some great memories. Some of them are lifting our slutty bride's dress to show you what she's hiding underneath while the other one pulled her panties down: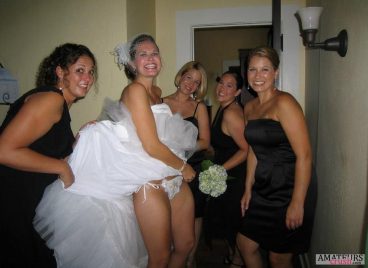 We got a hold of some fantastic ass pics too! What a beautiful tight ass in white sexy lingerie: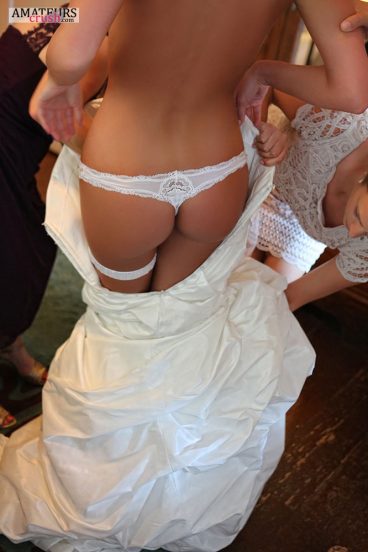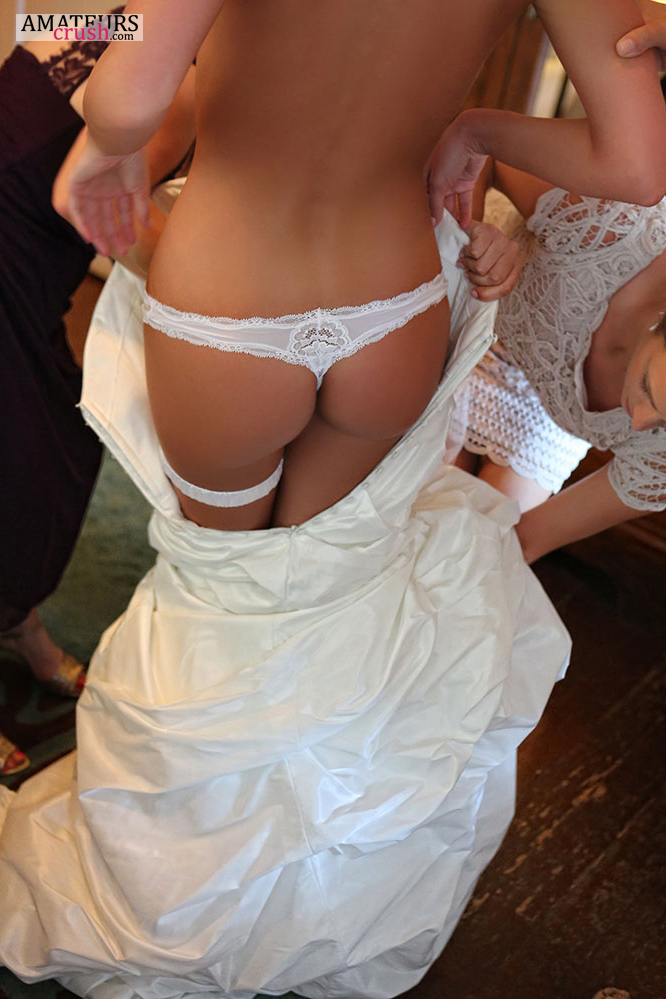 Nude brides are super hot, especially the slutty brides! We got a hold of one of the pictures of a wedding night. Our young bride is lying naked on the bed while her legs are spread for this fantastic photo. We can see her beautiful pink young pussy and those lovely tits: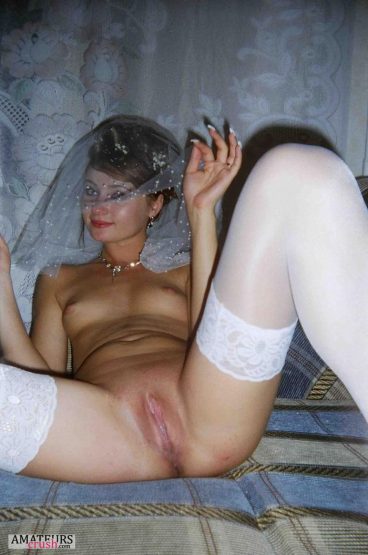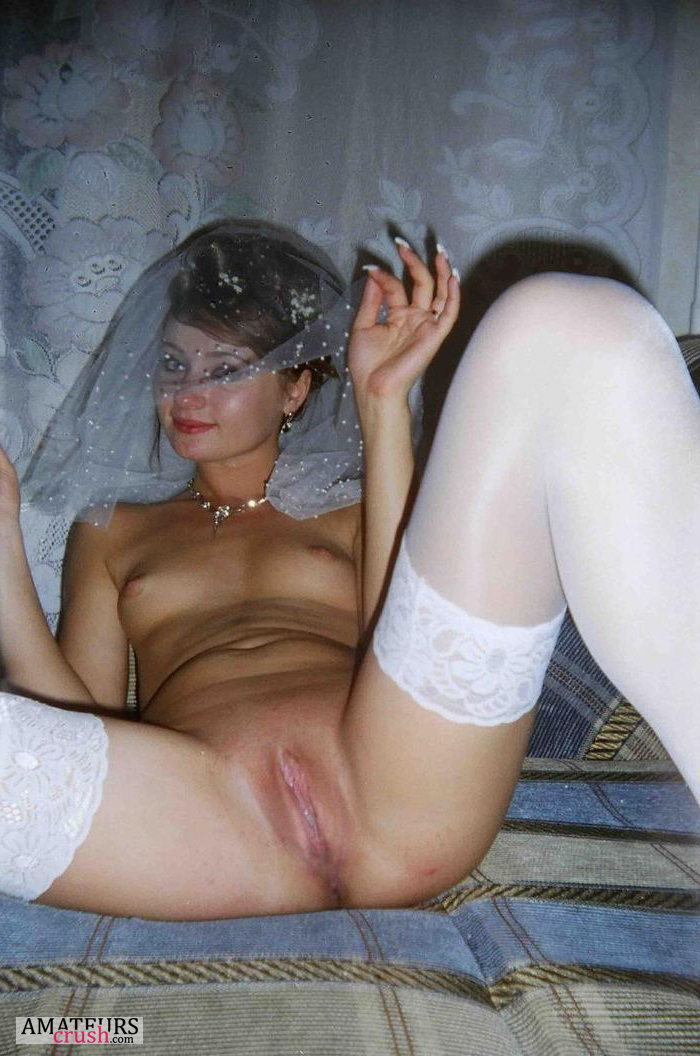 Next up, we got another picture of one of the nude brides trying to get into their wedding dress while being topless: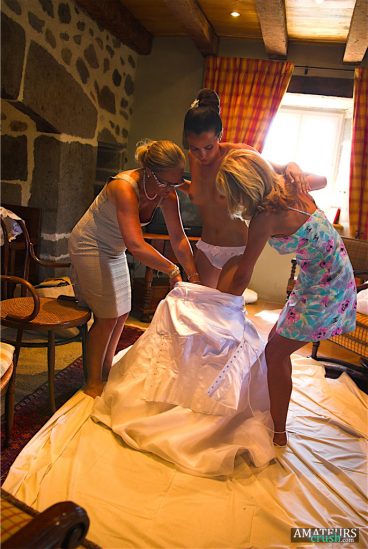 Naughty Bridesmaids and Slutty Wifes
Can you guess which naughty bridesmaid is probably the most fun (and sluttiest) to hang out with? (It is the one showing her tight sexy bubble butt)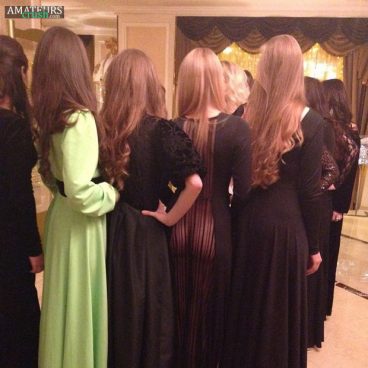 Now this picture is a lot easier to recognize the slutty bridesmaid: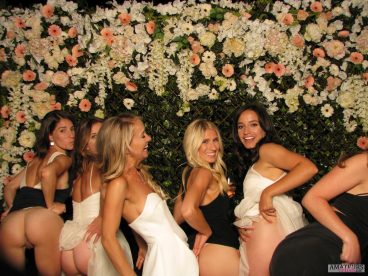 Girls just wanna have fun, right? I guess everybody is showing their beautiful tight naked ass. I hope this picture didn't get send to everybody though for her sake 😉
The next naked brides is about to take off her wedding dress. You can see a little bit of that tight beautiful ass and her hot boobs pointing forward here: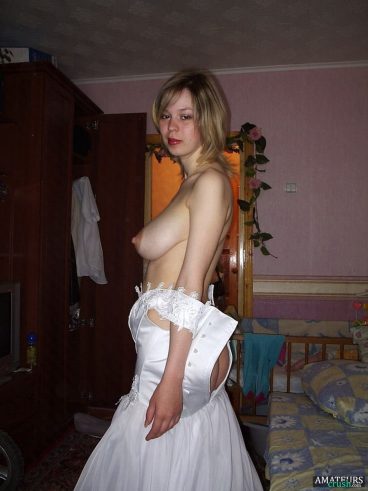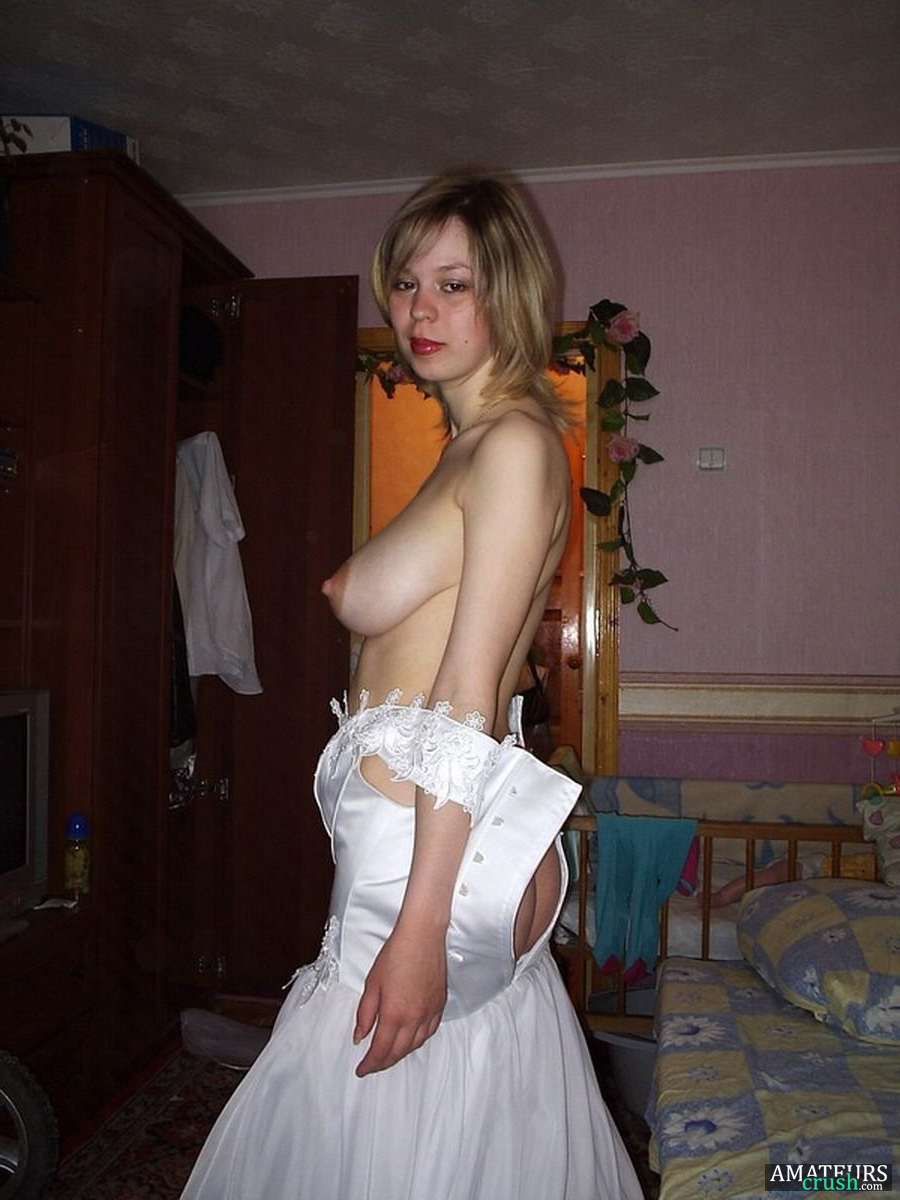 More slutty brides pics! She looks tired as fuck though, but there is always time for some hot nude brides pics. She already has her tits out and is teasing us by showing a little bit of pussy <3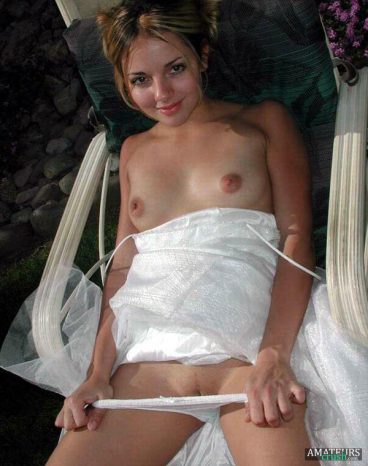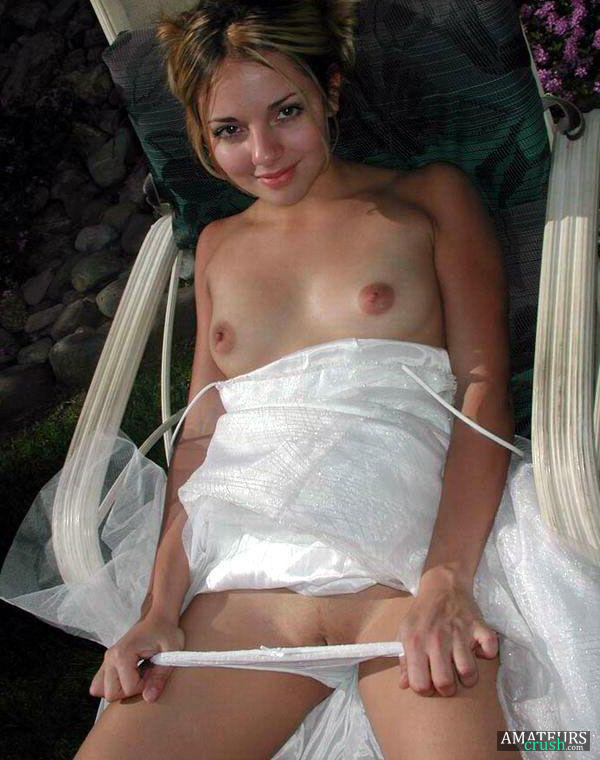 The next hot wife picture is wearing a nice see-through panties. If you look closely, you can see that sexy hairy pussy: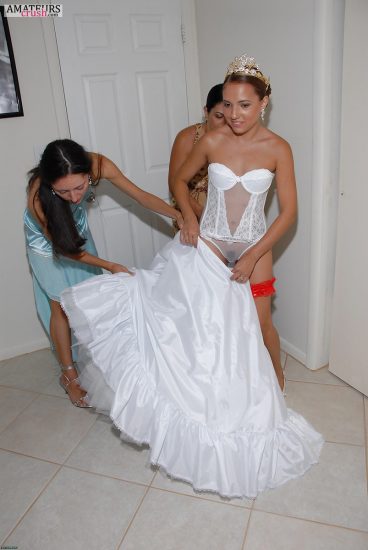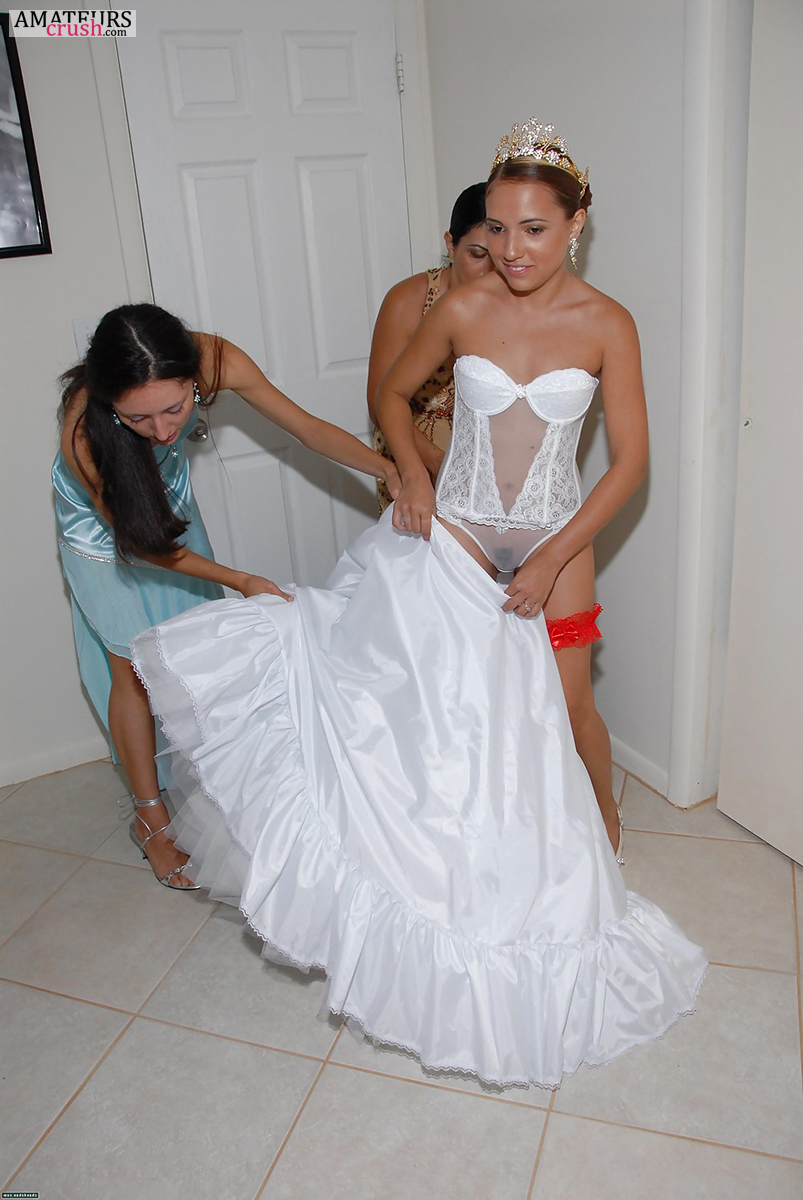 Great lingerie choice! He's definitely going to love that.
And yes, we got another clothes on and off picture! The left one our naked bride is sitting with her wedding dress on and on the left picture she's pushing those suck-able big boobies together with her arms while wearing only hot stockings!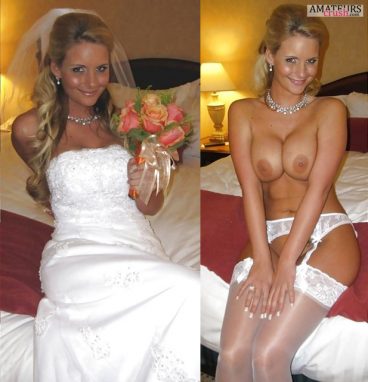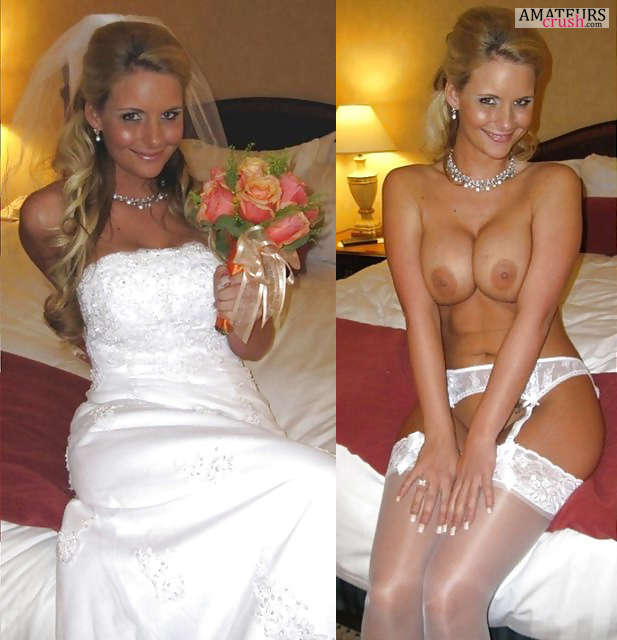 God, she's a real hottie!
Now this is an ass I would love to come home too! We got some nude brides pic bending over here. I can imagine it already when I walk through the door, and she's on her hands and knees, telling me she waited all day for her pussy to get stuffed by me :$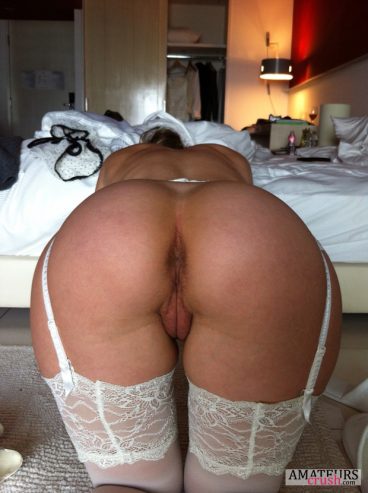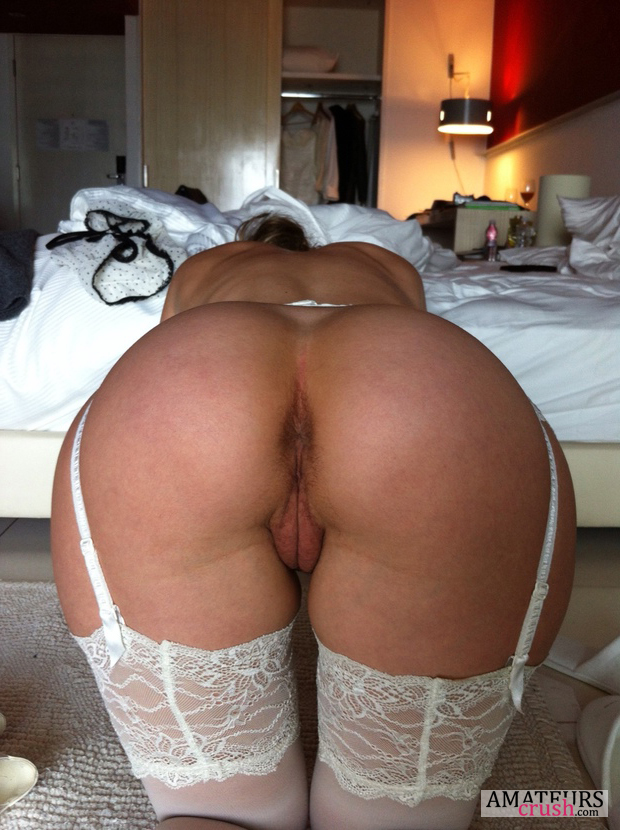 More sluts
Here we got a slutty bride squatting and pushing that big ass back so we can get a good close up look of her ass and pussy from behind: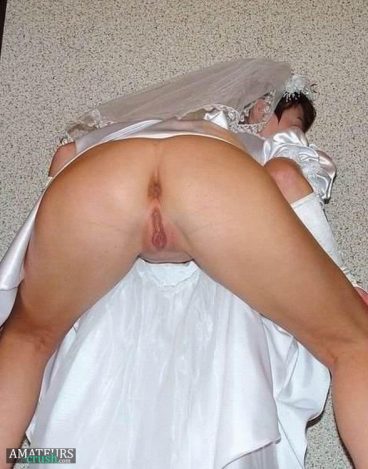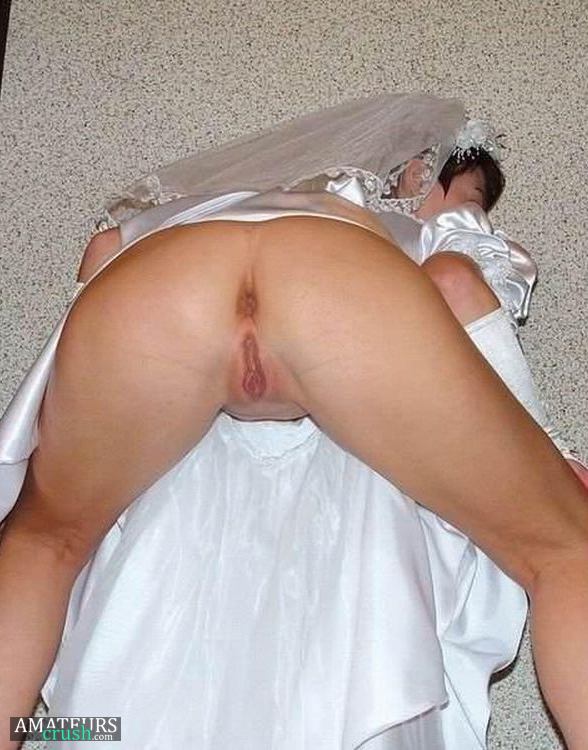 Followup by a naughty Natural Redhead flashing her juicy pussy underneath her wedding dress. You know you are going to have a fun night (and life), if your soon-to-be-wife is not wearing any panties at the reception <3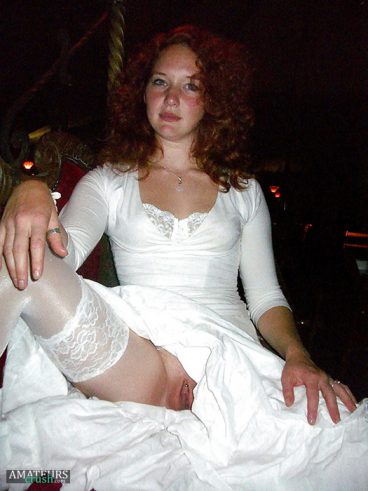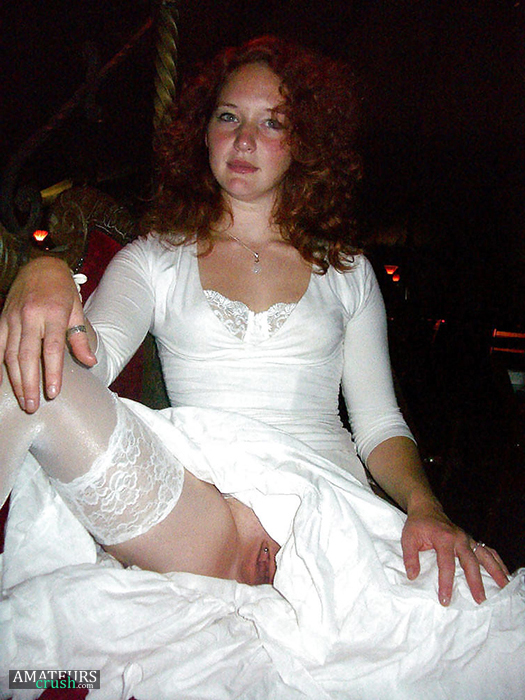 Super hot picture of this sexy wife!
Next up we got a hot young girl trying out her wedding outfit in her sexy lingerie: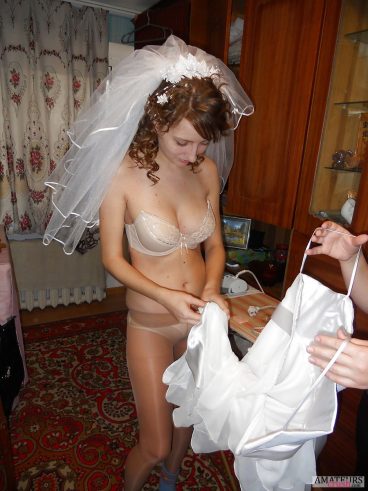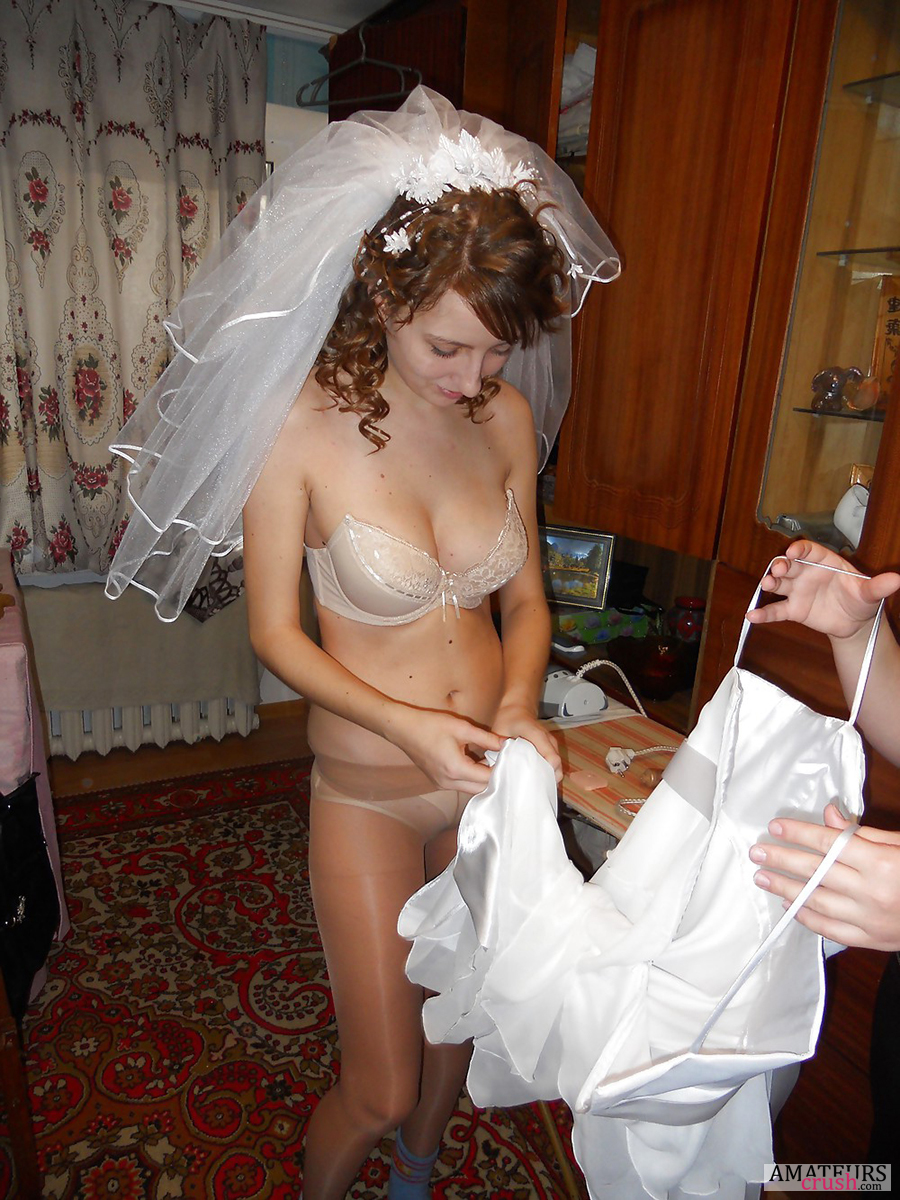 Up next is another nice clothes on and off picture of a sexy slutty wife. Good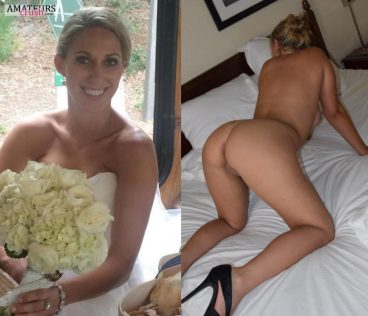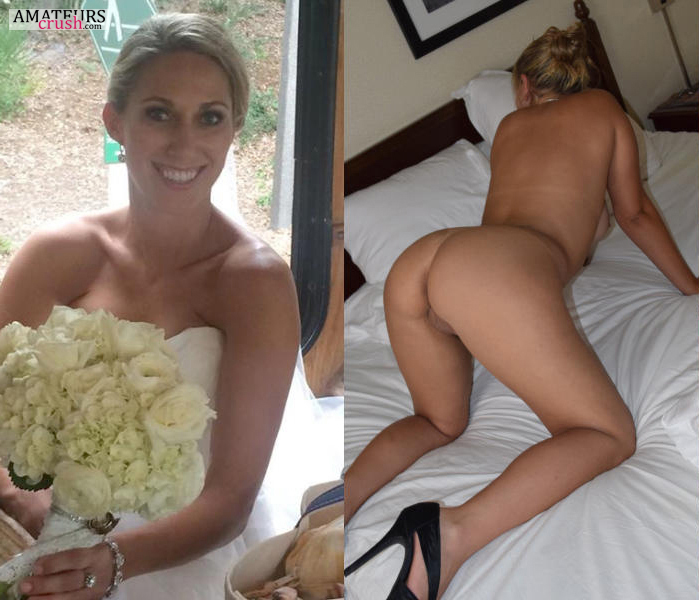 "Wow!" that is probably what is going through your mind right now. Super hot pussy from behind pic of one of our fresh nude brides, while still wearing her bridal veil: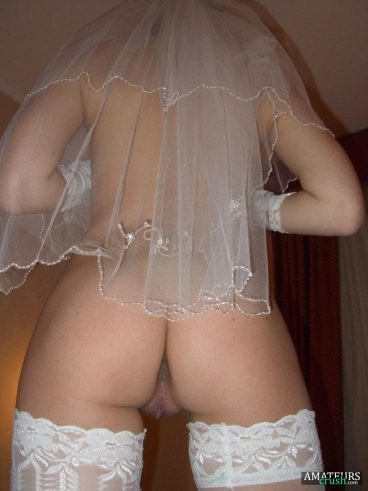 If she was my wife, I would've bent her straight over and fucked that pussy. She's looking really really great with that pussy <3 No wonder he married her..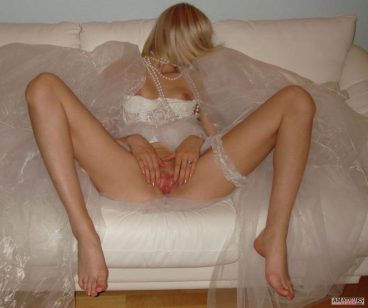 Another super hot nude brides pic in clothes on and off. This kinky wife wants to be treated like a dog. She's already wearing her tail up the ass. I bet she's loving it big time!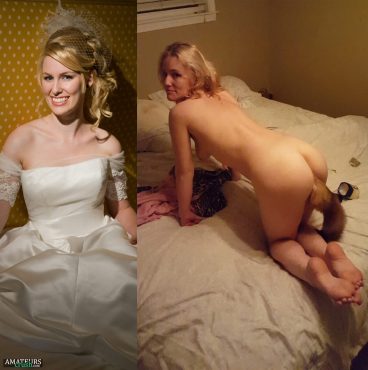 Now this is a nice pussy flash of a fresh young nude brides. She got her vagina clean-shaved and her pussy looks delicious as fuck: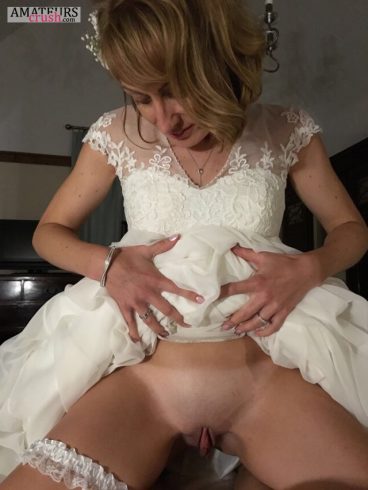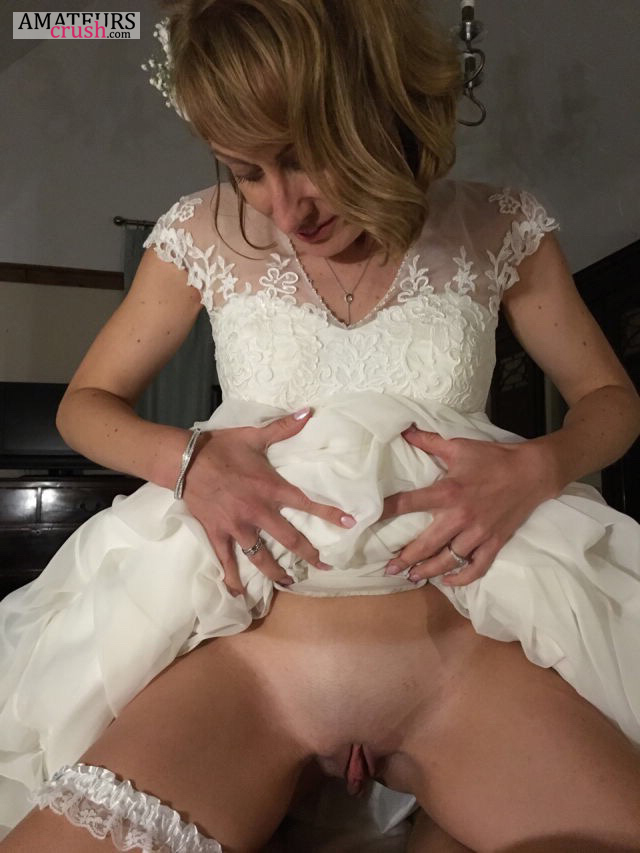 Our last slutty wife pic, we got one bending over with her white thong shoved aside for this amazing sexy photo. You know this is gonna happen at the end of the night. These sluts all wanna get fucked good and hard..